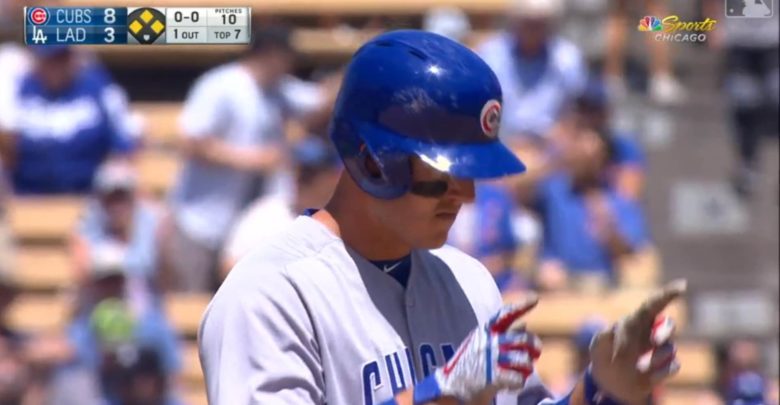 Checking on 5 Key Nuances to Cubs' World Series Hopes
This spring, I avoided the usual prediction game. No guessing who would lead the Cubs in homers or which starter might get the most Cy Young votes. That's all good fun, but studying baseball's nuances is what I most enjoy. So instead I spotlighted five wrinkles that could most factor into this season's World Series goal.
This list appeared on a different site, which needs no further elaboration. With the All-Star break approaching, now is a great time to check in on these five nuances to judge how germane they've proven and what they may bode for rest of the 2018 campaign.
1. Jason Heyward's doubles stroke
Ecologists speak of "indicator species" for judging the overall health of an ecosystem. The more of a key organism in a given area, the healthier the environment. For Heyward's 2018 campaign, I nominated his doubles rate as the key indicator species. The more doubles, the healthier his swing and the Cubs' fortunes.
The thinking went that if Heyward could improve his bat speed and smooth out his swing, we should see more balls flying over or skipping past outfielders for doubles. Heyward's doubles rate, in fact, was the primary difference between his strong 2015 walk-year with the Cardinals when he posted a career-high 33 doubles and last year's disappointment with just 15 two-baggers.
First-half result: As everyone has seen, Heyward's old bat speed is back (see above chart). We see this on grounders through the infield, as well as a rebound of his indicator species back to its robust 2015 rate. He even has as many doubles so far (15) as all of last year.
Second-half prediction: As long as Heyward avoids injury, his increased bat speed and confidence at the plate should remain consistent. This will make him a quality top-of-the-order weapon, especially against elite power pitcher who he hits well above the league average.
2. Javy Baez's playing time
Until this year, Joe Maddon needed to use playing time to encourage more plate discipline and defensive consistency on routine plays from Baez. But the carrot-and-stick routine only works for so long until friction develops.
So 2018 felt like a pivotal year in Baez's Cubs career. Would Maddon give him the full-time second base job? Would Baez seize that opportunity and control his overconfidence that often causes poor fielding and plate discipline to creep back? And – worst case scenario – if Maddon needed to bring back the carrot and stick, would Baez become a resentful, brooding clubhouse presence?
First-half result: No worries. Maddon gave Baez the starting job, and he delivered an All-Star first half. Phew. He has suffered a couple deep slumps – three weeks in April/May and a couple weeks in early June – and his defense on routine plays has slipped a tad. But he has so upped his slugging and shortened the lengths of his slumps that he's been the Cubs most reliable power bat.
Second-half prediction: Baez's increased playing time will stay the same. That said, he'd benefit from using the second half to develop a better approach against power pitchers. He's hitting just .194 against them this year and .229 for his career, which is a glaring hole in his game come the playoffs and its parade of elite arms.
3. Kyle Hendricks' efficiency deficiency
Heading into 2018, Hendricks had an ace reputation but had yet to shoulder an ace workload of 200-plus innings. A big challenge has been opposing hitters successfully running up his pitch counts, leading to early exits.
The chart to the right shows this. But to log more innings, ease bullpen workloads, and hand more leads directly to back-end relievers, Hendricks needed to make his own adjustment to get more outs earlier in counts, as detailed in this May piece.
First-half result: In his first seven starts, Hendricks nicely dropped his P/BF rate (pitches per batters faced) to a near-career low of 3.6. With an excellent 1.03 WHIP and 3.01 ERA, he was finally on track to reach 200 innings over 32 starts.
Sadly, Hendricks' next 10 starts undid these gains. Though maintaining an oddly low 3.7 P/BF, more at bats were ending early with a hit. Thus his WHIP skyrocketed to 1.45 in those starts and his ERA to 5.33.
Second-half prediction: The Cubs' pennant chances are largely tied to Hendricks rebounding and joining Jon Lester to counter the aces on playoff opponent staffs. Good news is Hendricks has traditionally been a better second-half pitcher. He also broke his 10-start funk Monday with an impressively effective, efficient start against the Giants. Going 8.1 innings, he allowed no earned runs and had a P/BF of 3.5.
4. Offense's power-arm blindspot
The Cubs' high-powered 2017 offense slumped significantly last October, particularly against power arms. Theo Epstein cited the team's whiff rate and situational hitting as one of three critical areas to fix for getting back to the World Series. (The other two: replace departing starters and reduce the bullpen's walk rate.)
But the only offensive change made was hiring hitting coach Chili Davis. This meant the team would bank on – at least in the first half – its current young hitters improving their plate approaches, and then the front office would assess mid-season.
First-half result: The team's average against power arms has improved from not good (.226) to nicely above average (.241). However, none of the improvement came from the team's young power hitters. All of it came from their best three hitters against power arms – Heyward, Ben Zobrist and Albert Almora Jr. – just getting more at bats this year. In terms of run production, the increased average did help counter a 65 percent drop in homer rate.
Second-half prediction: Maddon's discovery of Heyward and Almora's value against power arms and Zobrist's return to health are the equivalent of nice lineup upgrades. But are they enough against playoff elite arms? It doesn't feel that way, unless our aces completely outpitch their aces. So adding an extra bat with success against power arms could be very helpful. See some trade options here.
5. Jekyll and Hyde bullpen style
Joe Maddon has earned a peculiar bullpen-management reputation. In the regular season, he wears his relievers out. For instance, by pitching changes per relief innings, Maddon made nearly 10 percent more such changes in 2017 than the average of the other NL playoff teams. All of those short one- and two-batter appearances and using six relievers when a starter goes five innings creates a lot of extra bullpen wear and tear.
Then come October, the Cubs skipper swings from all-hands-on-deck to over-using just a couple guys. Chapman and Montgomery in 2016. Wade Davis and Carl Edwards in 2017. Changing this style would increase playoff options and lessen the team's over-reliance on mid-season trades for fresh bullpen arms.
First-half result: The 2018 rotation's inconsistencies made some overuse unavoidable. But Maddon added to this. Despite starting the season with two long-relievers (Mike Montgomery and Eddie Butler), he seldom pitched them multiple innings, except in extra innings. Until recently, he also had the team's two key back-end acquisitions (Brandon Morrow and Steve Cishek) on pace to set career records for appearances.
Second-half prediction: It would seem someone recently read Maddon the riot act on his overuse of Morrow and Cishek. So I expect both to maintain more manageable schedules to be available and effective in October. Beyond that, too early to predict if Maddon adjusts any of his other regular and post-season bullpen styles. Either way the team needs at least one more playoff reliable reliever.
Keep an eye on these factors as the Cubs roll into the second half to see whether they can maintain or even improve upon them. How they're able to do so may well determine the season.