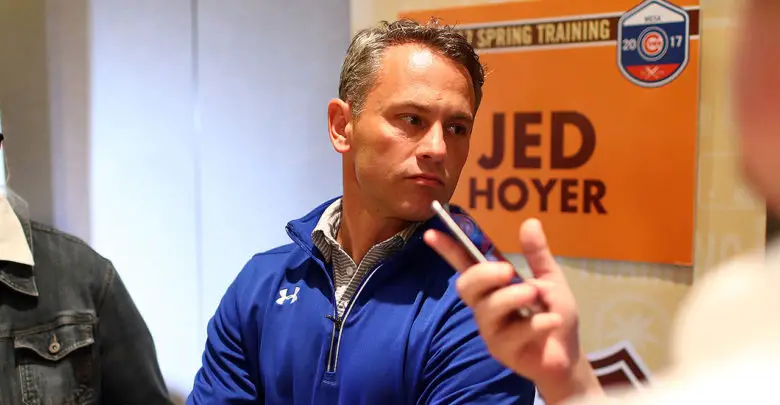 Hoyer Expresses Faith in Chatwood and Montgomery, Admits Logistics of Rotation Not Finalized
Jed Hoyer joined the McNeil and Parkins Show on 670 The Score Friday afternoon to discuss the Cubs' recent trade for Cole Hamels and how it will impact things moving forward. The GM stopped short of giving any very specific details on exactly what they have planned but he left several doors open during the course of the conversation.
Hamels was clearly the most pressing topic, as when and how he pitches are the biggest topics at hand right now. Hoyer addressed the fears of trading for a player who could be past his prime and whose recent performance leaves a bit to be desired.
"I think getting [Hamels] back in the National League, a little bit of a change of scenery — both in terms of the standings this year and the ballpark — I think is exciting," Hoyer said. "Any time you acquire a pitcher who's not pitching at his best at that time, there's sort of an educated risk in it.
"But I think when you're taking that kind of risk, you want to take it with a guy who's got great makeup, a great track record, and someone who I know is going to love pitching in a pennant race."
There's also the matter of perception, since the way a guy is playing in the present can misinform opinions of him via recency bias. While that can play a role in a team's evaluation of players, Hoyer said it's important to look past just the last few games.
"In general, performance as you get close to the deadline is something we always struggle with," the Cubs GM admitted. "I think it always gives you a certain amount of comfort when you do acquire a guy who's pitching or hitting at his best at that moment.
"But as we've learned over the years I think a lot of times that doesn't really matter. Guys have ups and downs over the course of the season and trying to acquire only guys performing at an excellent level from the middle of June through the middle of July, that could mean they're about to regress."
That shouldn't be the case for Hamels, whose ugly results of late could mean that he's primed for a big stretch run. And if the Cubs can help him dial his fastball back in while still throwing his elite trio of secondary offerings, things could start to turn around for him in a big way. But when will that potential turnaround start?
As of post time, the Cubs were still rolling with their probable starters of Mike Montgomery, Jose Quintana, and Kyle Hendricks for the weekend set in St. Louis. Hamels last started Monday for the Rangers and would be on regular rest as of Saturday, but he's not expected to join the team in time to be added to the roster prior to Sunday's game.
While legions of fans have already determined exactly what needs to happen with the rotation, the Cubs haven't quite worked through all the details.
"We've had a lot of phone calls today," Hoyer said. "We'll continue to have a lot of phone calls with Cole, with Joe Maddon, Theo, Jim Hickey, and kind of figure that out. I really don't have any answers right now.
"We just finalized the deal, working on logistics right now. I think we'll have some answers probably later tonight."
One of the players who'll surely be impacted by those answers is Montgomery, who moved into the rotation when Yu Darvish first went to the DL and who's remained there ever since. But given the plan to use him as a swing man and a solidifying source for the bullpen, he could move back.
Hoyer seemed to indicate that Monty would indeed remain in the rotation, though something about what he said also made it sound like a return to the 'pen is in the cards.
"[Montgomery's] been a lifesaver for us," Hoyer gushed. "He's pitched great this year. We see him as a starter, he sees himself as a starter, and we're proud of the way he's gone out and proved that. We're excited to have him on the mound tonight and he's going to get a lot of starts for us."
Did you catch what I was talking about? Something about him saying Montgomery is going to get a lot of starts. It should probably be taken at face value and I'm simply reading things into it that aren't there, but it almost sounds like at the beginning of the season when they put the lefty in the bullpen but said he'd still swing to the rotation for plenty of starts.
Of course, that would mean Tyler Chatwood remaining as a member of the starting five, which I can't think Montgomery would be super stoked about. The fans surely won't be happy about it either, though it's hard to argue with the Cubs winning pretty much every time he goes out there.
True story: The Cubs have won eight of the last 10 games Chatwood has started, including the last five in a row. Never mind that he's got a 6.14 ERA and has issued 45 walks to 41 strikeouts in that time. And in the last five games — remember, all wins — he's posted a 7.71 ERA with 22 walks and 18 strikeouts in 25.2 innings.
The walks are very bad and they've dogged him all season, but what's really worrisome lately are the homers. After allowing only two dingers over his first 10 starts, Chatwood has surrendered seven over his last nine starts. That includes six straight games giving one up, which is not great.
Don't expect the Cubs to give up on him, though, not with the commitment they made this past winter.
"I think for Tyler, we certainly have high expectations for what he's going to be able to do over the next two-and-a-third years with the Cubs," Hoyer said. "Plenty of guys have come into a new environment and struggled and then stabilized and ended up having a lot of success.
"When you look at his track record, he's had really excellent streaks of pitching in his career and I think he's going to solve these walk issues and get back to normal. We're very confident for the future with him, but that said, I just think we're going to continue to work with him as much as we can on getting those walks under control."
That's some pretty airtight exec-speak so it's hard to tell exactly what's behind those words, but it does sound like of like the Cubs could get creative with how they handle Chatwood moving forward. Despite the final results they've gotten with him on the mound, it's hard to imagine them continuing to roll him out there every five days.
The walks are too scary for the pen, unless the Cubs think they can deploy him in such a way that they can mitigate the worst of that while still leveraging Chatwood's ability to miss bats and generate grounders. Whatever the case, it sounds like we'll know more by this time Saturday.
If you'd like to hear the rest of Hoyer's thoughts on David Bote, Kris Bryant, and Yu Darvish, the full interview is below