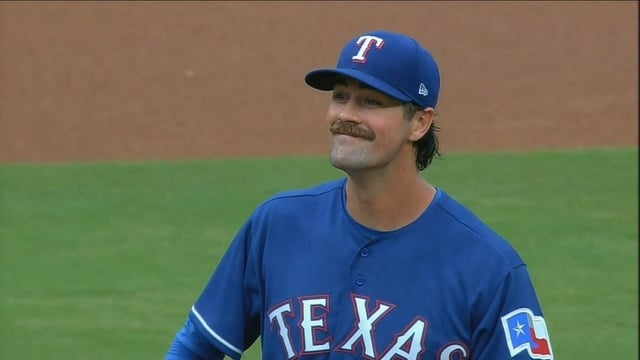 Hamels Looking Forward to Change of Scenery, Calls Playing for Cubs 'Dream Come True'
Cole Hamels stopped short of thanking the Cubs for getting him the hell out of Arlington when he met with the media Friday for his farewell address, but he seemed genuinely giddy sharing his thoughts on the trade. For as much as professional baseball is a business, it's easy to remember that these players grew up as fans too.
"I'm excited to be able to continue my baseball career with the Cubs," Hamels said. "It's been a dream come true to grow up watching the Cubs play as a kid. Always enjoyed playing at Wrigley, so I think to be able to be a part of that organization with the group of guys that they have, I'm really excited to get that started and head into the postseason with those guys."
More than just the no-hitter he threw in his final start with the Phillies just over three years ago, Hamels spent the prime of his career in the NL and faced some pretty solid Cubs teams during that time. He's also seen how they've built the current squad into a contender.
"Knowing that I'm going to a team that has the best of intentions and such a strong desire to win another one, definitely want to be a part of that and try to help them do so," he said. "Especially in that city, they love baseball so much, it will be a tremendous journey for the next couple months."
Hamels went on to acknowledge a thought that's been making the rounds in commentary about the deal, which is that getting out of a bandbox and off of a last-place team can't hurt.
"Change of scenery always does help," Hamels admitted. "It's something you don't wish for every time you struggle. Knowing that the group of guys and what they've been able to accomplish and what their mindset is and to fit in, you don't have to take it on 100 percent to carry. It's a slow process to getting back to what you're capable of doing, I think that's what winning is. It takes everybody."
And as noted earlier, this isn't the first time Hamels has moved from seller to contender at the deadline. Of course, it'll be a little easier for him to improve this time around. He left the Phils on one of the highest notes of his career, while his last start with the Rangers saw him give up seven runs.
Hamels' performance didn't improve three years ago, but much of that can be attributed to facing AL lineups in a hitter-friendly park. And if you discount the no-no, he was basically the same pitcher all the way around.
But that was also when he was viewed as an ace or even a savior, which isn't the case any longer. Then he was a dude, now he's just a guy. Apologies if you find nothing of value in the indiscernible subtleties of my semantics, I just mean he's not expected to lead this Cubs staff. Just taking the bump every fifth day — starting Wednesday in Pittsburgh — without as much pressure could help him fix the issues with his fastball location that have led to so many homers.
And if Hamels can do that while maintaining his elite mix of secondaries, maybe he can even be much more than what the Cubs need him to be. That, my friends, would be the real dream come true.