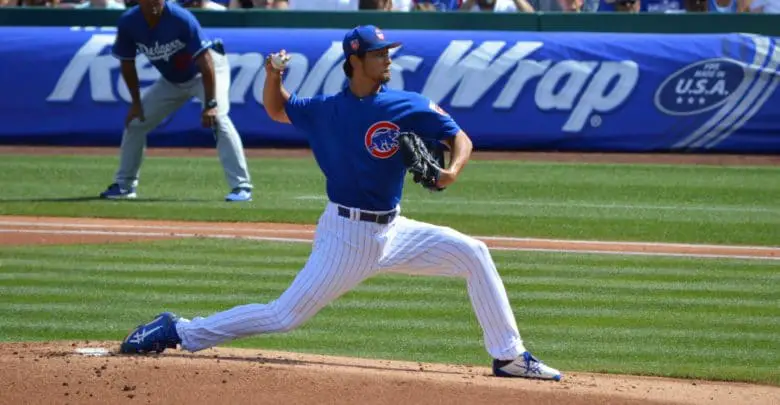 Notion That Yu Darvish is 'Mentally Soft' Needs to Stop
I'm tired of listening to people perpetuating the notion that Yu Darvish is mentally incapable of pitching in important baseball games. It's beyond irresponsible to push such a narrative, whether the platform is local or national.
I wish Darvish had been mentally soft during the 2017 NLCS. Ya know, when he threw 6 1/3 innings of shutout ball against the defending World Series champion Chicago Cubs in their ballpark. I bet the Diamondbacks also wish Darvish was mentally soft after they struck out against him seven times and only knocked in one run during the 2017 NLDS.
Heck, given that Darvish has almost 900 innings of a 3.49 ERA and 3.38 FIP, I also bet every other MLB team has wished he was mentally soft. But here we are in 2018 talking about mental fortitude. Some in the media are questioning his toughness because he said he was displeased with his fifth-inning approach, which then was perceived as mental breakdowns.
And when Darvish expressed sadness over not coming through in the World Series for the Dodgers, it was turned into a "Look, I told you he was soft" narrative. I get that he didn't pitch well in the World Series and has had a rough start as a Cub, but c'mon, attributing such struggles to a lack of mental toughness is ridiculous. And for what? Clicks? Please.
The most recent shots lobbed at Darvish came from a man caught taking PEDs more than once over the course of his career. Yes, Alex Rodriguez blasted the Cubs pitcher on Sunday Night Baseball, claiming Darvish was a distraction to the clubhouse, saying how he should return to Arizona to rehab, and expressing that Cubs players were disgusted that he wasn't pitching.
Here's Alex Rodriguez making shit up about Yu Darvish and the Cubs. pic.twitter.com/3KmUyCc6Nu

— Aldo Soto (@AldoSoto21) July 30, 2018
And another thing about Darvish: It takes a hell of an effort to move to a different country with a world of pressure to succeed in a sport. Darvish has not only assimilated but thrived in the US by learning English and adapting to the culture.
I can totally empathize after spending several weeks in areas of Europe where there aren't many tourists. I must've been the only American within a 25-mile radius, not by choice but because of work stuff. If you listen to Corey and me on the Cubs Related Podcast, you know I have trouble pronouncing basically every name. Now imagine me trying to speak a foreign language in an unfamiliar country.
A simple task like ordering food or asking where to buy a phone charger became incredibly difficult. I was using the Google Translate app on my phone to read off what I wanted to tell people, and sometimes the translation from English to other languages was completely different. Even the most basic communication that we take for granted became a chore.
I bring my story up because, although Darvish speaks English impressively well, what he says might be misinterpreted by people for whom English is their native language. Theo Epstein even said "there's a little bit of a language issue where things don't always come across in the way they're translated," when he was on 670 The Score a while back.
Asked about A-Rod's comments on Darvish, Joe Maddon slammed them as a fabrication.
Maddon on A-Rod's comments during the ESPN broadcast: pic.twitter.com/w1UeDoUUgI

— Sahadev Sharma (@sahadevsharma) July 30, 2018
Mentally soft players don't Darvish's track record of success.