Steve Cishek's Historic Run and 8 Other Random Cubs Stats
After last night's game, the Cubs have 48 regular season games left and just a 1½ game lead over the Brewers. And since off days during the dog days can make everyone a bit peckish, we'd like to offer a far-ranging smorgasbord of Cubs stats and facts to tide things over for now.
Cishek history check
Submariner Steve Cishek has flirted with an 80-appearance pace all year. If he reaches that milestone and maintains his 1.89 ERA or less, he'll join just 10 other relievers in MLB history to have achieved that combination:
Yu Get Back Soon!
Some bad news for a Cubs rotation currently featuring four left-handers: 81 percent of their remaining games are against teams that hit lefty starters above league average.
Yu Get Back Soon! Part 2
Possible NL playoff opponents against left-handed starters:
OPS all day, every day
The Cubs' offense not only tops the NL in OPS, but it's also remarkably consistent within games. They boast the only NL offense with a Top 5 OPS in each third of a game with a .774 OPS in innings 1-3, 776 in innings 4-6 and .779 in innings 7-9.
Power-pitcher deficit
Cubs hitters do have two weak areas. One is their continued struggles against power pitchers, whose frequency increases in the playoffs. See chart to right for how Cubs hitters with at least 25 plate appearances have fared this year.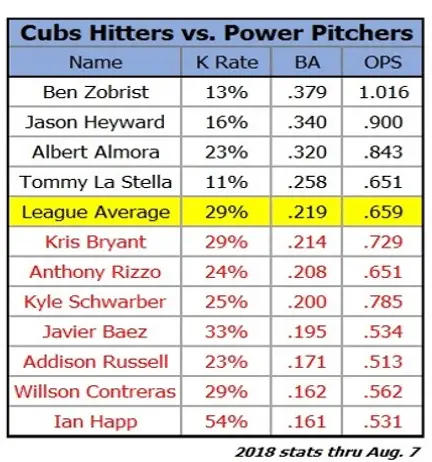 Beyond RISP average
Their other weak offensive area is with runners in scoring position (RISP). They rank just 10th in the NL with a .248 batting average. But blunting this, they generate far more RISP opportunities than other NL teams (11 per game). This results in the fourth-most RISP scored per game.
CF Win-Loss
Sean Holland wrote this week about Albert Almora's second-half slump. By chance or not, the Cubs are also 3-9 in second-half games he's started. This dropped the team's win-loss record in his starts from a sterling .661 to a still impressive .592.
And before anyone asks…
Here are the Cubs records when Addison Russell and Javier Baez start at short:
Home-field advantage
Everyone is watching the Brewers, rightfully so, but the race for best NL record is even more congested. The big perks: Home-field advantage and probably getting the Wild Card winner's second-best starter to open the NLDS.