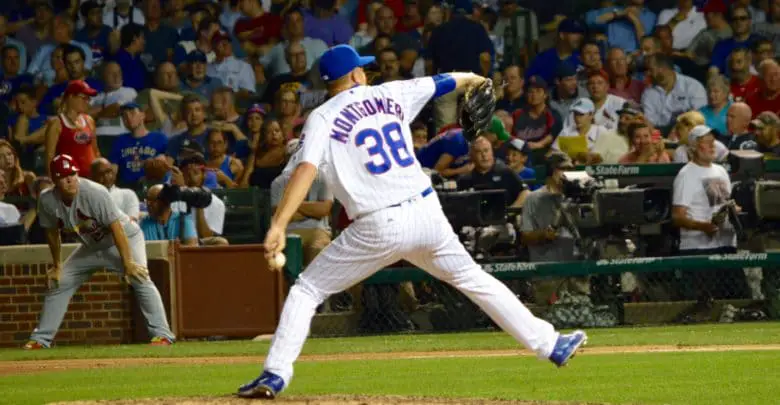 Montgomery Available in Pen as Cubs Skip His Next Start to Conserve Innings
Mike Montgomery has filled in admirably during Yu Darvish's extended absence and has looked even better lately with the help of a new curveball grip. Even so, the Cubs are looking to pull back on the reins a little as the southpaw swingman heads toward career highs in innings and pitches thrown.
That's why they'll be skipping Montgomery's next scheduled start and making him available out of the bullpen this weekend against the Nationals. Part of that has to do with a Washington lineup that includes dangerous lefty hitters Daniel Murphy and Bryce Harper, not to mention teen phenom Juan Soto. The Cubs just added Jorge De La Rosa to the staff, but that only gave them two lefty relievers (Justin Wilson).
The primary reason for the shuffle, though, is that a pair of off-days allow them to keep Montgomery fresh without taxing the rest of the rotation in turn. The Cubs had a break after the Royals series and they'll get another this Monday, so they really only need a four-man rotation for now.
Cubs skipping Mike Montgomery's turn in the rotation. He will start again next Saturday in Pittsburgh. This will help limit his innings and 2 off-days allow Cubs to go with 4-man rotation for a bit.

Montgomery will be available out of bullpen for a few days vs. Nats + Brewers.

— Tony Andracki (@TonyAndracki23) August 10, 2018
Kyle Hendricks and Jose Quintana will handle the two games against Milwaukee next week, with Jon Lester and Cole Hamels taking the first two starts in Pittsburgh. Montgomery will then go Saturday against the Pirates on what could be as much as 10 days of rest.
https://twitter.com/carriemuskat/status/1027951537224646657?s=11
That's a long time off, so expect him to get a little action this weekend. Going either Saturday or Sunday would serve almost as a bullpen session and would keep Monty more or less on his regular throwing schedule.