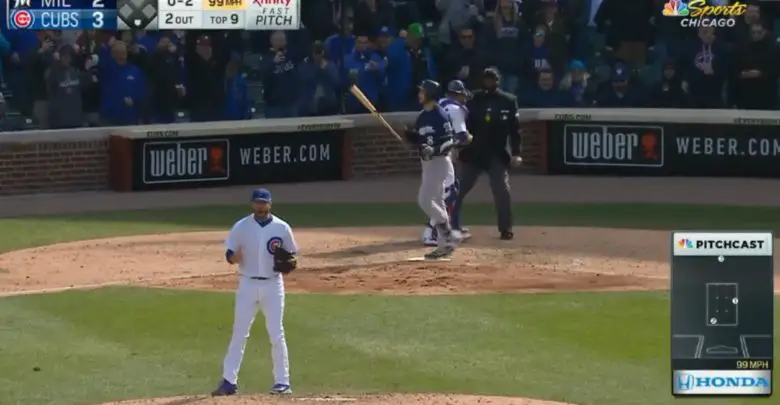 Morrow Still Not Throwing from Mound, Hickey Optimistic About Return Before End of Season
When Brandon Morrow first went to the DL in with right biceps inflammation, the Cubs gave every indication that the stay would be brief. Pitching coach Jim Hickey blew that narrative up not long after when he admitted to 670 The Score that the Cubs closer was still feeling significant pain.
Now here we are three weeks later and Morrow remains inactive, though Hickey said Wednesday that the reliever is moving in the right direction. During his weekly appearance on the Mully & Haugh Show, the pitching coach update Morrow's progress and discussed the steps he's taking to get back.
"Well, really he's in the hands of the medical people for the most part," Hickey said. "He's out there throwing on flat ground, he has not gotten out onto the mound yet. He's thrown with a lot of spirit, with a lot of effort. He's also thrown breaking balls."
While I'm sure exactly how one quantifies "spirit," it's good that Morrow is throwing breaking pitches. Combined with a high effort level, we've got a pretty good indication that his pain has been alleviated. Now the Cubs are in wait-and-see mode, though Hickey said Morrow's role means a quicker timeline for his return.
"It's just a matter of recovery, which the recovery just doesn't seem to go quite as well as you would hope," Hickey admitted. "But we're definitely heading in the right direction, trending in the right direction. And him being a one-inning relief guy, once he does get onto the mound it wouldn't take anywhere near as long as Darvish would."
He had shared earlier in the show that the plan for Darvish was to make three rehab starts before being activated in September, so it seems we could see Morrow back prior to that. Then again, Hickey was very cautious when addressing whether and when the closer might return.
"So I'm still optimistic about that, and that would be him [pitching again] before the end of the season," Hickey said.
Take that how you will, but I am choosing to interpret it as Hickey dialing back what has to this point been an overly transparent manner of speaking. And since Morrow hasn't gotten on the mound yet, there's simply no way to set up an appropriate timeline for him. Once he does get back on the bump, however, things could proceed pretty quickly.
Having Morrow in the bullpen again would really solidify the relief corps and provide an emotional boost to the team as a whole. As such, let's hope the next time we hear about Morrow's progress it involves him throwing from an elevated position.