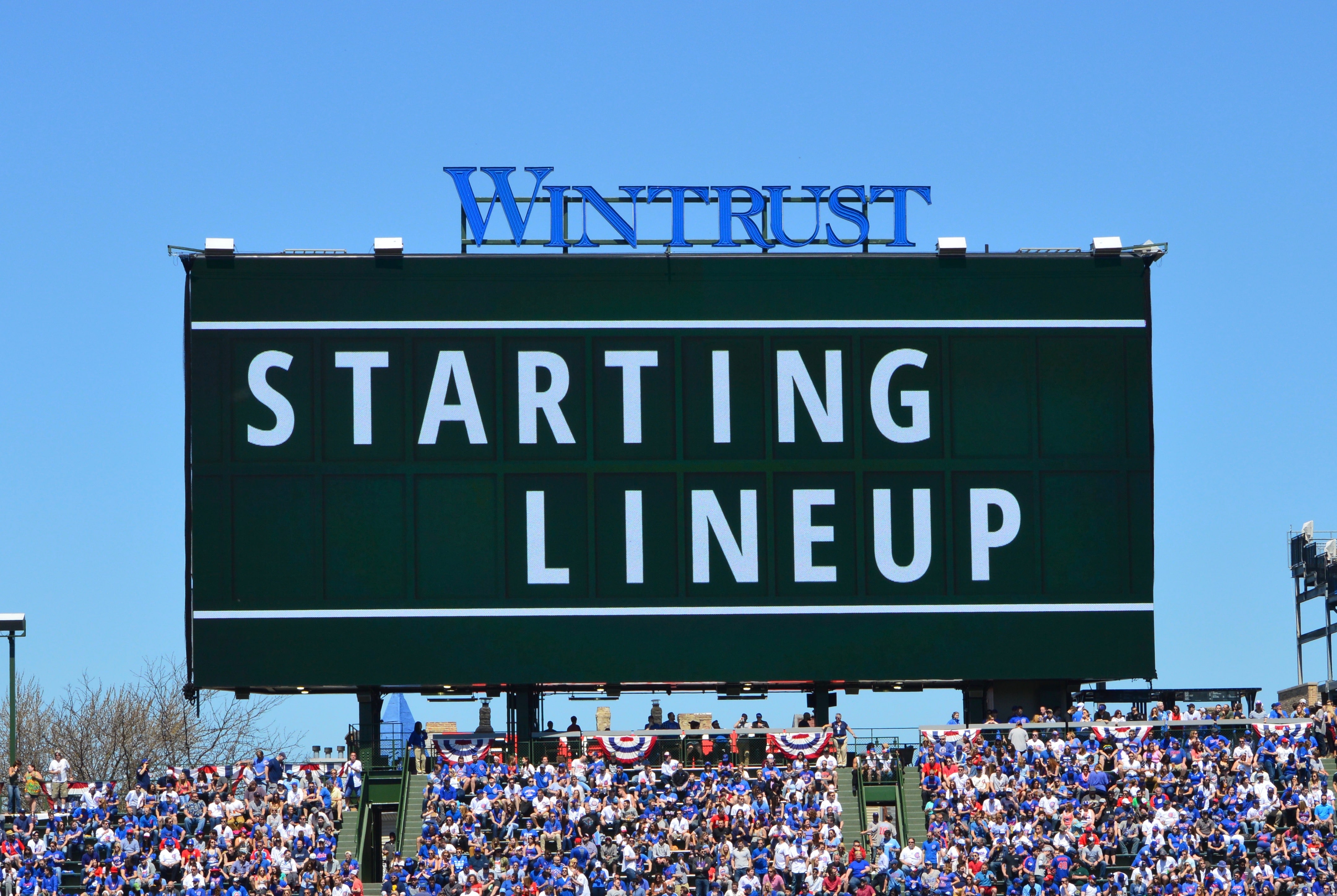 Chicago Cubs Lineup: Zobrist Leads Off, Bote Third, Chatwood Back in Rotation
Ben Zobrist leads off in right, Jason Heyward slides to center, and David #EveryBoteIn plays and bats third. Anthony Rizzo is cleaning up, Javy Baez bats fifth, Kyle Schwarber is sixth, Willson Contreras is catching and Addison Russell mans short.
Strap in, folks, because Tyler Chatwood is back in the starting rotation. The erratic righty was shifted to the 'pen following the acquisition of Cole Hamels, but he's back for the time being now that Mike Montgomery has been placed on the 10-day DL. There's a measure of dread in seeing Chatwood back out there to open the game, but his flaws are easier to hide in that role.
What's more, the Cubs have won eight of the last 10 games he started, including the last five in a row. It's as though they know they're going to have to show out to get the job done, which would be the opposite of what we've seen the last two nights in Pittsburgh. Even if Chatwood pitches well, a singe tally ain't getting it done in this one.
Opposing the Cubs will be burly righty Joe Musgrove, owner of a very solid 3.49 ERA and allower of only 0.68 home runs every nine innings. That's not nice for a Cubs team that has generated its only two runs via the longball in two previous games.
One thing the 25-year-old Musgrove isn't, however, is a misser of bats. He's got a mere 6.98 K/9 and has allowed at least five hits in 12 of his 13 starts so far, so the Cubs are going to get their share of opportunities in this one. Musgrove is a big-time strike-thrower, starting with the first pitch. Nearly 68 percent of his initial offerings go for strikes, which is among the 12 highest in baseball (min. 60 IP).
And Musgrove works in the zone more than any of the 175 pitchers in that group, throwing 50.6 percent of his pitches for strikes. The key to his success is a varied repertoire that sees him throw at least five different pitches with significant frequency. He's got a four-seam, slider, cutter, sinker, and change (plus a curve depending on the tracking you follow), allowing him to mix speeds and location to keep hitters guessing.
Picking up the ball out of his hand and/or sitting on the right pitch may well determine the game for the Cubs. With the exception of the slider, which he'll use to finish batters, Musgrove has the confidence and ability to throw all of his pitches in any count. He'll vary frequency by batter handedness, of course, but he's got a Johnny Cueto like arsenal of junk to throw up there.
Lefties do tend to see Musgrove much better and their overall .327 wOBA against him is 56 points higher than their counterparts. But what's wild about that is his platoon splits are nearly dead even on the road this year. At PNC Park, however, lefty batters are slashing .317/.386/.544 with a .386 wOBA.
Sounds like a good time for Rizzo and War Bear to bust out the boom sticks, huh?
First pitch is at 6:05pm CT and can be viewed on WGN or heard on 670 The Score.
Here is tonight's #Cubs starting lineup.

Game preview: https://t.co/P1KF8qYIyZ #EverybodyIn pic.twitter.com/nFKwmYXiGz

— Chicago Cubs (@Cubs) August 18, 2018