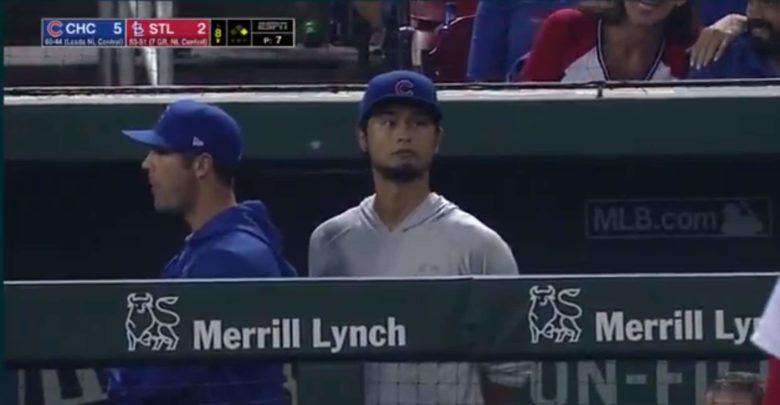 Darvish Requests MRI, 'More Disappointed Than Anyone Else in the World'
Everything was going swimmingly with Yu Darvish's second round of rehab for a inflamed elbow/triceps that has kept him on the DL since May 20. Until, that is, he came out for the 2nd inning of his rehab start in South Bend. Darvish had touched mid-90's with the fastball in the first frame but called for the trainer while warming up for the next and left thereafter.
"My last pitch in the first inning was 95 mph and I did not feel any abnormalities," Darvish told the media after the game through his interpreter (video below in tweet). "Certainly, now I feel more disappointed than anyone else in the world."
A quick straw poll of social media shows a long line of disappointed folks and more than a few scalding takes, so Darvish feeling even worse than all of them is really saying something.
"The first inning was great," Darvish said. "The fastball, I felt I needed more time to get the command. During the warmup in the 2nd inning, I felt something in there. The last time I felt something in there and continued to throw. This time I stopped after the last warmup."
You may recall that Darvish rated his earlier rehab start in South Bend a "12 out of 10," but also reported feeling discomfort in the triceps afterwards. He pushed through the fatigue during that outing and also pitched through pain in a bullpen session last month, altering his mechanics to mitigate the issue.
"Not necessarily pain," Darvish told reporters back on June 25. "But I can't for sure say there's nothing going on in the triceps. It's not like anything bad. I feel like everyone who comes off the DL goes through this."
It obviously did end up being something bad, as subsequent pain in a bullpen session after rejoining the Cubs in LA had Darvish flying to Dallas to get a second opinion and a cortisone shot. Everything seemed to be trending up from that point, with optimism that he'd easily be able to return for at least the last month of the season. But that was with no setbacks.
This latest hiccup puts Darvish's return in jeopardy, though there's perhaps the tiniest sliver of hope remaining.
"I can't tell for sure what will happen," Darvish said of the updated outlook for the remainder of the season. "It depends on how I feel tomorrow. I requested an MRI."
DARVISH: Here's the video of Yu Darvish's post start media session at Four Winds Field. pic.twitter.com/xxY1c3cmCA

— South Bend Cubs (@SBCubs) August 19, 2018
While he admitted that he'll continue working to return this season, the odds on that becoming a reality just got crazy long. Unless the MRI comes back completely clean and Darvish is able to resume his throwing program immediately, it's easy to see the Cubs shelving him for the remainder of the season.
Whether you're Pollyanna or a meatball, there's nothing good about this news. Unless, and this is really stretching it, you go with the idea that this at least keeps the Cubs from looking forward to a late-season return. Not that they were expecting much to begin with, but there's something to be said for being absolutely certain about what is (or isn't) going to happen.
And what probably isn't going to happen in this case is Darvish pitching for the Cubs again in 2018. Unless he tries to come back as a lefty junk-baller.