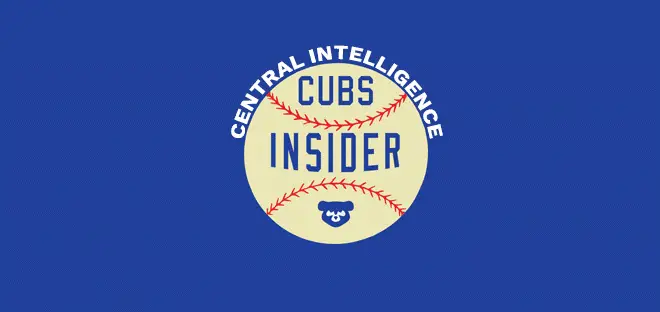 NL Central Intelligence: A Look at Last Two Weeks in Division
We had a hiatus last week, but now it's time for another installment of Central Intelligence! Here's a look at some of the action from the last two weeks.
Chicago Cubs
The Cubs have built a 3.5 game lead despite not playing their best baseball over the past few weeks.
Yu Darvish suffered yet another setback in his rehab. He had to leave his rehab start for Single-A South Bend on Sunday after just one inning. Darvish requested an MRI and will await his next steps.
The Cubs won consecutive 1-0 games for the first time since 1973 this week, when they defeated the Pirates on Thursday and Friday. The Friday game had some additional historical value, as the Pirates grounded into seven double plays, tying a major league record for a nine inning game.
Pay close attention, because you may never see another walk-off two-out, two-strike grand slam with a team down by three. David Bote has earned himself a place in Cubs' lore forever, and he doesn't even have to take another at-bat.
Milwaukee Brewers
The Brewers may be hanging by a thread at this point. They are clinging to second place, but are 3.5 games back and just lost two of three to a surging Cardinals team.
Like the Cubs, the Brewers are without a key starting pitcher after it was recently revealed that Jimmy Nelson may not return from his shoulder injury this season. He would be a nice pitcher and a fresh arm down the stretch that the Brewers desperately need.
Christian Yelich has played at an MVP level all season, but especially the past month or so. Over his past 30 games, he is slashing .362/.404/.677 with eight home runs. Yelich is currently two off of his career high pace of 21 home runs.
It looks like Josh Hader will be the full-time closer in Milwaukee going forward. He recorded his 10th save on Sunday. Corey Knebel has a 9.00 ERA over his past seven outings and a 6.89 ERA over his past 15 as he is trying to regain his form.
St. Louis Cardinals
The Cardinals have gotten red hot and are 11 games over .500 (68-57), surging to just a half game back of the second wild card.
Matt Carpenter might be slugging his way to the MVP. He leads the National League in home runs (33) and is second in OPS (.957). He has really been the main cog behind this recent surge.
St. Louis added some pitching depth last week, literally taking Tyson Ross from the Padres. That's all it was; the Padres gave Ross to the Cardinals on waivers with no return or anything. Peculiar transaction, but helps add some depth to that pitching staff.
Speaking of the staff, Miles Mikolas has been an absolute bargain. He currently has a 2.80 ERA with a 3.38 FIP and just a .265 BABIP. This guy has been at ace level, and only for $7 million or so.
Pittsburgh Pirates
Remember when the Pirates went shopping at the trade deadline? That run has ended and they are just one game above .500 at 63-62.
Speaking of buying, Chris Archer has not been great as a Pirate. In three starts, he has a 5.65 ERA with a 4.21 FIP and a .295 batting average against. He still has three seasons so he can turn it around, but not a promising start.
The Bucs added to their infield depth by picking up Adeiny Hechavarria, a defensive specialist out at short, to fill in for injured shortstop Jordy Mercer.
How about Elias Diaz? He is having a breakout season behind the dish, slashing .293/.345/.470 with nine home runs. That latter total is more than he hit at any level in the minor leagues.
Cincinnati Reds
Still in last place, but nowhere near as bad as their 55-69 record states.
Eugenio Suarez has taken over the National League lead in RBI, with 91. He got the lead after hitting a two run homer against the Giants on Sunday.
Tucker Barnhart made his first career start at first base over the weekend. That's first career start at any level, including little league, high school, or minor leagues. Cincy is looking for somebody to take Joey Votto's innings now that he is on the DL.
The Redlegs may not have to go far for Adam Duvall's replacement. Philip Ervin is slashing .296/.360/.463 through 44 games this season. If he keeps those numbers up and lets the power develop, he can definitely become an everyday player.