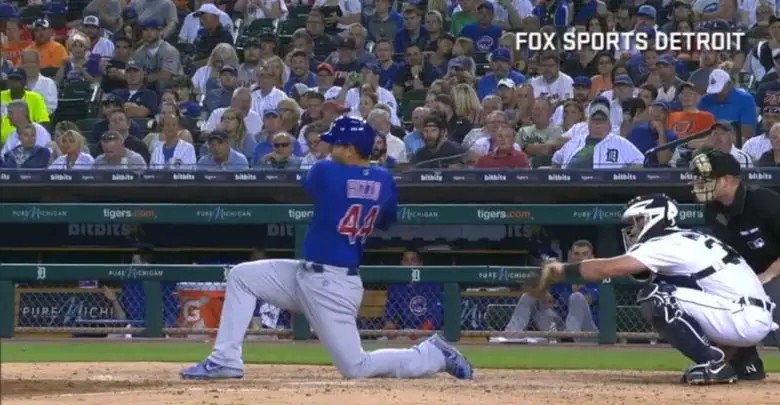 Cubs Slugging Away Notion of 'Chili Effect' with Recent Power Surge
A lot can change in a week. And though we can't take the last five games as proof of anything other than the Cubs' ability to beat bad teams, their play went a long way toward banishing at least one narrative. Or perhaps it'd be more fair to say they swept some of said narrative from the floor, since there are still lots of cobwebs in the corners and dust on the top side of the ceiling fan.
I'm speaking of the pervasive thought that hitting coach Chili Davis has promulgated an anti-power philosophy, which persists because pretty strong anecdotal evidence exists to support it. And when both Davis and Joe Maddon talk about getting away from a reliance on homers, you can see how things might be construed a certain way.
"It's something we've been after for a bit," Maddon told the Daily Herald's Bruce Miles in July of the team's hitting approach. "I know recently Chili had that meeting to re-emphasize. Sometimes when the student is ready, the teacher does appear.
"Hit the homers you're capable of. Hit to the batting average you're capable of, and balance your walks versus strikeouts. Thus you're going to score runs. Thus you're going to be able to drive in more runs by moving the baseball as opposed to swinging and missing so much."
So the idea isn't so much about not wanting to hit homers as it is not needing to hit them. Rather than thinking longball with each at-bat, the Cubs want their hitters to take what opposing pitchers give them and to find other ways to create runs. When you combine that notion with Kris Bryant's extended absence, flagging power numbers from a few other hitters, and several weird stretch of games, it's understandable for fans to fear that things are bad by design.
As of August 20, the Cubs had gone 31 games without hitting three homers in a game, a streak they'd extend by one with a 2-1 loss in Detroit the following day. As I wrote prior to that short series against the Tigers, the Cubs were tied for ninth in the NL with 128 total home runs while their .155 ISO — which subtracts batting average from slugging to reveal how often a player/team hits for extra bases — ranked 10th in the league.
Last Tuesday's loss in Detroit marked the Cubs' fifth straight game scoring via only a single solo homer and it was their sixth straight game scoring via only a single homer of any kind. That all changed last Wednesday, however, as they broke the 32-game streak above and lit a match to a pile of kindling that had long lain dormant.
The Cubs have now hit multiple home runs in each of the last five games and have twice hit three homers. They've added nine doubles and a triple for a grand total of 22 extra-base hits in that short stretch. You might not think a handful of outcomes would have much impact 124 games into the season, but power splurge has elevated the Cubs' team slugging to .422, five points above where it was a week ago.
Their ISO has jumped four points to .159 and the reason that isn't higher is their .296 batting average over the last week has nearly kept pace with their .535 slugging (relatively speaking). That ISO number is still only good enough for ninth in the NL, as are their 141 homers, but the Cubs are now just seven points behind the Brewers and Diamondbacks for third in the league.
I should note that there's been virtually no change in the batted-ball stats, which include the third-highest soft contact (19.6 percent) and the third-lowest hard contact (32.5 percent) in the league. The Cubs' line-drive rate (21.3 percent) is lower than all but three teams, their grounder percentage (45.6) is higher than all but three teams, and they hit fewer fly balls (33.1) than all but three teams as well. But that's understandable given the vast number of batted-ball events over the course of a season.
With a little over a month to go, the Cubs do appear to be trending in the right direction. The addition of Daniel Murphy has provided a spark, though that could be as much coincidence as cause, and David Bote continues to make #EveryBoteIn this summer's hottest hashtag. Anthony Rizzo has been on fire as well, now raking in a run-producing role after dropping back from the leadoff spot.
Then you factor in what should be a big lift from Bryant, who will return to action for the last month of the season equipped with a new "golf swing" that he believes will produce even more power. I estimated in the aforementioned piece from last week that Bryant's injury-related reduction in productivity may have cost the team 5-9 ISO points over the course of the season. Getting him back at anything close to his career norms immediately boosts the Cubs' power potential.
Again, no proclamations can be made from a week's worth of games. Nor from a month, and maybe not even a full season. That said, we should have a much better idea of whether and how skeptical we can be of Chili Davis and his impact on these Cubs hitters when the dust settles at the end of September.