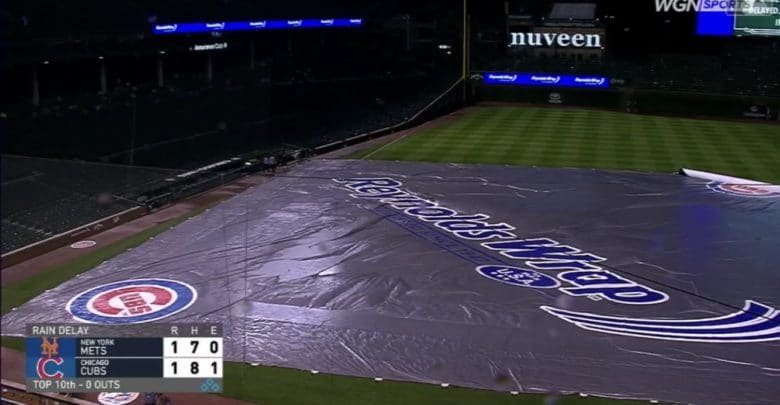 The Rundown: There Are No Ties in Baseball, Hamels Excellent Again, deGrom Is the Real Deal
Originally I had a joke here about traveling into the future, but you all didn't find it funny so I am not going to include it. I will, however, tell you that the Cubs extended their winning streak to seven games on a walk-off three-run homer in the 12th inning by Javy Baez. The tater will give Javy the first 100-RBI season of his career. Sorry to spoil it for you, but it looks something like this…
Cole Hamels was magnificent again, yes? Hamels was lifted for a pinch hitter after 93 pitches over five scoreless innings. He scattered four hits, struck out eight, walked three, and lowered his ERA to 0.69 in six starts since being acquired in late July.
I hope all the Cubs pitchers watched as Hamels kept his composure each time he pitched himself into and out of jams, including that wonderfully intense 5th inning. Remember, there are no ties in baseball. Unless today's games get washed out and do not affect the season-ending standings, in which case they will not have to be completed. So, yeah, 4-1 Cubs. I'll do you all a solid and let you watch the final game of the series in real time later today without the spoiler, though there may be a David Bote moment. Sorry, I can't help myself.
Cubs News & Notes
The Cubs and Mets played to a 1-1 tie before the rains came in the 10th inning on Tuesday, leading to a suspended contest which will be picked up on Wednesday. They will complete the suspended game at noon CT then play the season finale between the teams 45 minutes later.
Cubs RHP Alec Mills makes his second start in the originally scheduled game, facing LHP Jason Vargas. Mills allowed one run and struck out eight in 5 2/3 of an inning Friday against the Reds. Vargas is 2-0 with a 1.59 ERA in his last two starts.
The biggest July/August trade season winners might just be the Cubs.
Shortstop Addison Russell said he "played a little light catch" Tuesday afternoon as he recovers from shoulder and left middle finger ailments.
Kris Bryant drew two walks and had an RBI single in his second rehab start for the Iowa Cubs last night.
Entering Tuesday, three Chicago Cubs managers had winning percentages of .600 or better with the team: Albert Spalding, Frank Chance, and Joe Maddon. So speculation that his job as manager of the team may be in jeopardy seems a little ridiculous.
This year Maddon has had to deal with 40 percent of his starting rotation either being ineffective (Tyler Chatwood) or injured (Yu Darvish). Closer Brandon Morrow has appeared in only 35 games because of injury, and All-Star third baseman Bryant is on the disabled list for a second stint. Maddon arguably deserves to be named Manager of the Year.
NBC Sports projects the Cubs roster after September call-ups. Terrence Gore should be exciting to watch.
How About That!
In the heat of an unexpected run toward the playoffs, the A's have lost two starters in ace Sean Manaea and Brett Anderson. Manaea went on the disabled list Sunday with a left shoulder impingement and Anderson joined him there Tuesday because of a left forearm strain. The A's may try bullpenning in their absences. Tough way to stay in contention in what has been baseball's most intriguing story of the season
Rockies starter Kyle Freeland is 12-7 with a 2.90 ERA across 27 starts and 164 1/3 innings, including 75 1/3 Coors Field innings with a 2.27 ERA. Overall, Rockies pitchers have learned the secret to pitching at home: Disrupting timing, use of the changeup, and committing to the slider on both sides of the plate.
The Rockies remain in contention for the NL West and/or a wild card birth despite a negative run differential.
The Cardinals removed the interim tag from Mike Shildt's title and promoted him to full-time manager through 2020, a reward for steering the team back into postseason contention after replacing the fired Mike Matheny.
The Mets traded Jose Bautista to the Phillies for a PTBNL or cash.
The Braves ended the Rays' eight-game winning streak with a 9-5 victory last night.
The Nationals have received interest from teams regarding a possible deal for starter Gio Gonzalez, according to Jon Morosi of MLB.com. The Nationals have also placed reliever Ryan Madson on trade waivers, per Jorge Castillo of the Washington Post.
Tuesday's Three Stars
Jacob deGrom – In eight innings against the NL's highest-scoring offense, deGrom allowed one run on eight hits and one walk. He struck out 10, reaching double digits for the ninth time in 27 starts.
Christian Yelich – The Brewers OF had two home runs and five RBIs in the Brewers 9-7 loss to the Reds.
Cole Hamels – The Cubs starter was ace-like again, striking out eight Nets batters in five innings in taking a no decision in last night's suspended game.
Extra Innings
The Astros have a thing they're doing now. It's a sorta funny thing. After a big, late home run from first baseman Tyler White last week, a group of Houston players performed a synchronized stare into the dugout camera. On Alex Bregman's big, late home run Monday night, they added a new wrinkle:
Alex Bregman's newest staredown after his home run to give #Houston an 8-4 lead. #DugoutStareChallenge #Astros #MLB

Credit: AT&T Sportsnet SW@FOX26Houston pic.twitter.com/UNLSkl2tim

— Danny Mata (@DannyMataJr) August 28, 2018
I still miss Ian Happ's makeshift boom microphone though. Best dugout home run celebration I've ever seen.
They Said It
"Defensively we hurt Cole a little bit. That's why we got him out after 94 [pitches] and 5 [innings]. But he was throwing the ball extremely well. But the other guy [deGrom] is as advertised. That's different. That's another level of stuff." – Joe Maddon
"Any time I have to worry about what Bob Nightengale writes or what anybody else writes, then I should just pretty much hang things up anyway," Maddon said. "It means nothing. That is actually dumb. It's hard to comment on something — a lot of times these guys write things in order to get a reaction and they're looking to further this or get hits online, whatever you want to call it." – Joe Maddon
"We've seen some other creative solutions around the game when it comes to starting pitching. Once we get to Sept. 1 and have a large bullpen at our disposal, we'll look at some of those things as well." – A's GM David Forst
Wednesday Walk Up Song
Your Love by The Outfield. This song never gets old.