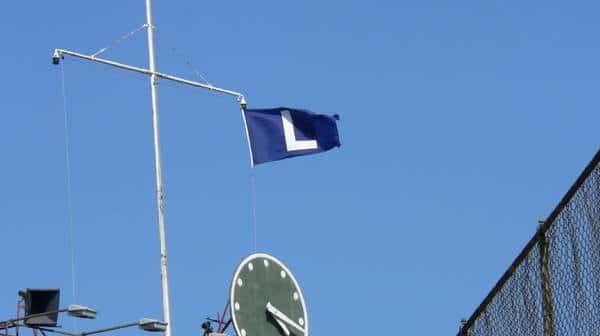 CI Recap (9/10/18) – Brewers 3, Cubs 2: Offense Falters, Lester Leaves with Back Tightness
The Chicago Cubs and Milwaukee Brewers opened an important series with playoff implications Monday evening. The Cubs held a two-game lead over the Brew Crew in the NL Central at the outset, but their momentum appeared to be slipping following the last few series.
Jon Lester and Wade Miley stayed toe-to-toe for most of this one, though neither were able to go more than six innings. Miley was pulled before the 6th inning while Lester was pulled midway through the that frame due to low back tightness.
The Cubs were only able to muster two runs on Miley, after which the Brewers bullpen shut down the game. Josh Hader entered in the 7th inning and was able to strike out the side twice to blank the Cubs.
All in all, the Cubs offense was quiet, only putting together five hits. Daniel Murphy, Javier Baez, and Anthony Rizzo were held hitless, which explains part of the reason the bats were cold. (Box Score)
Why the Cubs Lost
The offense went cold yet again. The key to defeating the Brewers is getting to their starting pitching, and putting up two runs on Miley just simply wasn't enough.
Key Moment
The Brewers were able to string together five hits over the first two innings of the ballgame, scoring a run in each of the frames. Lester was unable to take control of the game early as the opposing hitters were swinging aggressively early in counts.
Stats That Matter
Lester was able to escape the first two innings despite being hit hard. He finished with a respectable line after being pulled for injury: 5.2 IP, 3 R, 8 H, 7 K, 2 BB.
Ben Zobrist saw the ball well, going 2-for-4 with two singles. He remains one of the team's hottest bats with an updated slash line of .315/.389/.460 following tonight's game.
Joe Maddon opted to bring in the struggling Carl Edwards Jr. in the 6th inning with two men on following Lester's departure. This proved to be a questionable call, as Edwards proceeded to throw a wild pitch to bring in a run, followed by walking Orlando Arcia.
Bottom Line
Following a dreadful series with the Washington Nationals filled with questionable rain delays and a game rescheduling, the Cubs offense entered this key series completely flat. Simply put, the offense has to heat up and exhibit some consistency during the remainder of this series in order to maintain the lead in the division.
On Deck
The Cubs enter game two of this series in need of a win to avoid a tie atop the NL Central. Jhoulys Chacín will square off against Jose Quintana at 7:05pm CT. The game will air on WGN and MLB Network for out of market viewers.