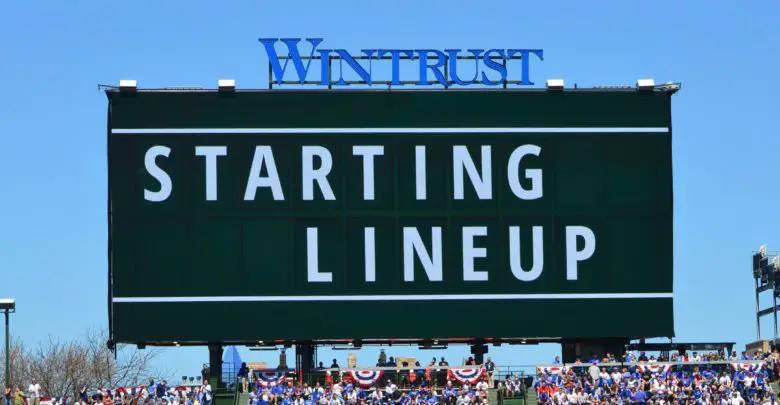 Chicago Cubs Lineup: Murphy Leads Off, Bryant in LF, Javy at 3B, Hendricks Makes Start
The season series between the Cubs and Brewers has been a lot like Ozark, the Netflix show starring Laura Linney and that guy from The Hogan Family and Teen Wolf Too. Without giving away any spoilers, it's filled with intense drama involving people from Chicago who basically take over a smaller town. There's also a federal agent who gets shut out a lot.
Here's to hoping for a much less tense finale tonight as Daniel Murphy leads off at second base. Kris Bryant follows in left, Anthony Rizzo is at first, and Ben Zobrist is in right. Javy Baez is playing third, Albert Almora Jr. is in center, Willson Contreras is catching, and Addison Russell is at short.
First things first, I'm going to keep banging the "WillCo needs to sit more" drum, particularly considering how well Victor Caratini is hitting righties. But this is actually a much better matchup for right-handed hitters, hence Almora getting the nod as well.
Kyle Hendricks will be starting against the Brewers for the fourth time this season and will hold them scoreless if his pattern holds. He gave up four runs way back on April 6, then shut them out 20 days later and gave up four more runs back on August 15. So there you go.
As in that last game, a lot of the scoring against Hendricks over the last couple months has come from bloopers and seeing-eye hits that shouldn't do as much damage as they have. Since his July 9 start in San Francisco, Hendricks has given up a .332 BABIP on 24.9 percent soft and 26.3 percent hard contact. Compare that to a .265 BABIP on 22.7 percent soft and 31.4 hard contact prior to that.
The moral of the story is that baseball is weird. But Hendricks has been much more aggressive and isn't giving many free passes out. He hasn't walked more than two since June 21 and has struck out five or more in eight of his last 12 starts. Another strong performance should push the Cubs back to a three-game lead.
Trying to prevent that will be 30-year-old righty Chase Anderson, who'll be facing the Cubs for the fourth time in 2018. He's been pretty dominant thus far, allowing only three runs over 20 innings and striking out 10 with five walks. But of the 10 hits Anderson has allowed, two have left the yard, a trend that the Cubs will seek to leverage in this one.
No other pitcher in the NL has allowed more than Anderson's 29 home runs, which is a big factor in his .234 BABIP. Along with telling you the guy is getting a little lucky, it means that a lot of the balls hit against him simply don't remain in play. That BABIP is actually only .226 over his last seven starts, but that includes 10 homers and 19 earned runs scored.
A reverse-split pitcher, Anderson gives up bigger numbers to righties across the board. He's been much better on the road than he has at Miller Park, though, so look out for that quirk tonight. Then again, most of the disparity is just a matter of giving up fewer home runs. Anderson strikes out almost two fewer batters per nine innings on the road, perhaps something to do with his comfort level.
Look for a wide variety of pitches, with the change and curve leading the way among the secondaries. Anderson isn't a big sinker guy, but he'll bust it out from time to time. He's also got a cutter that has been tagged pretty hard so far this season.
Cubs batters haven't really gotten the better of Anderson at any point, though Bryant does boast a 1.080 OPS with three homers in 21 career at-bats. On the other end of the spectrum, Javy has a measly .167 OPS with four strikeouts in 12 at-bats. I've got a feeling El Mago improves upon those numbers tonight when he goes yard.
First pitch is at 7:05pm CT on ABC-7 and ESPN (out of market only), with 670 The Score on the radio call.
Here is tonight's #Cubs starting lineup.

Game preview: https://t.co/LBNQBL5cMB #EverybodyIn pic.twitter.com/iqmLOI0ndI

— Chicago Cubs (@Cubs) September 12, 2018