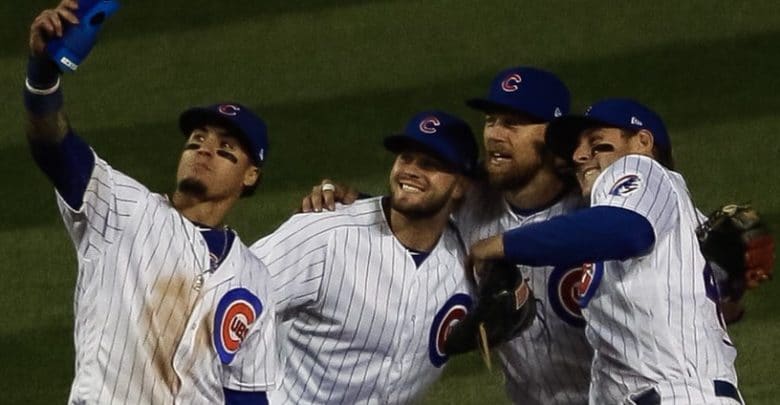 The Rundown: Magic Number Three, Fate of Five Teams Rest on Cubs-Cardinals Series, Up-to-Date Playoff Possibilities
Big win last night, despite the Cubs showing a national television audience just why they have become one of the worst base running teams in all of baseball. Five men reached base in the fourth inning yet the Northsiders could manage just one run.
Nevertheless, David Bote flashed some serious leather and gave the team all the offense they would need with a two-run triple in the second inning, leading the Cubs to a 3-0 victory over the Pirates. The shutout was their 18th of the season. Jon Lester earned his team-leading 18th win.
David Bote has been known to get clutch hits. pic.twitter.com/1aNPxAg5Zs

— Chicago Cubs (@Cubs) September 28, 2018
Three games left and the National League still has two divisions, one wild card, and its entire playoff seeding at stake.
Here's what we know after last night's games:
The Central Division winner will finish with the best record in the league and secure home field advantage through the league championship series, and the runner-up will host a wild card game against the Dodgers, Cardinals, or Rockies.
If the Cubs and Brewers tie for the division title, there would be a tiebreaker game Monday at Wrigley Field. Jose Quintana is lined up to start that potential game. He'd likely face Jhoulys Chacin, though Milwaukee could opt to throw their bullpen at the Cubs starting with the first inning.
The Rockies will clinch a postseason berth with one more win, and one more loss by the Cardinals.
If the Rockies and Dodgers tie for the NL West title, there would be a tiebreaker game Monday at Dodger Stadium. As rotations sit now, neither Kyle Freeland, Walker Buehler, nor Clayton Kershaw will be available to pitch in that game, if necessary.
The Rockies, Dodgers and Cardinals all could end up with 89 or 90 wins, tying for a division title plus the second wild card. If that happens, the Rockies and Dodgers would play for the NL West title on Monday, with the loser playing at St. Louis on Tuesday to get into the wild-card game against the Brewers or Cubs. That game would then be played on Wednesday.
The Atlanta Braves have clinched the NL East and can win the No. 2 seed, but they'll have to finish with a better record than the Rockies and the Dodgers because they lost the season series to both teams.
The key to all of this is the Cubs-Cardinals series.
Your up-to-the-minute NL Standings:
Cubs 93-66 .585
Brewers 92-67 .579
Rockies 89-70.560
Braves 89-70 .560
Dodgers 88-71 .553
Cardinals 87-72.547
Cubs News & Notes
38,415 at Wrigley Field tonight. #Cubs now have topped 3 million at home for 3rd consecutive season and 11th time in ballpark's history

— Carrie Muskat (@CarrieMuskat) September 28, 2018
If it feels like the Cubs are hanging on by a thread, that's because they are. But after last night's victory,  Chicago's magic number is down to three.
The Cardinals have their backs to the wall after the Brewers swept them in St. Louis, an awful series in which the Cardinals hit, pitched, fielded, and ran the bases poorly. They'll look to Adam Wainwright to right the ship this afternoon. The Cubs will counter with Kyle Hendricks.
The Cardinals will likely have to sweep this series to secure the second wild card spot.
The Cubs play afternoon games today and tomorrow while the Brewers have evening games at home against the Tigers. Are the starting times an advantage or a disadvantage for the Cubs? All league games start at 2:05 pm on Sunday.
Joe Maddon held his annual post-season pregame meeting yesterday, telling his players the playoffs have already started.
MLB extended Addison Russell's administrative leave through Sunday.
How About That!
Since leading the East Division by one game on August 11th, the Phillies have gone 13-30, becoming baseball's pinata in the process. I do not believe Gabe Kapler will be back to manage that team next season.
Over the course of their series sweep, the Rockies outscored the phoning-it-in Phillies by a margin of 39-7, and overall Colorado is 17-8 in September. More to the point, the Rockies now hold a full one-game lead over the Dodgers in the NL West with three to play. The Rockies and the Cubs control their own destinies.
Yankees starter CC Sabathia possibly threw away a half million dollars to stand up for his teammate. He needed to pitch two more innings to receive that benchmark bonus. Maybe Aaron Boone will give him two innings of relief on Sunday.
Bryce Harper may have cryptically said goodbye to Nats fans.
Thursday's Three Stars
Cubs Fans – Three million plus in attendance for the third consecutive season. Way to go!
Baseball Fans – This weekend is really supercharged with endless playoff possibilities. Fans in five separate cities will live and die with almost every pitch.
Cubs Insider Readers – We'll have everything you need in a timely fashion and welcome your participation in the comments sections of each article. Let's talk playoff baseball!
Extra Innings
Last night the Cubs held Social Media Night. The front office has always been very progressive in recognizing the bloggers who help promote the team and last night they honored that coverage.
We are here having a blast at #CubsSocial at the Brickhouse Tavern. One of the best events put out by @Cubs each year. pic.twitter.com/CNnCKhIOuv

— Cubs Insider (@realcubsinsider) September 27, 2018
The infield with the game winning selfie on #CubsSocial Media Night. @cubs up a game with three to play! #EverybodyIn #EveryBoteIn #elmago @javy23baez @DavidBote13 @benzobrist18 @ARizzo44 @BleacherNation @realcubsinsider pic.twitter.com/rVxUArEQV9

— MBDChicago (@MBDChicago) September 28, 2018
They Said It
"His stuff looked normal from this side, but (Lester was) abnormal command-wise and he got through it. He battled. He showed his mettle tonight." – John Maddon
"Sometimes when you're able to weave your way inside and out of trouble like tonight, these are the more rewarding wins than the ones where you have your good starts and are just able go out there and execute. We've made the playoffs and nobody in that clubhouse is satisfied with that. I think we all kind of expect to win the division." – Jon Lester
"Stakes are high. We need to win all three games to control our destiny. It's all hands on deck. It's all hands on deck over there [for St. Louis]. Where they've come from, firing their manager to being in contention for the second wild-card spot, it's unbelievable. You can't discredit what they've done. Hopefully, they run out of gas this weekend." – Anthony Rizzo
"We could win a lot of ball games if our manager would get out of the way." – Unnamed Phillies Player
Friday Walk Up Song
All Eyez on Me by 2pac. The Cubs-Cardinals series is the most significant of the weekend and impacts the fates of five teams, one of which will be left out of this year's playoffs once the weekend has ended.