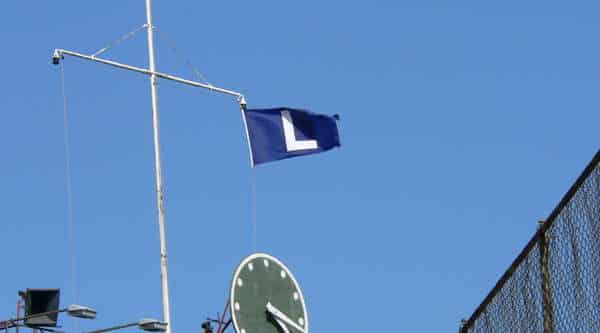 CI Recap (9/29/18) – Cardinals 2, Cubs 1: Running Against the Wind
With the division lead on the line, every game is huge for the Cubs. The Cardinals were also playing for their postseason lives on Saturday. Unfortunately for Chicago, the opposing starter was just a bit more effective and the road team notched a narrow victory.
The Cubs got the scoring going early after Ben Zobrist singled against Miles Mikolas with one out in the bottom of the 1st inning. Javy Baez hit a pop fly behind second with two down, but the ball clanged off Yairo Munoz's glove and Zobrist came around all the way from first to give the Cubs a 1-0 lead.
Cole Hamels was perfect through three innings before Matt Carpenter reached on a catcher's interference call to lead off the 4th. Jose Martinez then walked to put two on with no one out, setting the stage for Paul DeJong's game-tying bloop single to left.
Hamels escaped that inning with no further damage, but he ran into more trouble in the 5th. Harrison Bader was hit by a pitch and Munoz walked to put two on again. Carpenter hit the go-ahead single with one out before getting thrown out at second.
The 2-1 lead was plenty for Mikolas, who only allowed five singles in eight outstanding innings. Carlos Martinez, now serving as closer, slammed the door shut on a costly Cubs loss. (Box score)
Why the Cubs Lost
The offense could get hardly anything generated against Mikolas and the balls they were able to drive were knocked down by the wind that was howling in.
Key Moments
The catcher's interference call was huge and was compounded by a walk and led to a run. Likewise, the hit batter an inning later also led to a run. When a game matters so much, every mistake can be very costly.
Stats That Matter
Hamels was very good and gave his team every chance to win: 7 IP, 2 R, 1 ER, 3 H, 8 K, 2 BB. Every small mistake he made came back to haunt him, the very definition of a hard-luck loss.
Daniel Murphy had two of the five hits for the Cubs today.
Bottom Line
The defeat put the Brewers in position to tie the Cubs with a win. The nightmare scenario of a one-game division playoff on Monday is very much in play. To avoid that or a wild card game, or possibly both in the worst case, they will need the Tigers to win. Don't hold your breath on that happening.
On Deck
The final game of the season may be huge for both teams. This game, along with all others in MLB, starts at 2:20pm CT, with Jack Flaherty going up against Mike Montgomery on NBC Sports Chicago.