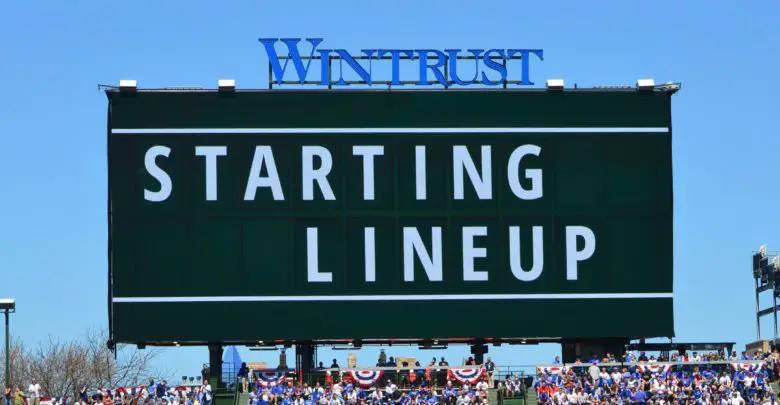 Chicago Cubs Lineup: Zobrist Leads off, Bryant Batting Second, Lester Pitching for Playoff Life
Well, it has come down to this. The Cubs weren't able to get it done against the Brewers in Game 163, so they're in the Wild Card for the second time in four years. What fun! Except not. Not at all.
Ben Zobrist leads off for the Cubs, followed by Kris Bryant, Anthony Rizzo and Javier Baez, batting cleanup. Albert Almora, Jr. is batting 5th, followed by Daniel Murphy, Willson Contreras and David Bote, batting 8th and playing third base.
Jon Lester is the man you want on the mound in a high-pressure game, though it's hard to imagine anyone wanting it to have to be in this particular game. He's riding a hot stretch that has seen him go 6-1 with a 1.71 ERA in his last eight starts, but perhaps more pertinent is his 9-7 record with a 2.55 ERA in 21 playoff starts.
The Rockies do hit lefties really well, boasting .798 OPS and .342 wOBA marks that both lead the NL. However, they are also much worse overall when playing on the road. Their league-best .362 wOBA and solid 97 wRC+ at Coors Field plummet to .289 and 70 when the Rox bat as the visitors. More of that, please.
Kyle Freeland has remained under the radar to much of the general public, which is easy to understand when you've got the likes of Max Scherzer and Jacob deGrom, not to mention Aaron Nola, plying their trades so well. But the 25-year-old lefty put up an excellent sophomore campaign and has gotten better in the second half.
Though he isn't a big strikeout pitcher and is pretty mediocre in terms of walks, Freeland's big calling card is that he doesn't give up the longball. That's pretty incredible for someone who calls the Mile High City home. Freeland has given up 17 total homers, 11 of which came at home, but he has yet to allow a homer on the road in the second half. And only four balls have left the yard against him at Coors since the break.
One way to look at that is to assume the Cubs will have to string together base hits. Another is to say that ol' dude is due for a little regression. I say get you some men who can do both.
Freeland is an interesting study in terms of repertoire, as he doesn't have elite velocity and doesn't really have fantastic breaking stuff. What he does have is the ability to avoid being squared up by commanding his pitches away from the heart of the place, as FanGraphs' Jeff Sullivan recently detailed.
Freeland has attacked to the glove side, and Freeland has attacked to the arm side. There's no easy way of checking for similar heat maps, but this kind of split is not very common. Somewhat frequently, you'll find guys who live on one side or the other. Freeland lives on both sides; he doesn't live down the middle. No starting pitcher in baseball this year has thrown a lower rate of pitches over the middle of the plate. Freeland is staying away from the barrels.
But what's sort of weird about Freeland's peripherals is that he doesn't generate an inordinately high number of grounders (46%) or soft contact (20%), and Baseball Savant has him ranked 64th in terms of fewest "barrels" per batted-ball event. Nothing really jumps out as being exceptionally good, it's just that nothing is very bad. And Freeland's been really good at home, which helps to balance things out.
The good news for the Cubs is that Freeland strikes out fewer batters and walks more when pitching on the road. He also allows more line drives, fly balls, and hard contact away from Coors. Righties have hit him very well when he's a visitor, posting a .298 wOBA that is 61 points higher than their left-handed counterparts.
Expect to see heavy usage of the cutter, especially to lefties, along with the four-seam. Those are Freeland's go-to pitches and he'll alternate them to either side of the plate as Sullivan mentioned. Righties will get quite a few changeups, but that has been Freeland's one "bad" pitch this season. If they're able to sit on the offspeed stuff, there's room to do some damage.
One other note that could be of significance is that Freeland is going on only three days of rest for just the second time in his career. He did so once last season and ended up lasting three innings, over which he gave up two earned runs on five hits with one walk and no strikeouts. He has completed seven innings just three times in the second half and once in his last nine starts, so that bullpen will be at the ready.
First pitch is set for 8:08pm ET on ESPN, so hold onto your butts.
Here is tonight's #Cubs lineup for the #WildCard game against the Rockies.

Preview: https://t.co/lBZAwe9abH #EverybodyIn pic.twitter.com/2XUVvIYWt9

— Chicago Cubs (@Cubs) October 2, 2018