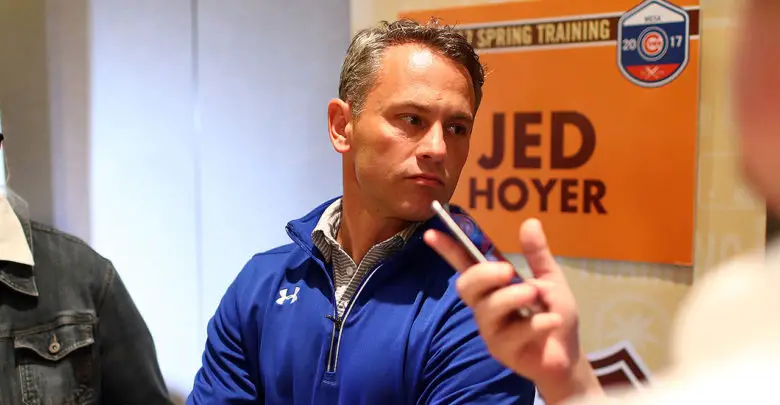 Hoyer Talks About Disagreeing with Maddon, Overall Effort Level, Lack of Offensive Adaptation
Jed Hoyer joined 670 The Score's Bernstein and McKnight Show Friday afternoon to offer his insights on the season the was and what's to come for the Cubs. Initially slated for Wednesday, the GM moved his appearance back in order to accommodate the team's exit interviews and Theo Epstein's postmortem press conference.
And while Hoyer's thoughts closely mirrored those shared during the extensive presser, he did offer a tad more depth to several topics. Chief among those was the way the season ended and what led to it.
"The one-game playoff is an absolute coin flip," Hoyer lamented. "That's why you avoid them. We needed one more win and couldn't do it.
"We didn't have the same relentless that we had in 2015 and 2016."
That lack a killer instinct and constant urgency was a central theme of Epstein's, with the president talking about essentially punting games on getaway day or not caring as much about a sweep after already winning two. His criticism was leveled at the organization as a whole, but Joe Maddon and his staff are responsible for the lineups and dealing with the players on a daily basis.
Epstein almost made it sound as though the front office could be a little more vocal in some of the day-to-day goings-on, at least in terms of maintaining that effort level. As for any real friction with Maddon, though, Hoyer dismissed it as par for the course.
"No one agrees with everything a manager does," the GM admitted. "If Theo was a manager, we'd disagree. We disagree in the box all the time. That's just part of the job. The most important thing is the culture that the person brings to the table."
For as much as his tactical flaws are picked apart, it's hard to argue with Maddon's mastery of the mental game. There may be no one better in the game when it comes to keeping players from getting too high or too low and balancing egos and expectations of everyone involved. I've often said he's like Phil Jackson in that regard, more valuable for how he manages people than how he manages a ballgame.
But while the Cubs have now openly expressed their faith in and admiration for Maddon, who will return for the final year of his contract, the fate of his staff is not so assured. Because their season ended sooner than anyone had anticipated, there haven't been any decisions made as far as who will return and in what capacity.
"It's too early to have a blanket statement and say yes to anything or no to anything," Hoyer admitted.
A lot of folks are calling for Chili Davis's ouster, have been for some time, and his would be the most likely head to roll in light of all the talk about a broken offense. At the same time, the Cubs shook up the entire coaching staff last season and there are several factors that are well outside of any coach's control.
The key to everything will be how the Cubs feel Davis is able to interpret the team's unchanged offensive philosophy and then help the players translate that to more consistent performance. Most notably, they're going to have to produce more power and do better with runners in scoring position.
"Everyone believes in home runs," Hoyer said. "I think where it gets lost is playing the game offensively. Being willing to change your swing to not strike out in a big spot is really important. There are players that don't do that."
When you think about it, one more two-out hit with a runner on second may have made the difference in the Cubs sitting at home and hosting the NLDS. They scored one or no runs in 40 games and went 26-25 in one-run games; one timely hit gives them the outright division title. One hit. Man.
Don't think for a second that those nigh-imperceptible margins are lost on anyone throughout the entire organization. From the from office to the grounds crew, everyone is upset about the idea that one game or one run could have made the difference in the season. Injuries and timing and all manner of randomness had their own effects, but the Cubs failed to take advantage when opportunities presented themselves.
And that, said Hoyer, is what will drive them this offseason to ensure that it doesn't happen again.