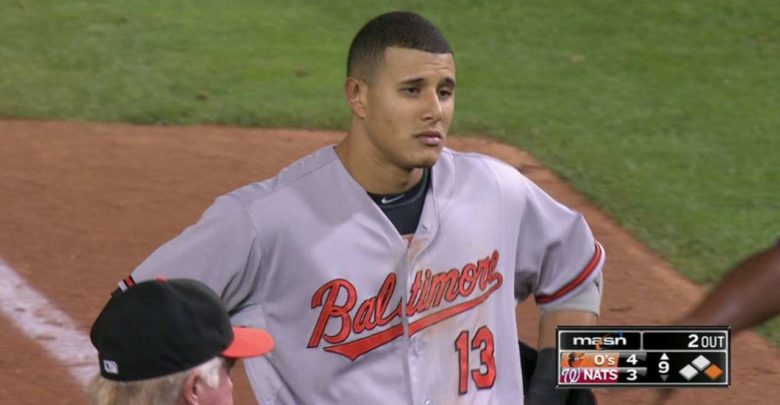 Maybe Manny Machado Isn't a Terrible Defensive Shortstop After All
Raise your hand if you've heard about a player getting better after leaving the Orioles. Okay, now put it down so you can keep scrolling through the rest of this piece. Whether we're talking Jake Arrieta, Pedro Strop, or the Indianapolis Colts, sports fans are quite familiar with the performance enhancement that can accompany a move from Baltimore.
But a more recent and somewhat less obvious shift may have occurred with Manny Machado, whose play at shortstop has improved since his trade to the Dodgers. Peter Gammons noted as much when he spoke with 670 The Score's Mully & Haugh Friday morning, crediting LA's more analytics-based approach for the change. The Orioles, Gammons said, are still operating "like it's 1979."
Ken Rosenthal recently tackled that subject as well, using Machado's improvement to highlight some of the differences (subscription) in how the O's and other teams digest and disseminate data. There's a lot of finger-pointing by recently-jettisoned execs and staff members, but the consensus among former players is that the Orioles just didn't do as good a job of leveraging analytics as their new teams.
The difference in his numbers — from -18 DRS and -7.2 UZR with the 115-loss Orioles to +6 and +0.8 with the 92-win Dodgers — also reveal one of the fissures between two top officials recently fired by Baltimore, executive vice-president Dan Duquette and manager Buck Showalter.
We do need to season any talk of defensive metrics with a liberal amount of salt, something Rosenthal is cognizant of, but it's not like we're operating without a precedent when talking about Baltimore's ballclub. At the same time, it'd be irresponsible to chalk Machado's numbers up to something as simple as the Dodgers being "smarter" than the Orioles.
Like Cole Hamels suddenly being much better with the Cubs than he was for the Rangers this season, there are myriad factors involved in a player's disparate performance before and after a trade. Rosenthal points out that Machado's defensive acumen might be a result of playing behind better pitchers or simply having more southpaws on the staff.
Statcast data reveals Machado played at the same average depth in 1,725 defensive plate appearances with the Dodgers — 147 feet from home plate — as he did in 3,680 defensive plate appearances with the Orioles. With L.A., he generally shaded further to his right, in the hole toward third base, but his positioning might simply reflect the Dodgers' large number of left-handed starting pitchers and greater likelihood of balls pulled by opposing right-handed hitters.
So while there's more to it than simply how the Dodgers convert numbers into on-field performance, the bottom line is that Machado actually being more than a butcher at short could have serious implications in free agency.
Machado's improvements in defensive runs saved and ultimate zone rating during the regular season bode well for his case to remain at short rather than return to third base for teams interested in him as a free agent; some executives now believe Machado, 26, will be viable at short for at least a portion of any long-term contract.
That's where we circle back around to the Cubs, who may see fit to pursue Machado this winter. In looking at whether he or Bryce Harper would be a better fit in Chicago, I essentially nixed the idea of the former Oriole playing short. After all, replacing either Addison Russell or Javy Baez with Baltimore's version of Machado would result in a significant defensive downgrade.
It'd be kind of like replacing the dynamic Baez at second base with the glacial Daniel Murphy, which we saw the results of this past August and September. But if Machado is truly able to sustain solid defense moving forward — whether it's a result of positioning, practice, or pitching — his fit becomes that much better. Of course, it could also mean his asking price goes up.
There's also the matter of a potential trade-off with offensive performance, which has not been quite as elite for Machado in LA. After posting a .962 OPS and 155 wRC+ over 413 plate appearances with the O's, he dipped to .825 and 121 over 296 PAs with the Dodgers. Well above average, to be sure, just maybe not enough to offset what still isn't close to Gold Glove defense.
It may also be wise to consider how the Cubs handle things from a defensive perspective and whether they'd be able to set Machado up the same way the Dodgers have. Pitching and positioning are likely as key to his improvement as anything, so how those things would translate is anyone's guess. This is all coming from a highly hypothetical standpoint, but I really have nothing better to do since the NLCS opens Friday night without the Cubs. And I already wrote about Chili Davis being canned, so there are limited options available.
What do you think, loyal reader, is this just worthless folderol or something worthy of examination when weighing the merits of potential offseason targets?