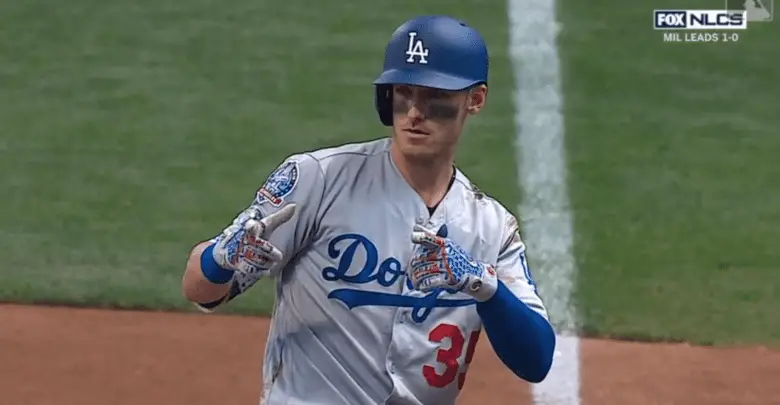 The Rundown: Dodgers Even Series, Astros Take Game 1, Joe West Steals Spotlight
NLCS
Brewers' manager Craig Counsell will live by the bullpen and die by the bullpen this series, apparently.
The Dodgers tied the NLCS at one game apiece after teeing off on Milwaukee's hard-throwing relievers for the second straight day. If you subtract performances by Brandon Woodruff and Josh Hader in Game 1, the Brewers bullpen has an ERA of 13.50 through the first two games. Coincidentally, that is the same ERA Jeremy Jeffress is carrying after losing last night. Jeffress gave up a two-run homer to Justin Turner in the 8th inning, giving the Dodgers a 4-3 lead that held for the victory.
Jeffress said Los Angeles got lucky. Okay.
Jeremy Jeffress has a theory for how the Dodgers scored their runs off him today. How Austin Barnes walked with the bases loaded, how Justin Turner hit his splitter for a go-ahead homer.

"Lucky," Jeffress called them.

— Joe Trezza (@JoeTrezz) October 14, 2018
The Brewers' closer blew a lead for the second time this postseason. Jeffress wasted a 2-0, 9th-inning advantage in Game 1 of the NLDS against the Rockies, though Milwaukee rebounded to win in 10 innings.
"For me, J.J. made one bad pitch today," Counsell said, "and it cost him."
Because the Milwaukee skipper burned through his bullpen Friday night, Josh Hader, who pitched three innings in the Brewers' victory, was unavailable. Further, Counsell removed starter Wade Miley after giving up a single with one out in the 6th inning. Miley was nearly dominant to that point, holding the Dodgers scoreless on one hit.
The left-hander threw 46 of 74 pitches for strikes and didn't issue a walk. The quick hook seemed awfully Joe Maddon-like, but Counsell, playing by the book, didn't want his starter going through the Dodgers' order for a third time.
The teams will have today off before resuming their series tomorrow evening in Los Angeles.
ALCS
In Boston, the Astros jumped to a 1-0 series lead thanks to another outstanding playoff performance by starting pitcher Justin Verlander. That said, the game was not without some oddball events:
The game took four hours and three minutes to complete.
Umpire Joe West was pegged by a catcher's throw to second base.
Red Sox manager Alex Cora could not contain his consternation with home plate umpire James Hoye's tight strike zone. Hoye ejected him from the dugout before Alex Bregman led off the 5th inning.
A 9-6 forceout (that's RF to shortstop) was overturned by a replay.
Astros catcher Martin Maldonado had his glove confiscated by West in the middle of the 6th inning. What West was checking for, nobody really knew.
Red Sox reliever Joe Kelly was visibly irked when Bregman called time just as he was about to deliver a pitch in the 6th. Kelly drilled Bregman with the next pitch — at 100 mph.
The Astros were hit by three pitches, drew 10 walks, and had 19 base runners despite getting just five hits on an evening in which they scored seven times.
The vaunted Red Sox offense managed just three hits and struck out 11 times against four Astros pitchers.
Game 2 is set for tonight at Fenway Park in Boston. Gerrit Cole will face David Price, who has been notoriously bad in postseason baseball. First pitch is scheduled for 6:09 PM CT.
Playoff News & Notes
https://twitter.com/AffluentGift/status/1051335744789213184
Cubs News & Notes
Bruce Miles of the Daily Herald looks at areas the Cubs will need to address this offseason.
Each year, MLB Trade Rumors publishes their offseason outlooks for all 30 teams, an encapsulation of player contract status, arb-eligibility, team needs, and potential moves. The Cubs kicked off this year's series.
Would Bryce Harper significantly improve the Cubs' playoff-win probability? Jeff Burdick breaks it down.
Baseball News & Notes
Joe Girardi has interviewed to be manager of the Rangers.
Yankees general manager Brian Cashman has openly admitted he intends to trade Sonny Gray this offseason, and that a smaller market team would be better suited for the right-hander.
Extra Innings
Before they exchanged lineup cards ahead of game one of the NLCS, Dave Roberts told the umps that Craig Counsell sent him a bottle of wine. They don't have a Binny's Beverage Depot in Milwaukee, but they do have Otto's. Perhaps we'll see Counsell scooting around the liquor store on his Segway next season. Since the Brewers' manager has resorted to managing his pitching staff like Joe Maddon, why not mirror his acting career as well?
They Said It
"That game was like seven hours long, wasn't it? I know looked up at one point and it was 11 o'clock. And I said, `How is it 11 already?' I forgot it started at 8. I just hope Bregman is happy he got to play in prime time." – Lance McCullers, Jr.
"It was hard for [Sale] today. He was a one-pitch pitcher, fastball glove side. Besides that, I think he threw three good sliders in the third inning to finish it off and then the last inning was a lot better. So, velocity-wise he finished strong. But I decided – he wanted to go out again and I was like, 'No, man, it's going to be a long series, we need you.'" – Alex Cora
Sunday Walk Up Song
Sunday Mornin' Coming Down by Johnny Cash and Kris Kristofferson. I've got a waffles and beer event at Frank's Power Plant this morning. If there is no Rundown tomorrow, it's because I had too many "dessert beers."