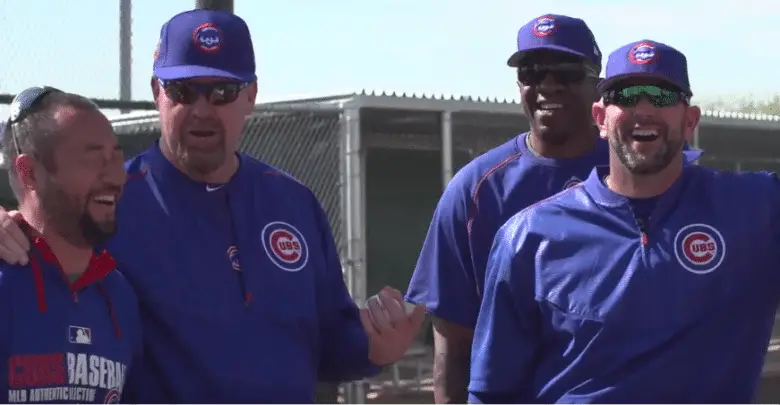 Cubs Bench Coach Brandon Hyde in Play for Rangers, Twins, Angels Managerial Vacancies
It looks like Chili Davis might not be the only member of Joe Maddon's staff departing after just a year on the job. While the situation is decidedly different, Brandon Hyde, who replaced Davey Martinez as Cubs bench coach last season, is a hot name among managerial candidates and has already interviewed with at least three teams.
Evan Grant of the Dallas Morning News tweeted last Thursday that Hyde had interviewed with the Rangers, who fired Jeff Banister in September after suffering through consecutive losing seasons. Texas has a good number of talented young players and they're opening a new ballpark in 2020, so they might like a guy who's worked as part of a rebuild in the past.
Source: Rangers have also interviewed assistant GM Jayce Tingler, Cubs bench coach Brandon Hyde and Astros bench coach Joe Espada (phone interview since Houston is still in playoffs)

— Evan Grant (@Evan_P_Grant) October 11, 2018
Hyde is also in play for the Angels, who are looking for a new manager for the first time in nearly two decades after Mike Scioscia stepped down.
#Cubs bench coach Brandon Hyde has interviewed for #Rangers and #Angels managerial vacancies, sources confirm. Hyde, an under-the-radar name in the past, is now an active candidate in multiple @MLB managerial searches. @MLBNetwork

— Jon Morosi (@jonmorosi) October 15, 2018
And according to Darren Wolfson of KSTP-5 and ESPN 1500 in Minneapolis, Hyde had a Monday interview with the Twins for their managerial gig. Minnesota parted ways with Paul Molitor after four seasons, three of which resulted in second-place finishes.
Cubs bench coach Brandon Hyde interviews with the #MNTwins today for the vacant managerial job, I hear. Had previously reported the interest on TV + podcast. pic.twitter.com/0cmz4P5OI2

— Darren Wolfson (@DWolfsonKSTP) October 15, 2018
Each of those teams has their own pros and cons, but I've got to think the opportunity to manage Mike Trout would make the Angels the top choice if it came to that. And given owner Arte Moreno's loyalty and willingness to spend money, the future prospects for the job seem strong to quite strong.
I joked about his brief tenure in the open, but Hyde has actually been with the Cubs since November 2013, when he was named Rick Renteria's bench coach. He had previously served as a minor league manager for several years in the Marlins organization, eventually becoming their bench coach under both Edwin Rodriguez and Jack McKeon (apropos of nothing, John Mallee was actually the hitting coach at the time).
Hyde stuck around through the managerial change in Chicago, moving from the bench to first base when Maddon brought Martinez with him. Which brings us around to where we are now.
In addition to his general baseball acumen, Hyde has proven his adaptability over the last decade or so. He's served under at least four different managers, two of whom had an interim tag and another of whom may as well have. From some of the worst records in baseball to some of the best, Hyde has seen it all.
Even though there's no guarantee Hyde will be hired away, he appears to be highly sought-after and would likely be willing to bounce should he be offered a chance to manage. He reported rejected an opportunity to join the Mets' staff last offseason, but, like, they're the Mets. And it wasn't as manager, so kind of lateral move at best.
The question then becomes one of who would assume Hyde's spot with the Cubs. In-house options include Mike Borzello, a baseball genius whose role as catching coordinator doesn't do justice to his real impact, and Brian Butterfield, the high-energy third base coach who might be able to provide the spark the Cubs are looking for. There's also Will Venable, who served as first base coach in 2018 and seems like a guy the team could be grooming for something bigger.
As for candidates from outside the organization, well, I'm sure fans would love to see David Ross or perhaps even Mark DeRosa. Both have been named either as potential successors to Maddon or as the new hitting coach, though that role has already been filled. DeRosa actually declined an opportunity to interview for the Rangers job, ostensibly because he's happy with his MLB Network gig. Some have theorized that his reluctance could be tied to what's happening with the Cubs, but that seems a little too conspiratorial.
Expect to see this process move quickly as teams look to lock up their preferred candidates before they get snatched up elsewhere. And now that the Cubs have officially named Anthony Iapoce as their new hitting coach, perhaps the Rangers will want a little quid pro quo. Feels like a game of Hungry, Hungry Hippos, except with people in place of the marbles.