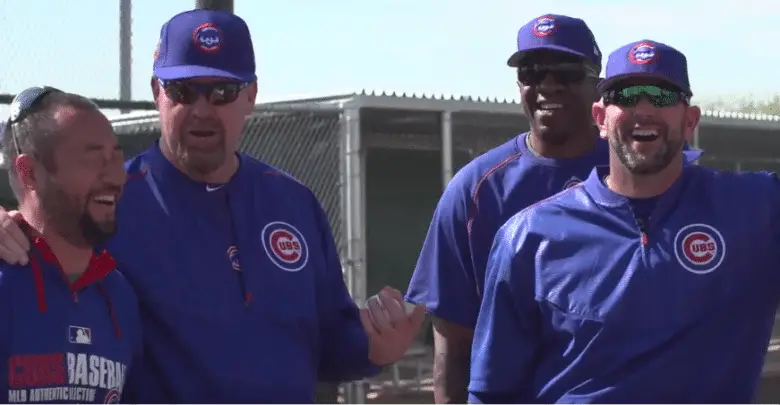 Brandon Hyde Believed to Be Among Finalists for Blue Jays Job
Brandon Hyde, who is still the Cubs' bench coach for the time being, has become a very hot commodity on the managerial-opening circuit. We looked yesterday at his candidacy for jobs with the Twins, Rangers, and Angels, and now comes word that he's among the finalists for the Blue Jays' vacancy.
Shi Davidi of Sportsnet reported Tuesday afternoon that Toronto was "believed to be down to five candidates for new manager." And though the Jays have not confirmed the names, Davidi listed Joe Espada (Astros bench coach), David Bell (Giants VP of player development), Rocco Baldelli (Rays major-league field coordinator), and Hyde. The possible fifth candidate was not known.
While it's still possible for Hyde to miss out on all four openings to which he's been connected thus far, seeing him mentioned so frequently sure makes it seem like he's going to be gone one way or the other. Hyde's departure would leave Joe Maddon with a need to replace his bench coach for the second straight season, though his options there are myriad.
One other interesting tidbit here involves David Bell, who has been mentioned in connection with the Rangers and Reds openings as well. Did you notice his title above? Bell is the Giants' VP of player development, the same position held by Jason McLeod with the Cubs. And we recently learned that McLeod interviewed with San Francisco for their GM position.
Knowing they could very well lose their farm director, the Giants could be targeting a baseball ops head with  player-development expertise, which would certainly put McLeod front and center. This is all speculation, of course, and there are lots of moving pieces that all need to fall into place. Once they start falling, though, we could get a flurry of moves in very short order.
It's like a big game of…Hyde and seek.