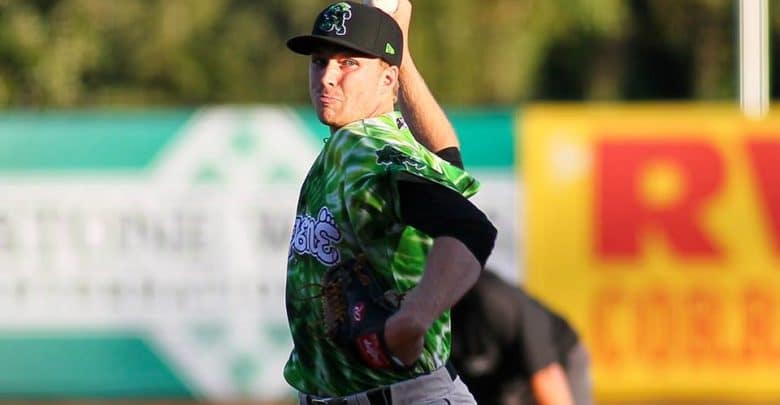 6 Not-So-Obvious Pitchers in Cubs System to Watch Next Year
Considering the sheer volume of pitchers the Cubs selected in the 2016 and '17 drafts, pitching should be the strength of the organization. And it is, that just hasn't materialized at the major-league level yet. Most of the arms taken in those two drafts will be at Myrtle Beach, Tennessee, and Iowa in 2019.
They include Duncan Robinson, Michael Rucker, Alex Lange, Keegan Thompson, Cory Abbott, Erich Uelmen, and Matt Swarmer, to name just a few. The 2018 season also saw the emergence of lefty power pitcher Brailyn Marquez at Eugene and South Bend, as well as Tyson Miller hitting 94-95 regularly over 127 innings at Myrtle Beach.
But those are names you're going to see in the top prospect lists, so they're a little too obvious. Just like the hitters we reviewed the other day, sometimes it's more fun to look at some guys who are flying just below the radar. So who are some up-and-coming starting arms to watch for in the Cubs system this coming season?
1. Riley Thompson
When people ask me why I like the 11th round pick out of Louisville from last year's draft, I say, "What's not to like about a 95 mph heater, developing offspeed pitches, an excellent frame, and a downhill throwing angle?" Hey, did I mention the 95 mph heater? Thompson mostly worked about the bullpen in college until this past year. The Cubs are looking at him being a starter now, and that elite velocity could really play if he sticks there. He should be at South Bend to begin 2019.
2. Faustino Carrera
The 19-year-old southpaw out of Venezuela and Mexico was one of the most efficient pitchers in the Northwest League last summer. Carrera was a lumberjack on the mound, cutting bats and putting up a 1.63 second-half ERA with his low 90's heater, a slicing curve, and a change. I found it odd that Carrera didn't start any games in Eugene's best of five championship series, but I later learned that Steve Lerud, the Ems manager, was holding him in reserve if it went to game four. Carrera comes across as a pretty polished pitcher on the bump and should join Thompson in South Bend.
3. Didier Vargas
It is hard to imagine that a 18-year-old kid had a 0.99 ERA in his first season of pro ball in the Dominican. Then he helped lead his team to the best record in the Arizona Rookie League as a 19-year-old. That is the case for Vargas, a lefty who did struggle at times as he learned just how hard it is to pitch in the US versus the Dominican. At the end of the year, Vargas went 7+ innings in an elimination game to put the Cubs 1 team into the Arizona Rookie League championship. He will be 20 early next year and could end up almost anywhere in the lower part of the system depending on his spring.
4. Derek Casey
Casey was just toying with the Northwest League hitters in the games I watched this past season. He was limited to only 7.2 innings, but he was dominant in in that short time. Out of all the pitchers at Eugene and Mesa, Casey is the most likely to follow the Lange/Thompson route and skip South Bend in 2019. He pitched well in the ACC (Virginia) and has bounced back from Tommy John surgery. With his over-the-top delivery, he's really coming downhill and gets a lot of broken bats even at just 93 mph.
5. Chris Allen
A junior college All-American last year when the Cubs selected him from Marin Community College, Allen looked magnificent in limited action. The 6-foot-4 lefty had a 0.63 ERA in just 14.1  innings this summer, using a hard-breaking curveball that just devastates right-handers. He will likely be at Eugene to begin 2019, but could bump up a level if he keeps pitching like he did in 2018.
6. Thomas Hatch
Wait, what? You're probably wondering how a top draft pick who we've known about for a while now would be on this list. In August of 2018, Hatch just looked pissed. His demeanor seemed to shift from easy-going somewhere in late July, and his pitching results correlated to that change in attitude. In 28 August innings, he struck out 26 batters and put up a 2.51 ERA. It was quite a transformation and one that did not get a lot of press. I like "Mad Thomas."
There will be other pitchers who could pop up next summer since around 50 of them will be competing for 26 spots at South Bend and Myrtle Beach. Players from the two Mesa teams, Eugene, and last year's South Bend staff will have quite the competition come next spring.