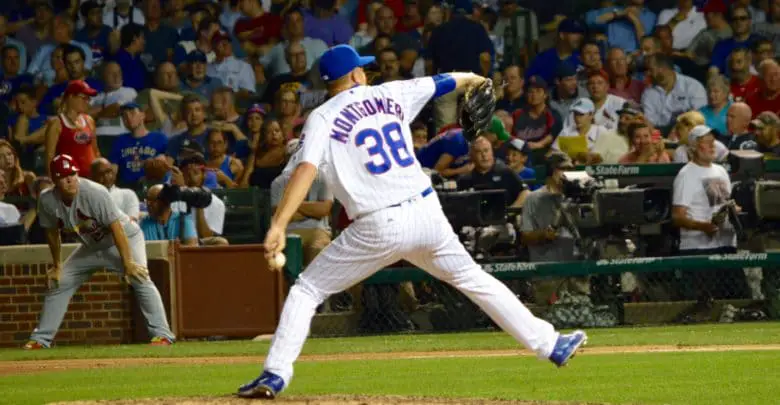 Trading Mike Montgomery Would Help Cubs Replenish Farm at Minimal Cost
All the talk to this point has been about the Cubs parting with an outfielder or two, but allow me to throw some fire. If they're really looking for a good return, the Cubs should consider trading Mike Montgomery this offseason.
Since being acquired from the Mariners in 2016, Montgomery has developed into that mythical creature every team is always hunting for: A cost-controlled starting pitcher, and a lefty to boot. Over 19 starts in 2018, Montgomery had a 3.69 ERA in 97.2 IP with an FIP under 4.00. He also had a 2.57 ERA over his final seven starts in 2017. Monty may not be an ace, but he is a legit No. 3 or 4 starter.
Salary-wise, Montgomery has all three of his arbitration years remaining. He is expected to earn around $3 million in 2019, a figure that is much lower than many comparable starters, which is largely due to not being a starting pitcher for much of his service time. As such, Montgomery has considerable trade value, particular to small- and mid-market teams without the budget to carry multiple free-agent pitchers.
Meanwhile, the Cubs have five starting pitchers signed through 2020 (Jon Lester, Yu Darvish, Kyle Hendricks, Jose Quintana, and Tyler Chatwood), with a club option on Cole Hamels for 2019 and a reclamation project in Drew Smyly who could push for a rotation spot in 2019. Yes, the Cubs could return Montgomery to the pen, where he has had great success. But his value in a trade may outweigh what he offers in internal value. Consider what the Pirates gave up for Chris Archer and consider that Montgomery outperformed Archer over the past two years (3.4 v. 2.3 bWAR) and is substantially cheaper.
Montgomery is a luxury item for the Cubs. Nice to have, and a huge asset to the team, but not the difference that pushes them over the top. Relatedly, the Cubs have a bottom-five farm system. While smart drafts may allow them to begin climbing the farm rankings, dramatic improvement usually comes from trades. It is rare for a team in contention to have the opportunity to trade for impact prospects without adversely affecting the current team. Montgomery offers the Cubs exactly that.
The Cubs are going to need a new wave of cost-controlled players if they hope to keep their competitive window open beyond 2021. Trading Montgomery will hurt the team's depth over the next three years, but not fatally. If a contending small-market team needs to shore up its rotation and is willing to pony up a good trade package for Montgomery, I think the Cubs should pull the trigger.
What do y'all think?