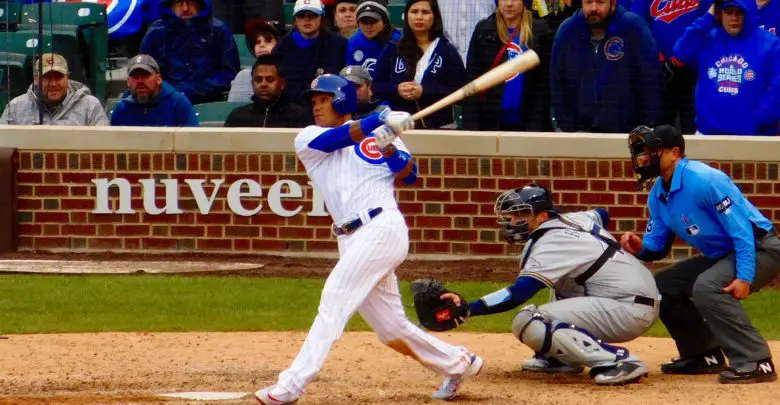 Report: 'Path Opening' for Addison Russell to Remain with Cubs
Despite what many have suggested, Addison Russell has not yet been fired into the sun. And as Patrick Mooney's recent report suggests, the shortstop may not even leave Chicago's orbit. In his piece for The Athletic, Mooney wrote that the Cubs were still weighing the merits (subscription) of keeping Russell around.
There is a path opening for Russell to potentially come back to Wrigley Field and wear a Cubs uniform again, sources told The Athletic, stressing that no final decision has been made yet. The Cubs understand that a conditional return would be controversial and unpopular and could backfire in a way that alienates fans and again embarrasses the franchise.  
I'd say this should come as a surprise, given the abhorrent behavior that precipitated Russell's 40-game suspension, but you're lying to yourself if you thought there was no way the Cubs would consider it. Our Jeff Burdick wrote last month about how a conditional return was very much a possibility and it now seems that may well be the case.
Now, it's still possible that Russell is jettisoned in a trade or that he's cut loose entirely. Exactly what happens may be determined at the upcoming GM meetings, where the Cubs can talk with other teams about their shortstop's viability. As much as this should be about more than baseball, you know the Cubs don't want to let Russell go and have him suddenly reach his potential somewhere else.
There is, however, some non-baseball rationale for keeping him around, according to what Epstein said during his postmortem press conference.
"Domestic violence is everyone's problem," Epstein said. "Because of that, we all have an obligation to be part of the solution as well. Discipline, in a case like this, is part of the solution going forward, so we support Major League Baseball's decision and we think it's appropriate. But prevention is also a big part of the solution and maybe a more important part of the solution."
There's a sense that parting ways with Russell would just be passing the buck to another team and sweeping the problem under the rug. Is it better, then, for the Cubs to attempt to be part of the solution? As Mooney puts it, the Cubs are "doing their own due diligence, outreach and additional research." Exactly what that means isn't known, but some of that may well involve assessing Russell's trade value.
Even if nothing is determined in the coming week, the Cubs have until the end of the month to decide whether or not to tender the arbitration-eligible Russell a contract for 2019. Your guess is as good as mine as to where this whole things ends up, I just know that I struggle mightily to write about it because I'll fall short of adequately summing up all of the emotions entwined in the situation.
So I'll just leave off here before I tie myself up in further knots. My assumption from the start has been that Russell had played his last game in a Cubs uniform and I still tend to lean that way, but I'm nowhere near as sure as I once was.