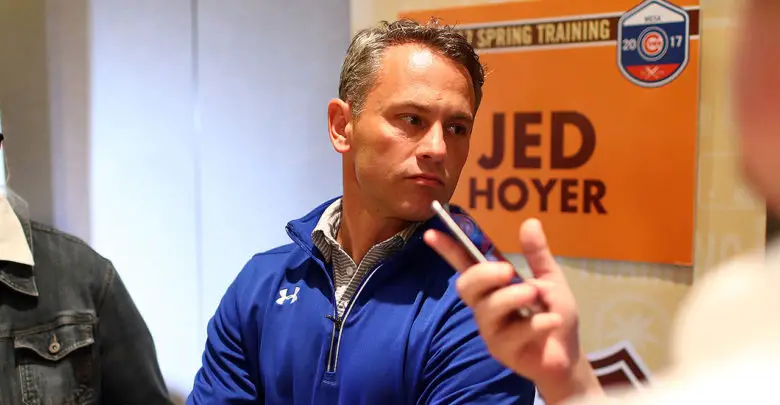 Jed Hoyer on Coaching Staff: 'Number of People Are Still Exploring Different Things'
After a big change at hitting coach and the return of a bench coach who'd been very active in several managerial searches, it appeared as though Joe Maddon's staff was pretty well set for next season. But Jed Hoyer threw that notion to the wind with a cryptic comment from the GM Meetings in Carlsbad, CA Tuesday evening.
"We're still working through a lot of stuff," Hoyer said. "I won't comment on anyone in particular, but a number of people are exploring different things and we're not at a place now where we can announce it."
It's times like this my burgeoning beard comes in handy, since I have a little texture when I rub my chin pensively while mulling over exactly what Hoyer's talking about. We've already seen several spots filled lately, most notably with former Cubs assistant hitting coach Andy Haines defecting to Milwaukee to take the head hitting coach gig. Maybe the Cubs are simply looking into Haines' replacement.
There has been a little speculation that perhaps Eric Hinske, another former Cubs hitting coach, could return in that same capacity after losing his job with the Angels during their managerial change. Given his very recent time with the Cubs and his familiarity with several players and staff members, it could be that "a number of people" on the team are reaching out to Hinske.
Except that falls apart when we look at the "exploring different things" part of Hoyer's comment. Not every new manager has finalized his staff, so it's certainly possible that more than one of Maddon's lieutenants could yet march off to other teams for one reason or another. For instance, Jim Hickey's return has not been fully confirmed.
Or maybe Hoyer and Theo Epstein are having a little fun with this whole thing and seeing how quickly they can get fans riled up about a new topic. Stay tuned, as this could be something we learn more about very soon.