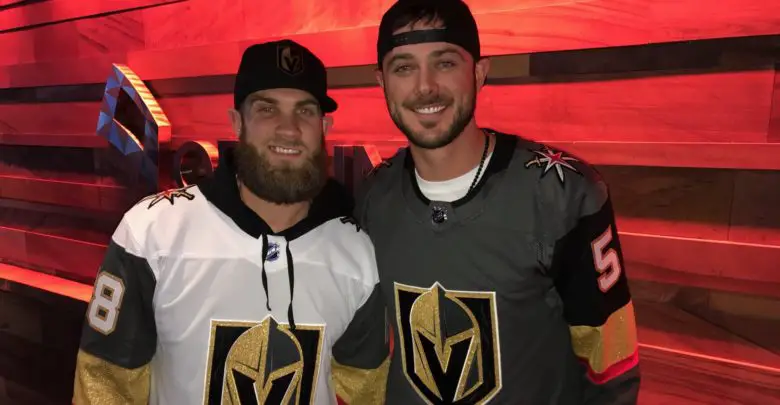 Cubs May Be Attending Bryce Harper's Bazaar, Still Trying to Host Kris Bryant's Carnival
Even as Theo Epstein reiterated the idea that the Cubs would be judicious in free agency, he admitted that nothing is off the table. Which means that even if they don't currently see a clear path to landing Bryce Harper, they're absolutely going to buy some peanuts and sit under the big top as Scott Boras emcees his annual winter circus.
"[W]e should do everything we can to make this team better and there are some great names out there and we're not ruling anybody out," Epstein said. "But I think it's important to have some perspective, too."
That big but belongs to the elephant in the room, though whether Boras has the ability to train it may depend on several factors. Chief among those will be his asking price for Harper, which is believed to be starting at around $400 million. That figure hasn't been put forth specifically, that's not the way Boras works, but it doesn't take much to sleuth out where negotiations are headed.
Harper reportedly turned down a 10-year, $300 million deal from the Nationals at the end of the season and Boras has suggested that players of Harper's pedigree play to age 40. The bombastic agent also noted that the current high-water AAV mark of $34.4 million went to a "32-year-old pitcher" (Zack Greinke). Given Harper's age (26) and potential record-setting AAV target, Boras could actually be talking close to half a billion dollars.
Realistically, though, there's probably an either/or scenario in which the final result more heavily targets length or AAV. For instance, MLB Trade Rumors predicted a 14-year deal for $420 million, which, despite its numerical significance, isn't nearly as high in annual value ($30M) as Greinke's deal. Or perhaps a team would offer 10 years at $36 million apiece, maybe with some opt-outs early on.
Bob Nightengale believes so strongly that the confluence of money and desperation in Philly makes them the only team in the Harper business, he's telling you to bank on it. But that doesn't mean Boras is going to take his tent down and stop huckstering.
"Certainly 'Harper's Bazaar' has begun," Boras announced as he regaled the assembled media as he's wont to do. "It's fashionable. It's historical. It's elite. Global, certainly. And certainly, it has inspirations that deal with great shoes and great hair, inspirations on the part of Bryce."
Uh, okay. I'm not sure how much of Boras's oratorical schtick is rehearsed and how much is just extemporaneous bloviating, not that it matters. He delights in gathering ladies and gentlemen, youngsters and oldsters, then talking so fast heads spin right off their shouldsters. The content doesn't matter so much as the delivery, and in that Boras is unmatched.
Which is why he's going to keep talking his client up and taking meetings, even with teams that have indicated their lack of interest in paying more for one player than entire franchises were worth not long ago. And it's not just Harper he'll be talking about, as the Cubs are going to want to work something out with a Boras client they've already got in house.
"Well, those are obviously Theo questions," Boras responded when asked about Kris Bryant's future in Chicago (subscription required, and you should get one to read more from Patrick Mooney and Sahadev Sharma). "But we're certainly open to anything that they have to say or look at and present to us and we'll go forward with it."
The Cubs have tried in vain to extend Bryant and other members of their young core, something Epstein acknowledged recently (though it's been public knowledge for quite some time). And while reports of Bryant and Boras turning down an extension "well north of $200 million" appeared to be erroneous to some degree, there's no doubt the sides have not seen eye-to-eye on an appropriate figure.
"We've never really discussed that stuff publicly," Epstein told Mooney and other reporters. "I won't talk about any one player specifically. But I'll say that in recent years we've very quietly made runs at some of our players to get a long-term extension done and we haven't been able to. That doesn't mean we won't. But it's proven more difficult than we expected. If appropriate, going forward, we'll take another run at it."
The calculus has changed a bit as far as Bryant is concerned, what with that shoulder injury hampering him throughout the 2018 campaign. But while the Cubs may have tried to capitalize on that dip in performance, there's no way Boras would negotiate from the low ground. Another MVP-caliber campaign suddenly puts Bryant back in the contractual stratosphere, a concern implicit in Epstein's discussion of the team's finances.
Even under the most ideal circumstances, then, is it possible for the Cubs to put as much money into two individuals as the Ricketts family has pumped into and around Wrigley Field? Well, I guess that depends on the return on investment, both immediate and long-term, they project from all those ventures. Or maybe it's more about how much liquidity they've actually got at this point.
Regardless, it makes sense that the Cubs would sit down with Boras very soon, if they haven't already. Even if they aren't willing to go to $490 million on Harper, they can't outright dismiss the potential to win his camp over with something creative. I mean, they've got to at least try, especially knowing how Boras clients Max Scherzer and Stephen Strasburg agreed to heavily deferred deals in Washington (while that doesn't help with the luxury tax, it does lower the team's raw payroll responsibilities).
Harper talk aside, the Cubs also have to discuess the respective futures of Bryant and Addison Russell, whose return is yet undetermined (at least publicly) at this point. So with all due respect to Mr. Nightengale, I'm going to keep my money with Chase for the time being. Though I will gladly shell out a few ducats to watch Boras's traveling circus for another few weeks.