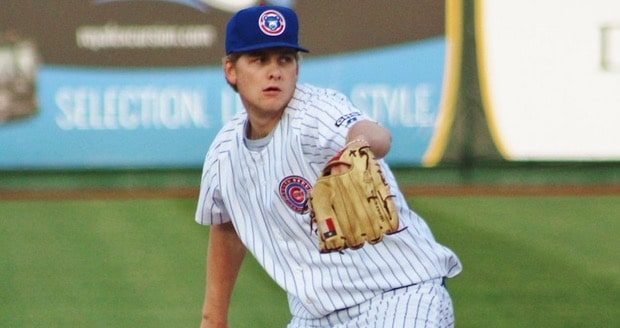 Which of These 6 Cubs Pitching Prospects Could Replace Cole Hamels After 2019?
With the hot stove currently on simmer, Cubs fans have little to do other than look ahead. This often means killing time with look-ahead list stories, and CI's Evan Altman nicely covered one such report that rated the Cubs farm system among the worst in baseball.
Given these slim pickings for the immediate future, I've been looking ahead to determine if the Cubs organization has any internal options on track as a No. 5 starter for 2020. One reason the Cubs front office picked up Cole Hamels' $20 million option for 2019 despite (reportedly) limiting their payroll this year is a hope that a cost-controlled young starter might step forward thereafter. So what serious options are percolating through the system?
First, rule out Mike Montgomery and all pitchers from the 2018 Iowa Shuttle. If any were already reasonable options for 2019, the Cubs would have invested that Hamels' option money elsewhere. So set aside day dreams that Duane Underwood, Alec Mills and Jen-Ho Tseng are anything more than spot starters on a contender.
Further, a good number of the Cubs' best-known pitching prospects owe their high rankings to their "stuff" but without any proof of an ability to command it. Evidence of high upside would include averaging at least 5 innings a start with a WHIP regularly below 1.200. For me, these are basic starting points for any discussion of bona fide starting pitcher prospects. Thus we can rule out the likes of Justin Steele, Oscar de la Cruz and Brailyn Marquez.
This helps narrow things to perhaps six prospects worth a deeper dive. But spoiler alert, this is the Cubs farm system, though, so I'd say probably only the first two have a chance to compete in spring training 2020.
Duncan Robinson
Robinson has the inside position right now. But anything can happen in a year and it will be a long lap around the track. A 9th round selection in 2016, Robinson was one of the team's rare "command pitcher" picks (along with Keegan Thompson below). Since then, he's moved steadily up the minor league ladder.
In 2017 – his first full year of professional ball – Robinson largely dominated his A-ball opposition. Between South Bend and Myrtle Beach, he failed only twice in 20 starts to go at least five innings and only once gave up more than three earned runs. Kept largely on a pitch count in the 80s, he still averaged 5.2 innings per start, which was better than most prospects at that level.
What really leapt off the stat sheet was his 2.21 ERA and Kyle Hendricks-like 1.067 WHIP. Digging deeper, he averaged a very impressive 3.0 pitches per batter faced, which confirmed he could be a pitch-efficient strike thrower.
In 2018, Robinson had a solid but not spectacular year. His basic performance numbers increased (3.11 ERA, 1.242 WHIP) while facing more advanced hitting at Double- and Triple-A, but his pitch counts also increased as he topped 100 three times. And although his pitches per batter went to 4.0, his efficiency improved as the season went along.
This coming season will be interesting for Robinson. I'm not expecting front-of-the-rotation results, like Hendricks produced. At this stage in their minor league careers, both pitchers featured a 65 percent strike rate and a homer rate well below 1.0 per 9 innings. However, Robinson was more hittable in 2018 with a .271 batting average against versus Hendricks' .229 in 2013. Fortunately, the Cubs don't need Robinson to be Hendricks. They just need to polish him for 2020 into a quality and low-cost No. 5 starter.
Keegan Thompson
As a third-round pick in 2017, the Cubs promoted Thompson faster than Robinson. He skipped Low-A ball at South Bend and pitched half a season at High-A Myrtle Beach in 2018. From that partial season, the two numbers that most stood out were his 0.916 WHIP and .202 BAA. Plus, like Robinson and Hendricks, Thompson featured an HR/9 rate well under 1.0.
Following his mid-season promotion to Double-A Tennessee, Thompson struggled with a 4.06 ERA, 1.403 WHIP, and .273 BAA. As his innings per start dropped under 5.0, his strike rate dipped from 68 percent at Myrtle Beach to 61 percent at Tennessee. His walk rate shot up as well, doubling to 3.0.
While the concern is that Thompson may have been rushed, he may have also gotten a good, early sense of how he must adjust to Double-A talent. If he continues his first-half progress in 2019, it's possible he could finish at Triple-A and become a 2020 dark horse.
Abdert Alzolay
The 24-year-old Venezuelan didn't appear on many prospect radars until the Cubs promoted him mid-2017 to Double-A Tennessee with a 2.99 ERA, .219 BAA, and 1.065 WHIP in 15 starts at Myrtle Beach. A small sample to be sure, but it was good enough to convince Baseball Prospectus to list him 95th on their Top 100 list that winter.
But less noticed were his final six starts of 2017 at Double-A. He averaged just 5 innings and his walk rate jumped back over 3.0 per 9 innings. After a 92-pitch start in late July during which he threw just 55 percent strikes, the Cubs allowed him two more full starts before shutting him down early.
Despite just six Double-A starts, the Cubs assigned Alzolay to Triple-A Iowa in 2018. He probably should have started at Tennessee to truly master that level, but it ultimately didn't matter. Indications of a season-ending injury (later reported as a lat strain) first appeared in his fourth start. He gave up 26 hits in a three-start stretch, including three homers in one game. Soon after, the Cubs shut him down early for a second consecutive year.
Given back-to-back shortened seasons as a starter, one must seriously question his durability to be a true rotation candidate for the major-league squad. But even if his changeup doesn't develop fully, his two-pitch arsenal means the safe money is on him as a bullpen option once healthy.
Brendon Little and Alex Lange
Since the Cubs drafted Little and Lange 27th and 30th overall in 2017, they shall always be linked until either one doesn't make it or is traded. Neither college player lit things up in their rookie short seasons at Eugene and their subsequent performances haven't necessarily wowed. Since the right-handed Lange was a year older, he started 2018 a level higher at Myrtle Beach as the Cubs sent lefty Little to South Bend.
Although Lange had a solid season, fellow 2017 draftee Thompson jumped ahead of both him and Little. It's unlikely either will compete for the 2020 rotation and both must still work on their strike throwing (each around 60 percent). The more advanced Lange did have a good 1.12 WHIP last year and averaged 80 pitches per start. One hopes he can at least maintain that WHIP as he adds depth to his starts at a higher level in 2019.
Matt Swarmer
We shouldn't overlook the Cubs' 2018 Minor League Pitcher of the Year if only so the award can have meaning. Swarmer surprised many in earning the honor, as he really hadn't been highly touted previously. In 2017 as a 23-year-old, Swarmer made just 12 starts at four different levels for a combined 4.99 ERA and 1.370 WHIP. But this included a late-season emergency start for Iowa that caught his bosses' attention. In that one start, he threw 84 pitches over seven shutout innings.
Swarmer followed up by starting 2018 hot at Myrtle Beach and winning the Cubs' minor league pitcher honors for April. In all of his nine starts at Myrtle Beach, he posted a 2.28 ERA, 0.974 WHIP and a superb 8.43 K/BB walk rate.
After promotion to Double-A, however, his remaining 15 starts generated a more modest 3.84 ERA and ~5 innings per start average. But in an organization now emphasizing strike-throwing, his 70 percent strike rate surely figured into his winning pitcher of the year. But unless the bullpening trend takes over on the North Side, it's hard to see Swarmer breaking the rotation in the next two years.
Again, much can change between now and when the Cubs will need to start seeing contributions from their homegrown pitching. But keep an eye on these six names and don't be surprised if some others emerge over the coming year.