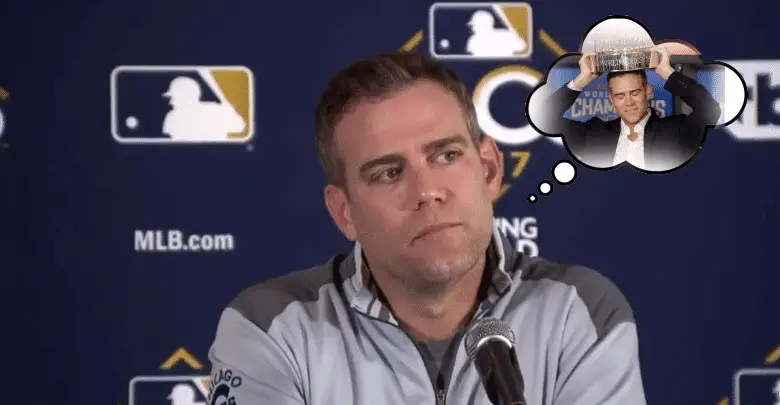 Follow Along as Daydream Cubs Enter the New Millennium
Back in May I started a thought experiment to see how good a team could be assembled beginning with the 1981 Cubs and using future knowledge of player performance. I called this team the Daydream Cubs. I set myself a few reasonable ground rules (the most important being no trades and no players drafted in the first round) and from May until September I concluded each of my posts with a bonus feature documenting the draft and roster of the Daydream Cubs year-by-year. I got as far as 1997.
For a variety of reasons, I then got sidetracked and stopped adding the bonus feature. But you, my loyal readers, deserve closure. So let's finish this experiment off. Today we will quickly bring everyone up to speed on the team from 1981-97, and then cover 1998-2002. In the next few weeks I will cover ensuing five-year blocks.
To recap where we stand, the Daydream Cubs started out as the real-life 1981 Cubs roster as it existed when the Tribune Company bought the team. Since then we drafted eight Hall of Famers, and traded for one more in Ryne Sandberg (the only trade I allowed myself), while discovering that even with hindsight it is tough to find all-star middle infielders after the first round of the draft. Here is a full year-by-year summary.
Now let's see what happens from 1998-2002.
1998 Draft: (#)Player's real-life selection round, AS= All-Star; HoF = Hall of Famer; GG = Gold Glove
Round 1: Barry Zito (3) – SP: AS (x3), Cy Young (x1)
Round 2: Matt Holliday (7) – LF: AS (x7)
Round 3: Juan Pierre (13) – CF
Round 4: Mark Buerhle (38) – SP: AS (x5), GG (x4)
Barry Zito did not sign in 1998, but Michael Lewis reported in Moneyball that he would have signed for $50,000. Thus, like Barry Bonds in 1982, we treat him as available. Matt Holliday, who I believe is the first active player drafted by the Daydream Cubs, will eventually play out of position for five years during an unusually lean time for outfielders. The often underappreciated Mark Buerhle will spend 12 years in the rotation, tied for the team's fourth-longest tenure.
One of the rules of my thought experiment was that the Daydream Cubs need to stay in line with the payrolls of their real-life counterparts. The Daydream Cubs ran deficits from 1995-97, using up surpluses from previous years. In order to get back under budget, the 1998 Daydream Cubs shed Jim Thome, Mike Piazza, Tim Salmon, and Pat Hentgen in their primes. Ouch!
1999 Draft
Round 1: Carl Crawford (2) – LF: AS (x4), GG (x1)
Round 2: Albert Pujols (13) – 1B: AS (x10), GG (x2), MVP (x3)
Round 3: Jake Peavy (15) – SP: AS (x3), CY-Young (x1)
The first round pick in 1999 was a tough call between John Lackey and Carl Crawford, both of whom were second-round picks in real life. I chose Crawford because he can be productively used for six seasons, while Lackey would really only be useful for two. Albert Pujols is a no-brainer as the next pick, and will man first base for 10 years.
2000 Draft
Round 1: Yadier Molina (4) – C: AS (x8), GG (x8)
Round 2: Dontrelle Willis (8) – SP: AS (x2), Cy Young runner up (x1)
Round 3: Brandon Webb (8) – SP: AS (x3), Cy Young runner-up (x2), Cy Young (x1)
Round 4: Edwin Encarnacion (9) – 3B: AS (x3)
Round 5: James Shields (16) – SP: AS (x1)
Round 6: Rich Harden (17) – SP
A deep draft with lots of highly useful pieces, the 2000 draft restocks the starting rotation with Brandon Webb, Dontrelle Willis, and James Shields. The biggest prize is Molina who will spend eight years at catcher.
2001 Draft
Round 1: David Wright (1s) – 3B: AS (x7), GG (x2)
Round 2: Ryan Howard (5) – 1B: AS (x3), MVP (x1)
Round 3: Kevin Youkilis (8) – 3B: AS (x3), GG (x1)
2001 brought another tough first round choice between Dan Haren and David Wright. The "1s" is the supplemental first round, which takes place after the 30th pick (making Wright eligible under Rule 7). The choice was made even harder by the presence of Youkilis, who could replace quite a bit of Wright's production at third. But the pitching rich class of 2000 provided enough arms to get through Haren's prime and Wright was a monster early in his career. I will miss Haren's Twitter account, though. Ryan Howard will be position-blocked through his short prime by Pujols, making him trade bait. Youkilis is infield depth.
2002 Draft
Round 1: Jon Lester (2) – SP: AS (x5), Cy Young runner up (x1)
Round 2: Curtis Granderson (3) – CF: AS (x3)
Round 3: Russell Martin (17) – C: AS (x4), GG (x1)
In a reverse of 2001, I take pitching over hitting in another tough first round choice. Both Jon Lester and Joey Votto went in the second round. But as much as Votto is the likelier Hall of Famer of the two, I just don't need another first baseman. Lester, on the other hand, will spend six seasons in the Daydream Cubs' rotation. Granderson will inherit center field from Jim Edmonds in 2006 and stay there for seven years. Martin will back up Molina.
Meanwhile, this is what the roster looks like during these five years.
From 1998-2000 a largely identical roster puts up quite impressive numbers, but within the bounds of normalcy. For reference, the highest real-life team WAR was the 1927 Yankees at 66.3 team bWAR. But in 2001 and '02, the Daydream Cubs obliterate any sense of business as usual.
Paced by Barry Bonds' and Randy Johnson's best years, the team exceeds 85 bWAR both years. Amazingly, every single one of these teams has a payroll well below their real-life Cubs' counterpart. In fact, the Daydream Cubs have $8 million to spare in both 2001 and '02.