Cubs System Position-by-Position, Pt 2: 1B Pretty Thin This Year
When it comes to first base, Anthony Rizzo has the position locked down through 2021, at which point he will be just 32 years old. That's three more years with the man who is the heart of the lineup and the team. As for his backups, the Cubs could use Kris Bryant, Ben Zobrist, or Victor Caratini. And considering Rizzo has played at least 153 games the last four years and five of the last six, the Cubs don't have a great need for a replacement.
First base has never been a position of strength in the minors lately, basically because of Rizzo, and the Cubs rarely draft for the position. In 2012, they took Jacob Rogers from Mount Olive College in the 40th round and last summer they took Tyler Durna out of UC San Diego in the 15th. That's it. Rather than draft first basemen, they have shifted other players to the position to get more at-bats or days off from catching.
Perhaps that's why they've gotten so little production from first base in the system. To wit, only one of the players from last year's edition of this overview made this year's index. And he's the first one we're going to review here.
4. Tyler Alamo
A survivor of the Las Vegas shooting last offseason, Alamo began the year back in Myrtle Beach, where he spent a successful 2017. He was hampered by injuries and only saw action in 71 games, but got a promotion to Tennessee at year's end. Still just 23 years old, Alamo should start 2019 back at Tennessee and has time to develop.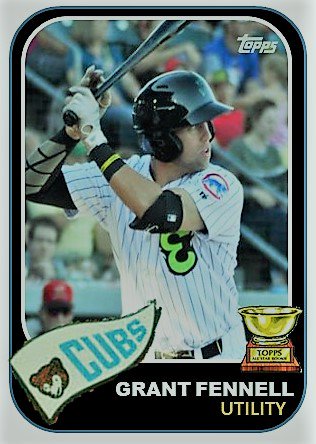 3. Grant Fennell
The WAC Player of the Year in 2018 at Nevada, Fennell went undrafted but was signed by the Cubs at the behest of Eugene Emeralds manager Steve Lerud. Fennell was impressive at Eugene, hitting .281 with four home runs in 41 games. He looks to be a super utility guy, seeing time in the outfield and both infield corners.
I really like his eye at the plate and he seems to look for pitches in a certain zone, something you don't always see this early in a career. It will be interesting to see where Fennell is placed to start 2019 and exactly where he is going to play in the field.
2. Rafael Mejia
A sculpted physical specimen, Mejia started 2018 at Eugene but went down to Mesa when the college draft picks arrived. He played an integral part in helping to lead Cubs 1 to the best record in the Arizona Rookie League, hitting .315 with a .351 OBP and wRC+ of 154. He cranked out eight homers with 29 RBI in just 38 games and should begin 2019 at South Bend, where power potential will be tested in the Midwest League.
1. Jared Young
The easy number one pick at first is the Cubs' minor league player of the year. Young dominated two levels in 2018, first hitting .313 with a .368 OBP and a wRC+ of 150 thanks in large part to 10 home runs and 53 RBI in 69 games. In the second half at Myrtle Beach, Young hit .282 with a .341 OBP while sending six more balls over the fence in 41 games. The 16 home runs were pretty good for the slender first baseman in his first full year in the minors.
Young only weighs a bit over 180, so adding some muscle this offseason could push him over 20 homers. And continuing to improve his excellent approach would make him a better overall hitter. However, Young might not remain at first base. He began playing some outfield last year at South Bend to increase his versatility and got in 21 games in left.
Honorable mention: Luke Reynolds
I wouldn't necessarily call the Cubs' 9th round pick out of Southern Mississippi a first baseman by trade yet, but he should see plenty of time at first this year. Reynolds showed an excellent approach last summer at Eugene, putting up a .383 OBP with 127 wRC+. Despite playing injured every day in August, he seemed to be able to roll out of bed and lace a double.
After spending most of his time at third last year, Reynolds could move across the diamond more often. At 24, he's a little advanced for the Midwest League and is a possibility to open his first full pro season at Myrtle Beach.
This list could again change drastically when we look at it a year from now. As the weakest position for the Cubs in the minors, there could be a lot of fluctuation as some players start to develop or establish themselves at first base. 
Other position lists
Catcher