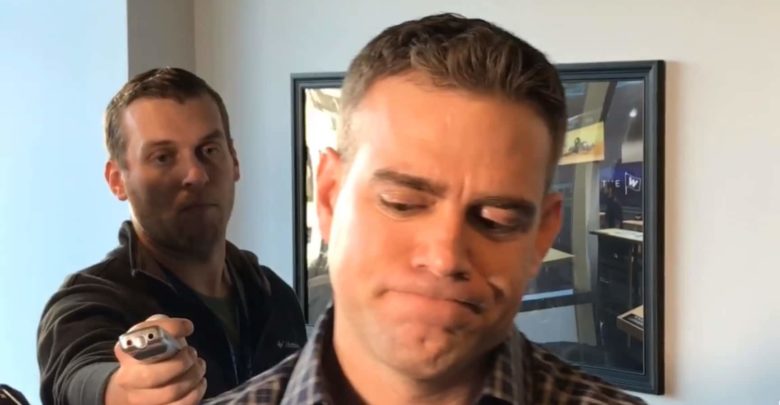 Epstein: 'We Have to Do a Better Job,' Maybe 'Get Really Creative'
Holding court Thursday afternoon from the Cubs office building adjacent to Wrigley Field, Theo Epstein once again discussed the topic of his offseason budget. And given how hard he hammered home his main points, he probably should have had new assistant hitting coach Terrmel Sledge with him.
"I just think we'd have to get really creative to add dollars of real significance," Epstein said, continuing a theme you've no doubt seen here at CI and elswhere. "That's still the case. Things would have to be sequenced in a certain way."
We've already seen those sequenced moves in action, whether it was trading Drew Smyly to free up space for Cole Hamels or trading for Ronald Torreyes prior to trading Tommy La Stella away. Torreyes was subsequently non-tendered and ended up signing a split contract with the Twins, in case you were interested.
But it's not like we're talking about huge money here, especially not for a crown jewel franchise that's raking in profits from myriad revenue streams and figures to earn more from next season's broadcast rights. Smyly freed up $5 million of luxury tax payroll and $7 million in actual salary, while La Stella saved what may have been up to $1.5 million in arbitration.
Every little bit counts, I guess, but those moves don't exactly signal a run at Bryce Harper. So maybe the financial limits are real and Epstein is being tasked with shaving payroll wherever he can.
"We always operate within a budget," Epstein told the assembled media. "There aren't sort of artificial constraints, we're not overly guided by the CBA, although you take it into account for strategic purposes, especially over the long haul. But like any good business, we have a budget and you adhere to it.
"I don't talk about it publicly with specifics, it just doesn't make sense strategically to do that. And I think the headline with the budget is that we're extraordinarily lucky to have the financial support that we do from ownership."
We've all got our little linguistic tics — Jed Hoyer uses "I think" with uncommon frequency — but there's a repetition in here that I don't is totally involuntary. I don't believe Epstein is dropping hints, per se, though it seems clear from his use of "strategic" in some form twice in quick succession is not without significance.
Which is to say nothing has been ruled out, same as what he said back at the GM Meetings in November. And keeping his cards close to the vest is a way to maintain as much leverage as possible as free agent pursuits really get underway. Now whether that leverage will be used to land role players or big stars is the big question.
Or maybe it's not much of a question.
"We'll have probably a higher payroll this coming year than we've had at any point in the past," Epstein said (subscription required). "We have to do an outstanding job with what we have. And what we have is a lot, so if there are limitations or if there's a need to get creative, it just underscores the fact that we have to do a better job."
Oh boy, more repetition. He spoke again about getting creative, then doubled down on doing an outstanding/better job. That last part bears looking at, since Epstein is pointing the finger pretty firmly at himself and the rest of the front office. He would go on to underscore that point, though it could also be seen as a knock on some of his players.
Epstein mentioned the need to account for increasing arbitration salaries and potential extensions, but also lamented players that "are not returning great value for the commitment." Maybe he's taking veiled shots — feel free to guess at whom — or maybe he's just stating the obvious. At a certain point, you stop throwing good money after bad.
"It's not a surprise," Epstein said. "You get a budget for any one year and then you have to make hard decisions."
Surely some of those hard decisions will involve trades, and not just involving the guys who aren't returning adequate value. That seems like the more likely conclusion to be drawn from the notion that things will have to fall into place in the right order. Even if the result isn't a monster free agent, any significant addition will likely require at least as significant a subtraction in a different area.
If everything works and the Cubs climb back atop the NL Central to ensure themselves of more than a single playoff game, much of the budget talk goes away. But if they fall short after Milwaukee and St. Louis take obvious steps to improve their rosters, well, that's gonna make for some really fun conversations.
So what better place than Las Vegas, home of this year's Winter Meetings, for Epstein and the Cubs to gamble on their future. The only question left is whether they're going to be sitting down at a $5 table next a plumber from Poughkeepsie on his annual time-share vacation or swimming with the whales in the high rollers room.