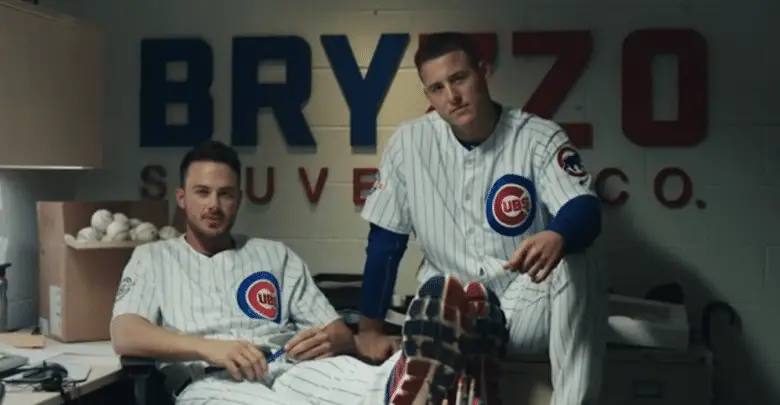 Cubs Trading Anthony Rizzo, Kris Bryant Hasn't Been Discussed, Still 'Not Completely Inconceivable'
Theo Epstein has talked at length about being active this offseason and making sure the Cubs have a highly motivated group of players. He's also been open for a while now about the inevitability that some redundant position players would eventually be traded to address other needs. And perhaps most telling, he admitted that nothing is off the table and that the Cubs don't deal with untouchables on general principle.
Still, it'd take a wild turn of events for Epstein to consider moving one of his superstars, even for a haul that could round out the roster and replenish the farm. And it'd take a heavy dose of peyote and a week in an Arizona sweat lodge to envision a scenario in which the Cubs could flip their two best players. But as Bruce Levine told McNeil & Parkins on 670 The Score Thursday afternoon, trading Anthony Rizzo and Kris Bryant is "not completely inconceivable."
To be fair, Levine did add that the idea of moving either or both of the franchise cornerstones is not something that's officially been brought up internally. So in that regard, this can be filed alongside Buster Olney's report that the Cubs are "open to trading" Bryant, "perhaps as soon as this winter." They're not really open to such an option right now and it's foolish to run with something like that sans proper qualifiers, but it's true that the Cubs aren't completely closed off to the possibility at some point in the future.
With the Brewers targeting pitching and the Cardinals acquiring Paul Goldschmidt to anchor their lineup, now is not the time for the Cubs to put on the turn signal and move to the right lane so their rivals can pass them more easily. No, they need to put their collective foot on the gas and try to put those teams as far back in the rearview as possible. Trading Rizzo or Bryant would be, to borrow a much-maligned phrase from a noted hot-take artist, pumping the brakes.
Epstein certainly didn't get into any specifics when he spoke to the media Thursday from the team's offices about how the Cubs are looking to leverage this year's Winter Meetings. As he's wont to do, he spoke in broad terms and betrayed no detailed plans beyond a desire to add depth and leadership.
"We may make some trades," Epstein said. "We may make some that transform the roster. We may make smaller, complementary ones. There are moves we would like to accomplish that stop short of transforming the roster. We hope to add a bench player with complementary skill sets from our everyday guys.
"We would like to add people with true leadership qualities. We need to shore up the middle infield depth. Addison will not be on this team in April. Leadership skills are what we are looking for in any additions."
I guess you could tear off that "transform the roster" chunk and gnaw on it until it somehow resembles "We could trade Bryzzo." But unless the Cubs brain trust finds themselves wandering in the desert under the influence of psychoactive pharmaceuticals, there's no way even one such massive trade is done, let alone two.
In addition to being the team's best hitters over the course of their time together in Chicago, Rizzo may as well be wearing a captain's "C" and Bryant was voted the Cubs' MLBPA player rep back in March. A team looking to add leadership and talent doesn't even contemplate trades that would cost them both in spades.
The outlook changes a bit moving forward, particularly if Bryant continues to rebuff extension efforts and the Cubs feel they won't be able to re-sign him in free agency. Rizzo is still under control for three seasons and should be more than productive enough through age 31 to justify the $16.5 million team options the Cubs hold on him in 2020 and '21. But right now, with their window still open and a great deal of additional revenue presumably around the corner? No way in hell does trading either make sense.
In other words, it's inconceivable.
In point of fact, Inigo Montoya, I do know what it means. And I hope you're successful in your quest to seek vengeance from Antonio Alfonseca.