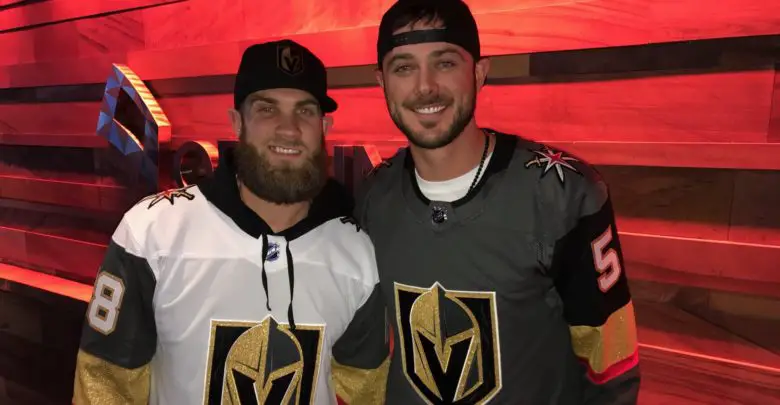 Nationals Concede Bryce Harper's Departure, 'Too Much Money Out There'
Do you like us? Circle YES or NO.
That's basically how the Nationals handled their abbreviated negotiations with Bryce Harper, which consisted of offering him $300 million over 10 years and telling him it was the best they could do. That was the last day of the regular season and the Nats still don't have an answer, though they've conceded that they won't get one and have moved on rather than get stuck pining away.
That was the sentiment of managing principal owner Mark Lerner, who spoke Friday with Grant Paulsen and Danny Rouhier of 106.7 The Fan in the DC area.
"Well, when we met with them and we gave them the offer, we told them, 'This is the best we can do,'" Lerner explained. "We went right to the finish line very quickly. And we said, 'If this is of interest to you, please come back to us and we'll see whether we can finish it up.' But we just couldn't afford to put more than that in and still be able to put a team together that had a chance to win the NL East or go farther than that."
"If they choose some other place, I totally understand. It's the opportunity of a lifetime for Bryce and Kayla and their family. But we have no hard feelings about it, I must say. I love Bryce and he was a good teammate here. If he chooses to go some place else, I totally understand it, but we put one heck of an offer out there."
It had been reported in October that the Nats were already working with such a tight budget that Harper was probably out of the question, and that's well before they signed Patrick Corbin for $140 million over six years. Adding the lefty to the top of a rotation that already features Max Scherzer and Stephen Strasburg gives the Nationals a formidable trio that should help ameliorate the loss of an offensive cornerstone.
And from the sound of it, the Nats are so certain they can't afford Harper that they might have to turn him down even if he did decided he wanted to return.
"If he comes back, it's a strong possibility that we won't be able to make it work," Lerner admitted. "But I really don't expect him to come back at this point. I think they've decided to move on. There's just too much money out there that he'd be leaving on the table. That's just not Mr. Boras's MO to leave money on the table."
Far be it for me to cast aspersions here, but this sure seems like a situation like what we saw in St. Louis when Albert Pujols left for the Angels. Knowing he'd command more money elsewhere, the Cardinals made an offer that allowed them to save face with fans when El Hombre inevitably left. The same may be true in Washington, except we're talking about even more staggering numbers.
Now, it's possible Harper really wasn't keen on returning to the Nationals under any circumstances, but that doesn't seem to be the case given the number of people who still believed until recently that he'd re-sign. Assuming he feels at least passing loyalty to the only team he's ever played for, it figures that the Nats could get away with a little less than their competitors.
Lerner may not know how much Harper is being offered, but he surely knows he's nowhere near the required minimum bid. No surprise there, what with $350 million standing as the presumptive low-water figure. And with Boras talking about setting record for average annual value while also blustering about Harper playing until at least age 40, we're talking about about a total value that could approach half a billion dollars.
Much of that is the product of Boras's trademark bombast, so it's unlikely we'll see anything quite that big, but it seems pretty clear that even $350 million might not get it done. Unless you're among those who continue to doubt the veracity of the Cubs' stated desire to tamp down spending, it's hard to see them swimming in waters that deep.
"No one hitter, especially in the seas where we're fishing, is going to transform the offense," Theo Epstein said Thursday while addressing matters both strategic and budgetary.
Epstein talked about the need to get creative in order to add impact talent, so you can't say unequivocally that they'll be out on Harper. But unless they get really wild and, say, defer a ton of money to make the immediate payroll figures more palatable, it sure doesn't sound like they'll be able to get anything done.
Unless, you know, they've actually already signed Harper and this has all just been the biggest troll job of many he's pulled over the last few years.