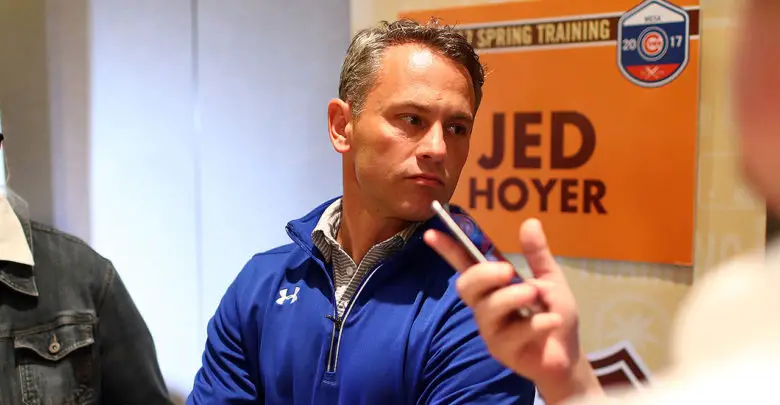 Hoyer Discusses Unchanged Budget, Leadership Void, Offseason Targets, 'No Untouchables'
Jed Hoyer spent about 30 minutes in the middle of a media scrum at the Mandalay Bay Resort and Casino, home of this year's Winter Meetings, laying out all that is and isn't happening with the Cubs. He covered a variety of topics, many of which should already be familiar to anyone who's followed the Cubs with any regularity since the season concluded.
But like trying to watch the movie playing in the car in front of you while you're stuck in traffic, the view lacks total clarity. And sound, which is important. So Hoyer turned the volume up and afforded everyone a slightly better experience as we slog through another winter of hints, allegations, and innuendo.
On the budget:
No, nothing​ has​ changed​ in that regard.
This is the tune they've been singing all along, though 670 The Score's Bruce Levine wrote Monday that "rumblings also exist that the Ricketts family has signed off on the possibility of a big expenditure for a star like Harper." So which is it, and are Hoyer and Theo Epstein not telling the truth?
Only the Cubs know for certain, but it's entirely possible that nothing has changed with the budget and that ownership has approved a deal for Harper. Huh? I'm not saying this is the case, just throwing out a hypothetical, but Tom Ricketts could have told his front office that if Harper is intent on the Cubs, he would approve the massive cost.
It's like having your kids earn money through chores rather than simply giving them an allowance, except with a lot more money.
On positions of need:
I think I'd probably answer that really boringly and say we'll be looking for quality relievers.
There's so many relievers on the free-agent market, so many relievers in trades. There's a lot of work to be done by the scouts to line everyone up.
Hoyer also listed backup catcher and middle infield as areas they'd be looking to supplement, all of which fits with what we've seen so far. That's why we've heard about connections to JT Realmuto — for whom the Marlins are apparently asking the world, plus prospects — and Jurickson Profar. The latter would make a lot of sense if the Cubs then part with Addison Russell.
As for pitching, the Cubs aren't likely to pursue Andrew Miller or Zach Britton, and probably not Adam Ottavino either. Things could change, but those guys are all going to be looking for bigger money than the Cubs are willing to commit to the bullpen at this point.
On leadership:
I did think there was a bit of a void, to be honest with you. That's not to say we don't have a bunch of guys that have leadership qualities. We absolutely do, but we have such a young group. Having someone that's been through the game a little bit longer, with more perspective, that can help out with some of the difficult times, is important. We had that in '15, '16, '17. We were lacking that last year.
This is a big one and it's central to the idea that the Cubs lacked urgency and edge last season. It's why they want David Ross to take a more defined role with the club in 2019 and why they're looking for a new version of the cult-hero backup catcher for the roster.
At the same time, however, the Cubs recognize that they might have to move a key leader on the team in order to fill needs in other areas. Kyle Schwarber and Ben Zobrist have both come up recently, one because the Cubs have reportedly told teams he's unavailable and the other because it's not inconceivable that he's moved. And neither is who you'd have predicted heading into the winter.
On untouchables:
Of course, there's no untouchables. We've said that over and over. So, whenever these rumors come out, I think it's 'Would they trade any of these guys?' Of course. We'd never have an untouchable. And so, for us to start moving pieces around the board, I think it has to make a lot of sense, whether that helps us financially or not. That's got to be the biggest focus.
Pretty self-explanatory.
On getting the most from new players:
It's something we talk about a lot: What can we do differently from an onboarding standpoint to make guys comfortable to get the most out of them? From a cultural standpoint to a coaching standpoint, what can we do better to make sure those guys come in and get off on the right foot?
This isn't a new concept (subscription) and it could even be part of why the Cubs are on their third pitching coach in as many seasons. More specifically, it could be part of why Chris Bosio was sent packing after the 2017 season and why the Cubs stayed internal with Tommy Hottovy this time around.
Hoyer mentioned how the Cubs actually got much better performance from the guys they brought in mid-season than from those they signed as free agents, which isn't how you normally expect it to go. But those acquisitions were generally guys who were well into their 30's and who'd played for multiple teams in the past. Some of them had even been traded a couple times previously.
For as good a job as they do of selling players on the whole Cubs experience and developing players' mental skills from the time they're drafted, the organization does seem to have a deficiency when it comes to onboarding. We'll see whether and how they're able to address that moving forward.
On how the Cubs can get better:
The biggest improvements are going to be from within.
Another common theme, though not one that precludes any big additions. Epstein has said no one hitter can transform the entire lineup, so even if the Cubs did somehow break from everything they've said to sign Harper, the growth and health of the players already on the roster will make the biggest difference.
On getting ready for 2019 in general:
I've never wanted a season to start quicker.
You can say that again.
Credit for recording Hoyer's comments goes to the Tribune's Mark Gonzales, The Athletic's Patrick Mooney, and ESPN's Jesse Rogers. There were certainly others there as well, but these guys offered a combination of tweets, video, and columns.