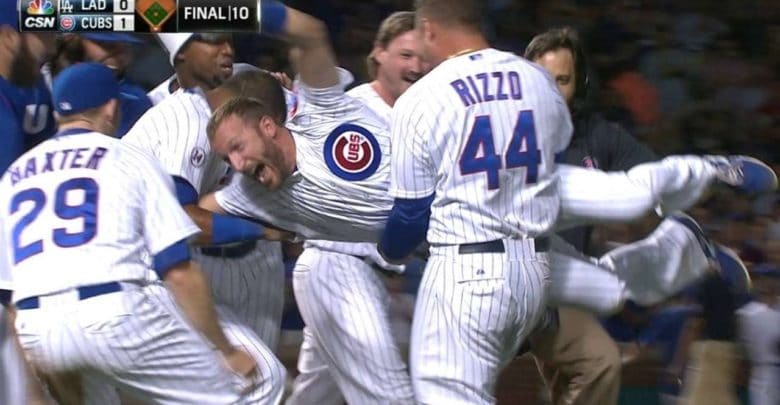 Four Candidates for Cubs Bench Coach Not Named David Ross
Although they haven't officially announced it, all indications are the Orioles will hire (former) Cubs bench coach Brandon Hyde as their next manager. Speculation immediately settled on David Ross as the leading candidate to replace Hyde, and for obvious reasons. Ross was rumored to be a possible replacement for Joe Maddon last season and the Cubs have frequently discussed how they'd like to replace his leadership in some capacity.
But Ross has remained away from the daily grind of the season to spend time with his family and might not want to create friction with Maddon. The Cubs might not want that either. So if they don't hire Grandpa Rossy to be the bench coach, to whom might they turn to fill the role? There are several former players with ties to the front office that would make interesting candidates.
ESPN's Jesse Rogers tweeted Wednesday that he's heard former Raul Ibañez mentioned as a possibility. He was well-respected over 19 big league seasons and Cubs were linked to him more than once during his playing days. He is also bilingual, which is always a good trait in a bench coach. What's more, the Cubs actually reached out to Ibañez prior to last season as they looked to bring in coaches they felt had potential to manage one day.
The role they were looking to fill at that time was likely something like the quality assurance position to which former Cub Chris Denorfia was just named. Denorfia played under Maddon during that eye-opening 2015 season and so impressed front office that they brought in him last year as a special assistant. And though his playing career wasn't particularly remarkable, he holds a degree in international relations and Hispanic studies and represents the kind of intellect the Cubs often find intriguing.
And since we're on the subject of former Cubs, Mark DeRosa was a fan favorite during his time in Chicago and the Cubs have reportedly reached out to him about the vacancy. He joined Ibañez among that group of three potential Maddon successors — Aaron Boone was the other — and has gotten fanfare similar to that of Ross this offseason. While the Penn alum has no coaching experience, Theo Epstein's apparent affinity for fellow Ivy League graduates could factor.
Speaking of, current first base coach Will Venable is another obvious possibility. A former two-sport star at Princeton, Venable retired after eight seasons spent mostly in San Diego, where he played during Jed Hoyer's brief tenure as GM and mentored Anthony Rizzo. Venable was hired late in 2017 as a special assistant to Epstein and Hoyer before moving down to the field for the 2018 season. It's clear he is highly thought of and is a familiar face for both the staff and front office so a promotion to bench coach would make sense.
Going for Ross or DeRosa, both rumored Maddon replacements, would add undue drama to the manager's lame-duck status. Given everything else they're trying to do in terms creating the best possible environment, that friction is something the Cubs would likely want to avoid.
I think Venable is going to be the choice due to his front office experience, education, and respect within the game. Denorfia was just added to the staff, so giving him time to get his feet wet would be helpful. Ibañez is intriguing, but the Cubs have promoted heavily from within this offseason. I look forward to being proven right (or wrong) shortly.