Baseball America's Top 10 Cubs Prospect List Features New No. 1
Late Monday morning, Baseball America published the second major list of Cubs prospects (subscription required) this offseason. FanGraphs was first last week with their list of 31 prospects and leaned heavily toward pitchers and the 20-and-under crowd. BA's list has similar youthful projection, but focuses more on players taken in the most recent draft.
This latest effort is less than a third as deep as its predecessor, featuring only 10 total prospects, and has a new top dog. I was pleased to see someone else agree with me that Nico Hoerner is No. 1 in the system. Because it's a subscription piece, I don't want to give away all the specific notes and evaluations, but I can disclose that BA projects Hoerner to begin 2019 at Myrtle Beach. In the chat that took place after the list was published, Josh Norris of Baseball America shared his opinion that Hoerner could be in Chicago sometime in 2020.
Three other 2018 draft picks also got a lot of press in the article. Second round compensation pick Cole Roederer (OF) came in at No. 4, with second round pick Brennen Davis (OF) at No. 5. Yet another second round comp pick, Paul Richan (RHP), was assigned the No. 7 spot. Those are some pretty aggressive rankings for players who have only played short-season baseball. Roederer drew comparisons to Red Sox outfielder Andrew Benintendi and BA believes he is good enough to start 2019 at South Bend. The publication also though highly enough of Richan that he could skip South Bend all together to start 2019.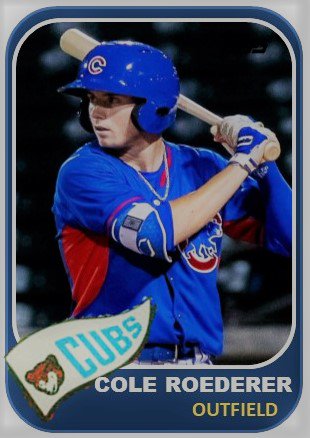 Those are two very surprising statements to me, as I had mentioned that Roederer might be good enough to work his way to South Bend by May. If he's able to make good on this ranking and establish him quickly in A-ball, he is going to be a really exciting one to watch moving forward. I suppose that could be true regardless.
As for the rest of the list, there were only two other statements or assignments that I found interesting. One is Baseball America having Aramis Ademan returning to Myrtle Beach to start 2019. They also thought Davis should be at Eugene to open the season, though I wouldn't be surprised to see him move pretty quickly to South Bend at some point next summer.
Overall, the 2018 draft class looks to be capable of reinvigorating the system. They should be fun to watch next summer across all three class-A affiliates. Oh, there were some other names on the list as well (sans rankings, but listed in order according to what you already know from above): Miguel Amaya, Brailyn Marquez, Adbert Alzolay, Cory Abbott, Justin Steele, and Aramis Ademan.
MLB Pipeline looks to be next up on the rankings release chart with theirs slated for early January.