Cubs System Position-by-Position, Pt 6: Two Big Names to Watch in 2019
The outfield positions in Chicago could change a great deal over the next month.
It all depends on whether the Cubs re-shape the roster by trading one or two current regulars in order to make a big splash. Even if they stand pat, they've got so many options already at the big level that our look at the system is more about organizational depth.
A year ago, Nelson Velazquez topped the rankings after coming off a six week stretch in which he hit 11 home runs in the Arizona Rookie League. After an injury filled spring, Velazquez got a sneak peak at South Bend before Eugene's season began. It did not go well. Then again, the experience of being overmatched gave Velazquez something to work on.
He was the Cubs' MiLB Player of the Month after going .282/.396/.506 with three homers and 12 RBI. Most impressive was the fact that Velazquez was walking more and striking out less. Having just turned 20 after Christmas, there's no rush and he should be in South Bend all of 2019.
As for the rest of that list, 2018 was a year many of them would love to forget. Only Mark Zagunis performed up to expectations, reaching base at a .395 clip, but he was limited to only 115 games due to injury. DJ Wilson, Charcer Burks, Eddy Martinez, and Kevonte MItchell are all looking for do-overs in 2019 and all are still worth watching, along with Jonathan Sierra and Fernando Kelli.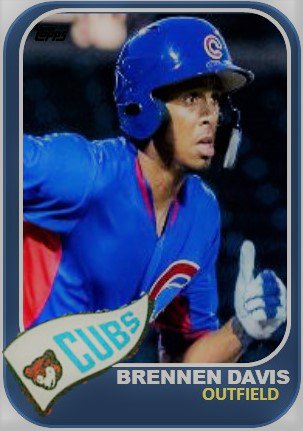 But the focus this coming season should be on two other outfielders: Brennen Davis and Cole Roederer. Both were taken by the Cubs in the 2018 MLB Draft and drew rave reviews for their performances in the Arizona Rookie League. Davis is known for his pitch-recognition skills and is focused on baseball full-time player after also playing basketball in high school. He should really take off in 2019 now that he is just dedicated to one sport.
Roederer is getting a lot of love this offseason on the prospect lists. FanGraphs put him at No. 6 on their top Cubs' prospect list, while Baseball America had him one spot higher. Even though he hasn't played above rookie ball, the 19-year-old outfielder has wowed talent evaluators with his combination of power and speed. He dazzled with a 129 wRC+ over 38 games in Mesa and showed he could play center.
As for where Davis and Roederer will be to start 2019, there are still a lot of questions to figure out. During the Baseball America chat that followed the release of their prospect list, Josh Norris thought Roederer could be at South Bend and Davis at Eugene. Their performance this coming spring may determine their respective destinations, but their individual development plans will also hold sway.
If the Cubs are being cautious with their talent and experience, extended spring training will be the determinant. An extra month in Arizona is not going to hurt anyone and avoiding the chill of the Great Lakes region in April could be good for both. They'll have to adjust to colder temps eventually, but it's not a bad idea to provide a softer landing for young players from Arizona and California.
One more name worth mentioning is Jose Lopez. Signed on July 2 as an international free agent, the youngster should arrive in Mesa shortly to begin his career in the states after competing in the Dominican. He's not big — 5-foot-10, 167 pounds — but he's only 16 years old and isn't done growing. That potential led MLB Pipeline to rank him at No. 19 on their top international free agent list last summer.
Two other sleepers this year include 2018 draft picks D.J. Artis and Edmond Americaan. Both should be in South Bend or Myrtle Beach.
Finally, you may want to keep an eye on Chris Singleton as a potential breakout performer. He started to figure some things out in August at South Bend, hitting .305 for the month and .371 over his last 10 games. Singleton is an exceptional athlete who is adjusting to more advanced competition than he saw in college and could have an impact if he picks up where he left off.
Other Position-by-Position Articles
Catchers
1st Base
2nd Base
3rd Base
Shortstop