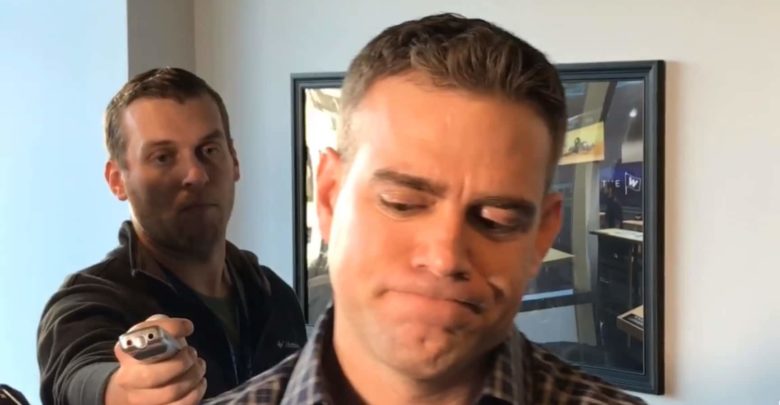 Checking Back on Accuracy of Those 11 Bold Predictions
It's the end of the calendar year (or the beginning, depending on when you read this), so I figured it was as good a time as any to review my pre-season predictions. Oh, there's also the matter of a comment on Mike Canter's Rundown survey that said we don't do a good enough job of following up on our speculation, so that kind of spurred me on.
There probably isn't much need for preamble here, you've seen these prediction pieces before. I guess I'll just note that the original plan was for only 10 items, but I ended up with one more because I miscounted. Timing is also key, since these things are done before much has happened to inform them.
That said, let's get into it.
1) No Cubs starter will reach 200 innings
Hey, looks like Joe Maddon's propensity for pulling guys early helped me into a W here. Only three starters exceeded 124 innings and Kyle Hendricks led the staff with 199 innings, thereby making me correct by the slimmest of margins.
2) Kyle Schwarber will hit 40 home runs
This one fell short, though Schwarber was second on the team with 26 dingers. Feel free to remind me in the comments about his batting average or RBI total.
3) Ian Happ will lead team in CF innings
Aaaand…not so much. Happ logged 403.2 innings in center, falling just a little shy of Albert Almora Jr.'s 918.1 innings. Happ did, however, log a total of 929.2 defensive innings to edge Almora slightly. It was highly unlikely Happ was ever going to settle in at one spot, but that's where the whole "bold" thing comes in.
4) Jason Heyward will become a bench bat
This was way wrong and I couldn't be happier about it. Heyward wasn't some kind of offensive superstar or anything, but he rebounded enough to be an everyday presence in the lineup without being an offensive liability.
5) Justin Grimm will not make the Opening Day roster
The Cubs tendered Grimm a contract and he became the first player under Theo Epstein and Jed Hoyer to go to arbitration. Between that the potential he'd shown in previous seasons, it was clear the team was willing to give the big righty every chance to rediscover his form. However, a disastrous spring — 9.0 ERA, 2.50 WHIP in 4.0 IP — and "butting heads" with team leadership led to Grimm's departure prior to the team breaking camp.
6) The Cubs will not trade for a closer
This ended up being correct, though Jesse Chavez recorded four saves after being acquired. The situation at the end of the bullpen was murky over the course of the second half, with Brandon Morrow foolishly trying to pitch through a stress reaction — a more serious injury than people seem to believe and that eventually required surgery — and Pedro Strop coming up lame after being allowed to bat for himself in Washington.
Between kidding themselves by clinging to the idea that Morrow might return and expecting their offense to score more than one run more regularly, the Cubs felt no need to acquire another closer. The strategy worked for the most part, and giving up prospects for such an incremental boost likely would not have helped.
7) Victor Caratini will be traded
I'll probably keep putting this one out there until it happens, which it still may if the Cubs do go out and get a veteran backup catcher.
8) Chris Gimenez will prove his worth beyond his connection to Yu Darvish
Speaking of veteran backup catchers, Chris Gimenez was supposed to be a poor man's David Ross. Which I guess he was if we're talking about a man who's totally broke. Ostensibly signed to recruit and caddie for Yu Darvish, Gimenez didn't break camp with the Cubs due to Caratini's strong spring performance. The Cubs swapped backups in late May rather than losing Gimenez, but the elder statesman performed poorly and totaled only 32 plate appearances in a month on the roster.
9) Kris Bryant will hit .300+ with 40+ doubles, a BB rate over 15%, and K rate less than 18%
So, uh, yeah, this was a big swing and miss. Most of the disparity in my prediction came from the shoulder injury that cost Bryant nearly two months and significantly hampered his swing. It also had a psychological impact, as the superstar tried to push though pain and adjust to his reduced capacity.
Had Bryant not been injured, however, it's entirely possible I'd have nailed this one. Through May 19, the date of his injury, KB was batting .305 with a 13 percent walk rate, a 15.7 percent strikeout rate, and 14 doubles in 185 plate appearances. Extrapolate that latter total over 600 PAs and you get 45 doubles. So my prediction was off in reality, but likely would have been dead on absent the injury.
10) Addison Russell will post at least a 110 wRC+ and 4 fWAR
Oof.
11) Jake Arrieta will take the mound at Wrigley on Tuesday, June 5
Surprisingly, Arrieta did not pitch against the Cubs at all in 2018. While managers don't set up the rotation based on sentiment, it's hard to escape the idea that a guy might get up for a matchup with a former team, particularly when you're talking about a pitcher like Arrieta. Of course, the bearded righty wasn't quite the force in his age-32 season that he'd been with the Cubs.
His 7.19 K/9 was the lowest he'd put up since 2013 (7.17) and his 3.96 ERA and 4.26 FIP were higher than in the previous four seasons. Arrieta's fastball velocity was up very slightly, though, so perhaps he's got a little gas in the tank as he heads into the twilight of his career.
So there you have it, 3-for-11 (.273) with a pair of doubles and a single. The Bryant one would have been a home run had I gotten it right, but we can't really look at things that way. All told, not a bad run considering the nature of these predictions.
Once things settle out with offseason moves and the start of 2019 spring training, I'll be back with more hot takes for the future.