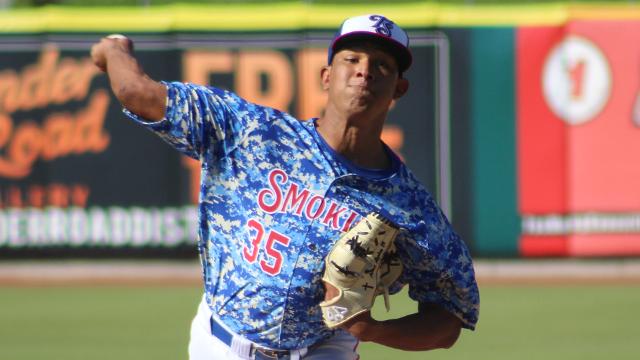 Where Will Cubs Turn for Bullpen Help?
The Cubs headed into the offseason with some clearly defined needs and an ancillary want or three. The bullpen needed help even before Jesse Chavez left for a two-year deal with the Rangers and Brandon Morrow was ruled out for the start of the season following an elbow procedure. Adding depth to the middle infield was a must, so the Cubs went out and landed Daniel Descalso. Power move.
Okay, so that one was more of a bunt to beat the shift than a ringing double in the gap, but Descalso does at least bring defensive versatility and a measure of that veteran leadership the Cubs covet. They'd love to find more in the form of a backup catcher, but that's a luxury they may not be able to accommodate. Besides, David Ross may have ruined that role and skewed expectations.
There's also the matter of adding a contact/on-base threat to help fix the offense that broke last season, though nothing is going to happen on that front until after Bryce Harper signs. Whatever you think about the Cubs' pursuit of the superstar free agent, he and Manny Machado have the whole industry in limbo for one reason or another.
It's possible the influence of those two big bats extends even to the reliever market. Some of the top-flight arms are connected to the same teams engaged with Harper and Machado, so it's possible they're waiting to see what their respective budgets can support following decisions one way or the other. As for the Cubs, though, that really shouldn't be an issue.
If they are indeed "in" on Harper, it would be as a singular talent and not because they're itching to spend money. As such, missing out on him would not result in the Cubs splurging on Craig Kimbrel, Zach Britton, or Adam Ottavino. So where does that leave them?
Our Sean Holland looked at both righty and lefty bullpen options, including the likes of Kelvin Herrera, Cody Allen, Tony Sipp, and Zach Duke. Among those names, Herrera best fits the Cubs' penchant for picking up players rebounding from injury. Then again, they've already filled that quota with Kendall Graveman, who probably won't pitch in 2019. And they got a potential value pickup in hard-throwing lefty Conor Lillis-White, the return in the Tommy La Stella trade.
I'll circle back to Herrera quickly because he may command only a one-year prove-it deal — especially as we see free agents landing shorter deals than expected this winter — as he returns from a Lisfranc surgery. He's also a proven strike-thrower, the kind of pitcher the Cubs have been trying to find for the past few years and exactly what they lost in Chavez. To wit, Herrera's aggregate 2.15 BB/9 over the past three seasons is lower than any Cubs reliever other than Chavez during that time.
But, again, his availability for the start of the season isn't known and the Cubs need depth at the back end of the 'pen right out of the gate. Where they're going to find that is anyone's guess at this point and I'd be lying if I said I had a good idea about it. Judging from the overall lack of traction, however, I wouldn't be surprised in the least if the plan involved getting significant contributions from two or three prospects.
One of those could be Dillon Maples, though he's going to have to rein in his fastball command if he's ever going to have a legitimate impact. That slider is wicked, but it's not nearly as big a weapon if it's the only pitch Maples can throw near the plate. Getting his triple-digit heater to go where he wants would instantly elevate him to a setup role.
Another option is Dakota Mekkes, a big side-arming righty who has dominated at every stop along the way since being drafted out of Michigan State. His fastball velocity isn't overpowering, but the pitch seems bigger because of his size and deceptive delivery. Like Maples, Mekkes needs to dial in the command, but he's posted a 1.16 ERA across three minor-league seasons in spite of a 4.1 BB/9 mark.
---
Read: Cubs Insider exclusive interview with Dakota Mekkes
---
Adbert Alzolay might have gotten a chance last season had a lat injury not shelved him in mid-June. Though the Cubs have said they want to develop him as a starter, a full rotation and a limited repertoire leave him best suited to the bullpen for the time being. He can showcase his elite fastball velocity and big curveball without being exposed, all while continuing to hone the changeup. A rotation spot isn't out of the question down the road, but he should contribute in 2019 as a reliever.
This could be one of those "our biggest changes will come from within" deals in which the Cubs eschew big-money free agents because they're confident in their young guys. Or maybe they're going to be forced into leaning on prospects because they don't want to spend money on free agents. Maybe it's a mix of both. Whatever the cause, there's a point at which the farm has to produce pitching.
Necessity is the mother of ingenuity, and there's a definite need on the North Side at this point. Rather than getting wildly creative and cobbling together a bullpen out of duct tape and popsicle sticks, however, it'd be nice to see something more solid materialize here before long. At the same time, it'd be great to see some combination of Maples, Mekkes, and Alzolay figure it out and really take over at the big-league level.