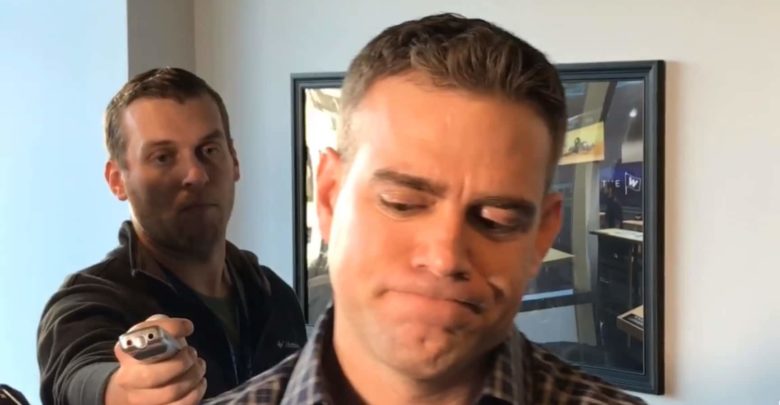 Theo Epstein on Potential Moves: 'Anything Is Possible' but Biggest Improvements Likely Internal
If you were expecting anything revelatory from Theo Epstein when he joined Bruce Levine and Matt Spiegel on 670 The Score Saturday morning, you're going to be disappointed. Sounding as though he'd just woken up, or maybe like he never went to bed at all, the lead architect of the most successful run in the last century of Cubs baseball addressed the offseason goings-on with his typical transparent opacity. Which is to say he was very clear about not being very clear.
There were, however, some frank statements when it came to the team's flexibility for trades and free agent additions. The thing to remember is that Epstein isn't about to jump on the air and literally broadcast his plans to the listening audience. He's not an evil genius — though our comments section seems to indicate that he's far more evil than genius — and the radio jocks aren't secret agents, so we didn't get all the details.
Between frequent texts — there were at least three points at which buzzing phone led to distracted responses, presumably as a text was checked — Epstein expounded upon the budget and what kind of additions the Cubs are willing to make. Maybe "expounded" is the wrong word, but he did touch on several topics.
"I don't think anyone in the organization is super proud of the totality of the work the last two years," Epstein admitted. "That's not where we wanna be, we wanna make sure we're putting our absolute best foot forward. You only get one crack at this and it's not easy, but it's a special opportunity and we all need to put our absolute best foot forward, including myself, including everyone in the organization.
"I think that's really the theme in talking to players, talking to coaches, talking to the front office, I think we're all sort of hunkering down and making sure we leave no stone unturned and making sure we do our jobs the absolute best way that we all can and that we all set up our lives in a way that leaves nothing undone to try to help the Cubs win a championship next year."
Leaving no stone unturned is code for trying to squeeze out every last bit of toothpaste from the tube or digging through the couch cushions for loose change. It's certainly not taking care of the obvious headline moves, so Epstein seems to be shying away from that. But his slight change in phrasing at the end — a way that leaves nothing undone — leaves the door open.
Turning over stones is a last-resort move, like running the spell-check after visually editing a post prior to publishing. You've already done all you can do and it's a final effort to see if maybe there are minor tweaks. Leaving nothing undone indicates a desire to make some legitimate changes, though both Epstein and Jed Hoyer have remained steadfast in the notion that the biggest changes will have to come from within.
After all, nothing is guaranteed and standing pat leaves you that much more at risk to falling behind. Epstein knows that as well as anyone.
"There are very few things in baseball you can count on," he said. "You can never count on a young player's improvement. Nothing is promised, nothing is given. It has to be earned and it has to be worked for and there has to be support along the way."
Okay, so nothing is guaranteed and there has to be support for young players. Might that mean going out and landing a big free agent in order to supplement the lineup and insulate against further lack of development? Well, maybe not.
"The environment surrounding the team, we can have a little more structure and a little more structured work…which is what you need to develop," Epstein said. "You need routine, you need consistent work, you need a structure around you that puts you in the best position to get better every day. And so we've made some subtle adjustments behind the scenes just to make sure we're putting that type of environment in place."
This is a continuation of what the Cubs' baseball boss has preached since that fiery postmortem presser in which he decried the team's lack of urgency. It felt at the time that he'd fired a shot or three across Joe Maddon's bow and that the front office was going to be taking a more active role in the day-to-day operations of the clubhouse and the field.
Epstein appears to be reinforcing that notion here, as some of the recent hires have been coaches with a great deal of familiarity with the front office. There's also the matter of Joe Maddon being more present on the field prior to games, rather than conversing with the media. The manager's loosely bound rulebook worked wonders early in his tenure, but the Cubs are looking to tighten things up after seeing some of the pages falling out.
"And I think it's important to know we're not counting on every single player to get better because that's not the way it works," Epstein added. "But that's one of the reasons why you have a ton of depth from a position player standpoint. You know some guys are gonna take a step forward…and other guys are gonna not take a step forward."
While it's true the Cubs have a ton of depth, one of the hallmarks of their success these past few years, that isn't always a good thing. In fact, it may be detrimental to the structure and routine Epstein just talked about strengthening. Sometimes young players need to be brought along slowly and given soft landings when it comes to positional and situational adjustments. But at a certain point, that lack of exposure could stunt their growth.
And baseball isn't like riding a bike. You can't just pick up a bat or put on a glove at irregular intervals and expect to maintain a consistent level of proficiency. But just as that lack of consistency may have been detrimental for the growth and development of some young players, it might also be hampering the Cubs' ability to make moves this winter.
"Look, I mean, you just have to take an honest look at the point you're at," Epstein said. "And when you have a lot of guys coming off good years, you tend to have more flexibility with trades that you can make and moving salaries or moving young players at a point when their value's high.
"When you have some critical players coming off down years, that's not a time when there is a tremendous amount of flexibility if you don't have a lot of buffer with your payroll. You can talk about reshuffling and there's certainly a lot of deals we've conceived of that move some money and bring back some money, but there's offseasons when you're set up to be really active and offseasons where you've gotta work really hard to make even the smallest pieces fit."
"And right now we're working hard to try to make some improvements, but, again, I'm just being honest with you guys, I think the majority of the improvements are gonna come from…hav[ing] really talented players play up to their level."
There's that expectation-setting again, something we'll look at even more clearly here in just a bit (the part about payroll will be addressed in a separate post). But what really jumped out here is the notion that the Cubs have indeed looked at ways to clear some undesirable contracts from the books, likely Jason Heyward and Tyler Chatwood. It's been reported here at CI that the Cubs would "need" to move money in order to sign Bryce Harper, and Heyward is an obvious candidate for that because of his position and salary.
But moving players who're making more than their performance indicates their worth requires a little sweetener in the form of younger players who're exceeding their contract value. And since the Cubs aren't about to part with Kris Bryant or Willson Contreras, the bundling options are somewhat limited. There's more to it than that, of course, but this is already running long and we've still got more to cover.
Long story short, Epstein isn't operating with total autonomy to simply do whatever he wants with the payroll, and the makeup of the roster is such that it's not incredibly conducive to trades. Nothing can be ruled out completely, and he went on to say as much, but it still seems as though it's going to take a big change somewhere for a significant addition to become a reality.
"I'm not gonna tell fans how to consume their offseason, just like I don't tell them during the year," Epstein offered. "I'm very respectful of the way fans choose to root for the team. If they wanna be really focused on the offseason and have big expectations for big names, that's absolutely their right and I totally get that.
"I'm not gonna tell [fans] what to expect or what not to expect. Anything is possible. Of course, some things are extraordinarily unlikely and some things are more realistic. There are gonna be big offseasons that are usually much applauded and sometimes those lead to winning seasons and sometimes they don't.
"And there's gonna be smaller offseasons…that are almost completely status quo and those'll usually be met with a lot of criticism. It doesn't mean it's not gonna be a wildly successful and entertaining season."
Now, you can choose to look at the glass as half-full here and believe Epstein is playing coy and leaving the door open. Or you can choose to interpret this as a pretty obvious statement of fact when it comes to what is more likely to happen. And as things currently stand, the idea of the Cubs maintaining the status quo feels like all too real a possibility.
And don't get me wrong, there's still a great deal of improvement to be made just from better health and a few steps forward developmentally. But Epstein openly admitted that the opposite is also possible and that you can't depend on improvement. So while fostering a better, more structured environment is great, just leaning on that to produce improved performance is naive at best.
But there's plenty of time left in the offseason and nearly 200 free agents are still looking for work. And given the workout Epstein's phone was getting over the course of 20 minutes on a Saturday morning, he's still got a helluva lot of stones to turn over.