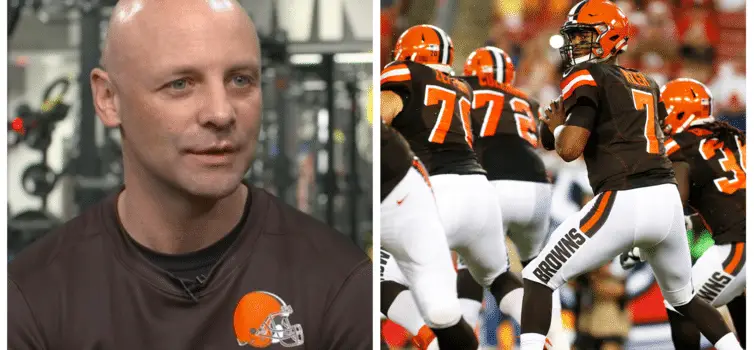 In Search of New Competitive Advantage, Cubs Turn to…Cleveland Browns?
Theo Epstein wasn't kidding when he said recently that he was leaving no stone unturned in the search for new competitive advantages. Perhaps that's why the Cubs have turned to a man most recently employed by a franchise on which the sun hasn't shone in many years. The Cubs announced Tuesday that they'd hired Adam Beard — hailed as a "performance pioneer" by Training Ground Guru — away from the Cleveland Browns to serve as Director of High Performance.
And no, that doesn't mean he'll be working with players who like to take the field after puffin' the cheeba. According to the team's press release, Beard will "be responsible for overseeing the integration and management of a collaborative approach to all aspects of training, conditioning, mental skills, nutrition, sport science and beyond." Essentially, he'll be in something of a very hands-on quality assurance role when it comes to the Cubs' off-field training.
"You need routine, you need consistent work, you need a structure around you that puts you in the best position to get better every day," Epstein said in early January after previously saying they were planning more changes they weren't yet ready to roll out. "And so we've made some subtle adjustments behind the scenes just to make sure we're putting that type of environment in place."
Perhaps hiring Beard is the change that helps provide that structure. This is a newly-created role, just as it was for the Browns when Beard joined them four years ago. In fact, he was the first person in the NFL to serve in such a capacity. Prior to his time in Cleveland, during which he may well have borne witness to the greatest championship in the history of team sports, Beard served for several years as Head of Physical Performance with the Welsh Rugby Union.
This is an interesting hire, to be sure, and one that could be viewed as somewhat outside the box. But the Cubs are no strangers to breaking from the norm a bit, particularly when it comes to their coaching hires. Still, a guy with a background in rugby and football? And not actual football, but the Browns.
Well, Cleveland did improve to 7-8-1 this past season and looked like a legit team for the first time in a long time. Rugby is a notoriously tough sport from a physical standpoint, but it also requires great awareness and a sense of urgency that the Cubs have been lacking the past couple seasons. And since Beard's role encompasses both the physical and mental well-being of his charges, you can see how this all sort of makes sense.
There's also the matter of coming at things from a different perspective. Despite their record showing a great deal of success, the Cubs appear to have stagnated somewhat since their World Series title. Beard knows nothing of that and can approach the situation with a fresh set of eyes, free from the inherent bias held by current staff members.
Beard, who is Australian, holds a PhD in exercise physiology from Université de Lausanne in Switzerland and has more than two decades of experience in the sports industry. Dude knows his stuff. This may not be an impact move for the coming season, but it's one of those hires made with the next several years in mind.
That said, let's hope it has an impact this year just the same.