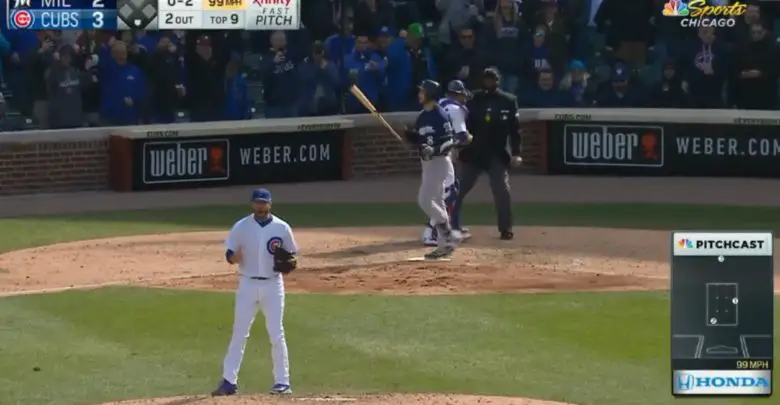 The Sun'll Come Out: Yu, Morrow Both Confident Following Elbow Issues in 2018
Two of the Cubs' biggest investments last winter paid virtually zero dividends, certainly none down the stretch, leading many to question the front office's acumen and the players' toughness. Okay, most of the concerns about toughness were directed at Yu Darvish in particular. They still are, actually. Brandon Morrow was given a little more benefit of the doubt, ostensibly because he tried to pitch through his pain deeper into the season.
Either way, both players have received heaping helpings of haranguing from keyboard commandos who read things like "bone bruise" and "stress reaction" and wanted to label these guys millennial snowflakes. Even those with less overtly derogatory intentions may have frowned a bit at what seemed like trivial diagnoses. Therein lies the problem.
Stress reactions are actually precursors to stress fractures, but they're frequently un- or misdiagnosed because they're not easily detected by non-invasive imaging techniques. A 2016 presentation by Dr. Lee Kaplan of the University of Miami's sports medicine department revealed that stress reactions in the elbow — caused by impingement of or excessive tensile forces on the olecranon — account for less than 1 percent of all diagnosed high school sports injuries.
We're obviously not making a direct comparison between prep athletes and MLB pitchers, but it's understandable that these injuries simply don't get a lot of fanfare. That may also factor in the criticism of Darvish and Morrow, since far more people played high school sports than either college or pro. And if their individual expertise includes nothing to properly inform their opinion, some amorphous ailment of in the bony point of the elbow surely isn't that big a deal.
Mentions of Tommy John surgery, ACL reconstruction, or even thoracic outlet decompression, on the other hand, are received with stoic nods of understanding. Not only are those things quite common, they sound much more serious and are more obviously worthy of reverence as a result.
Anyway, my point here is that what Morrow and Darvish went through last year was indeed legitimate and ended up leading to surgery for both of them. Darvish underwent an arthroscopic debridement to clean up his elbow and promote healing. He began a throwing routine back in December and is now pitching from the mound with what looks to be appreciable oomph.
Healthy and confident heading into spring training, Darvish may also have a pretty big chip on his shoulder. Like, in the metaphorical sense, not something that will require additional surgery. Fueled by critical column inches, acerbic A-Rod comments, and the mispronunciation of his first name by fans (many people inexplicably replaced the Y with a B as the season went on), Darvish's competitive fire should burn white hot.
Morrow is a different case in that his role afforded the Cubs a little more time to push the envelope. Though having him pitch through pain at all was ill-advised, both the closer and the coaching and training staffs felt comfortable letting him set the pace. Once it became obvious Morrow wasn't able to cut it loose, however, he was shut down.
Even with Darvish serving as a cautionary tale, the Cubs weren't overly concerned about Morrow's elbow heading into the winter and obviously wanted to avoid surgery if at all possible. But as with his teammate, an MRI alone was not able to determine the extend of Morrow's injury and a CT scan was ordered.
"That picture showed that I had an osteochondral defect in the joint in the humerus," Morrow told Sahadev Sharma of The Athletic ($). "It was like a little divot which went through the cartilage and into the bone a little bit. So that's what they decided to fix. They cleaned it and then roughed up the cartilage to promote the healing."
Morrow said he could tell almost immediately that this surgery wouldn't present nearly as big a setback as the shoulder procedure that sidelined him for much of 2015 and '16, pushing him to the bullpen permanently. He indicated that he could miss the first month of the season, a reality we've been aware of since learning about the surgery in early December.
The elbow clean-up had actually occurred a month earlier, on November 6, almost two months after Darvish had his. Assuming the recovery timelines are similar, Morrow should be able to begin a throwing program right around the same time pitchers and catchers report to Mesa on February 12. From there, it could be another month or so before he's ready to throw from the mound at all, let alone cut it loose with full velocity against live batters.
So Morrow will probably miss April at the very least, but that's better than missing August and everything after. Both he and Darvish seem to have a very positive outlook on their respective situations, a lot of which is no doubt due to relief. It's one thing to know you've got a physical ailment and to know how to fix it, that happens all the time. But trying to pitch through pain that tests tell you is coming from a phantom injury has got to be as taxing mentally as it is physically.
If you've ever gotten belated confirmation that what you knew was wrong really was wrong, you know how much your disposition improves almost immediately. And then to be able to take measures to alleviate the issue, after which things feel immediately better, is another huge step forward.
Having a wait-and-see attitude about these two pitchers is perfectly understandable given their respective histories. But both Morrow and Darvish appear to be primed for bouncebacks, so don't be surprised when they shove.