Cubs Lightly Represented as Prospect List Frenzy Hits High Gear
Over the past 10 days, several major publications published either a top 100 prospect list or a top 10 list for each organization. Both Baseball America and MLB Pipeline also began putting out the top prospects at each position. As far as the Cubs are concerned, the same two prospects sit at the top: Nico Hoerner and Miguel Amaya.
These prospect lists are all very subjective and it's important to understand that when reviewing them. For instance, Baseball America did not include either Hoerner or Amaya in their top 100. But then a new list will come out and it'll vary drastically from its predecessor based on production, injuries, and adjustments. Inconsistency aside, these rankings can be very useful when it comes to comparing evaluations of prospects at different stages of their respective careers.
Here are a few things to highlight from the lists that have dropped over the past two weeks (some links are subscription sites).
Baseball America ($)
No Cubs in the top 100 but Nico Hoerner got the top spot in the Cubs Top 10 back in December. On Monday, Miguel Amaya was listed at No. 7 on their top catchers list.
FanGraphs
The Cubs' individual list came out last December, with Amaya at the top. When it comes to their top 100 list, we will be waiting for just a bit longer because Fangraphs updates their big list in February. Last year, no Cub made the roll.
Prospect Live
They published their top 100 prospect list on the Jan 18 and put Hoerner on it at a stunningly high No. 55, one spot of ahead of Dylan Cease. Considering Hoerner hasn't seen much action outside of the prestigious Arizona Fall League, the high ranking was a huge surprise.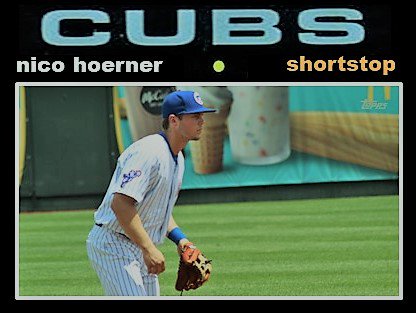 MLB Pipeline
Jim Callis and Jonathan Mayo are joined by Mike Rosenbaum this year in compiling their lists. Hoerner came in at the final spot on the top 100 list, while Amaya came in at 94, just a few spots lower than last time. Amaya also made the top 10 catchers list at No. 7. No other Cub made a position list so far and their top 30 Cubs list will be out next month.
Keith Law ($)
He began publishing his prospect evaluations on the January 28 with 10 players who just fell short of the top 100, with Hoerner included in that group. Law's dropped his 51-100 prospects a day later and Miguel Amaya came in at 91. It's a certainty there will be no Cubs in the top 50, but Law's team lists usually have some good sleeper prospects to watch for in the coming year.
Baseball Prospectus ($)
Hoerner came in at 86 on their top 101 and Amaya came in unofficially at 102 as he lead off their Next 10 list. But there were some odd choices in their top 10 Cubs list, including pitcher Alec Mills at No. 10. The logic of that selection is a bit off, as is keeping Brailyn Marquez out of the top 5.
All the lists should be complete by the time spring training starts. MLB Pipeline's top 30 evaluation of the Cubs system will be one worth checking out, as will Law's top Cubs list. More than likely, FanGraphs could sneak two Cubs onto their top 100 list.
One list conspicuously missing this year is John Sickels' of Minor League Ball, since Vox Media stopped publication of his site a couple months ago. I really enjoyed John's writing and his analysis was always on point. He had a deep list of prospects and his evaluations tempered potential with production. Hopefully, he will be publishing something somewhere soon.
By mid-summer, most of the publications listed above will be back with new lists that include draft picks and other risers. As much as 20 percent of the names on these early rankings will graduate to the majors and three Cubs prospects could be pushing for inclusion by then.
Marquez, Cole Roederer, and Brennen Davis are the up-and-comers in the system who are generating some hype this offseason after bursting upon the scene in the second half of 2018. The summer list is always much more exciting to evaluate, especially this year, and it'll be fun to watch the youngsters go at it.