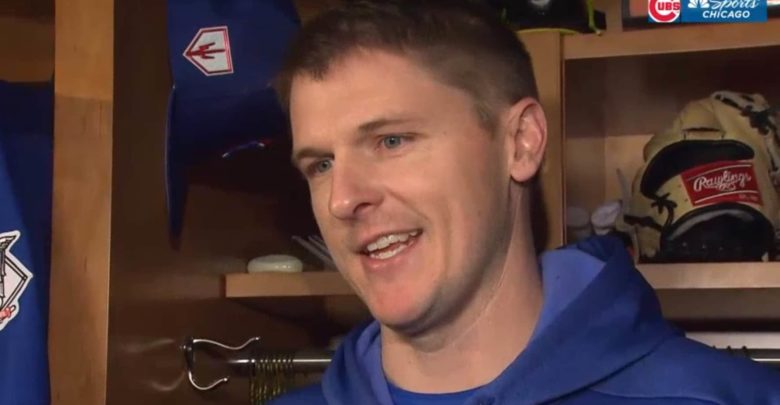 Brad Brach Happy About Escaping Baltimore, Hints at Collusive Activity in Free Agency
Everyone is excited to get back into camp after the long winter and to ramp up for the coming season, but the smile Brad Brach has been walking around with in Mesa is particularly wide. And it's not just about finally signing roughly three weeks after first agreeing to terms with the Cubs. He's stoked about what he believes is the best rotation he's ever backed up and, more than anything, he's just happy to be part of a winning organization.
Gee, when have we heard that from anyone after getting out of Baltimore?
"It gives you a little kick in the butt and gets you back into winning baseball, which, especially in the bullpen, you want to be a part of," Brach told the media Friday. "When you're losing so many games, it ends up turning into kind of a spring training where, 'You haven't pitched in three or four days and we need you to get some work.'
"I just never really excel in those roles. Coming here, knowing that you're expecting to win from Day 1, it's exciting and I'm looking forward to it."
Apparently he hasn't been made aware of PECOTA yet, so let's try to keep that 80-82 projection a secret for a while longer. Then again, being only two games under .500 represents a marked improvement over the Orioles' prospects.
If his performance following a trade to Atlanta last season is any indication, Brach could very well return to All-Star form for the Cubs. After posting a 4.85 ERA (4.01 FIP) with 8.77 K/9 and 4.38 BB/9 over 39 innings with the Orioles, he put up a 1.52 ERA (3.12 FIP) with 8.37 K/9 and 3.42 BB/9 over 23.2 innings with the Braves. Not a massive difference in the peripherals, but clearly better overall.
Brach also benefited from a mechanical change, dropping his release point to affect a rise in velocity that put him more in line with his 2016 numbers. Maintaining those improvements while factoring in the added motivation of being in contention all year long (fingers crossed) should see Brach putting up consistent numbers for the Cubs.
And while we're on the topic of consistent numbers, the righty reliever had some really interesting things to say about his offers in free agency.
"You hear about interest in the first week and then you don't get offers until late December, January and you're just kinda wondering what's going on," Brach explained. "Teams say they like you, but they're not making you any offers. Then you finally get offers and six or seven teams are giving you the same offer."
Huh, so that's certainly interesting. Though he didn't come out and say the c-word, talking about the timing and amounts of the offers being lining up so closely hints at as much. Then there's the manner in which the offers were presented, which further speaks to some sort of shared knowledge.
"We talked to certain teams and they told us, 'We have an algorithm and here's where you fall in that scale,'" Brach said. "It's just kinda weird that all offers are the same that come around the same time and everybody tells you there's an algorithm, but you figure teams have different ones, but I don't know."
The water has passed under the bridge at this point, but it'll be interesting to see whether other players describe a similar process in terms of their own experiences. As part of the middle tier of free agents, Brach wasn't really expected to see massive differences in valuation from one team to the next. That isn't to cast doubt on his claims in any way, just offering some more context to the matter.
Again, we'll have to see how things play out with the remaining free agents this season and next season as well, since that could be the third consecutive sluggish market. So definitely file this conversation away for later use should it become necessary.