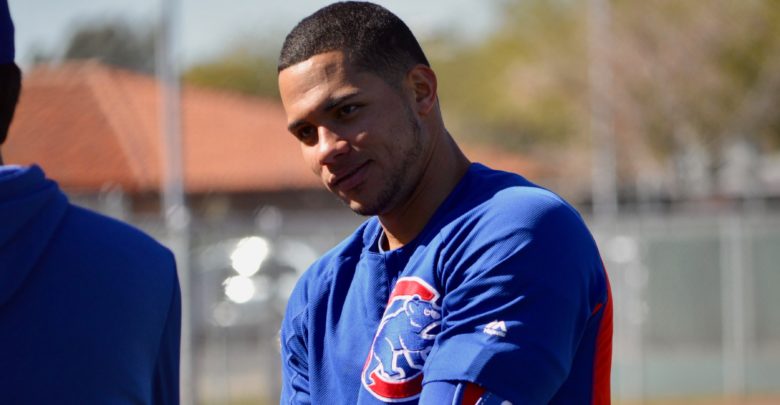 David Ross Encouraging Willson Contreras to Stay 'Nice and Quiet'
The Cubs have been vocal about the leadership void created when David Ross retired and they've asked the World Series hero to take an "expanded role" with the team. While he's opted against being in uniform during the regular season, favoring the less strenuous workload of a broadcaster, that isn't stopping him from helping out as a special assistant in Mesa.
Naturally, a good portion of his time will be spent with the man he helped bring along as a rookie in 2016. And even though he may not be shaking his fist and telling Willson Contreras to get off his lawn, Grandpa Rossy is trying to get his young charge to stop making so much dadgum noise.
Contreras is an incredible talent by nearly every conceivable measure, but he has yet to master some of the finer points of his craft. Framing metrics don't like him at all and, even if you're not sold on the validity of such statistical folderol, you have probably wondered aloud at some of his histrionics behind the plate. Rather than fooling umpires by deftly pulling borderline pitches over the plate, his loud movement sometimes obscures perfect pitches.
Okay, maybe there aren't many offerings called balls despite splitting the plate. But there was at least one occasion — in Milwaukee, maybe? — when Contreras was set up way inside and had to leap back so demonstrably that a choice-cut mid-thigh heater was ruled incorrectly. He's also prone to setting up with one leg kicked out at a 90-degree angle, which can result in exaggerated stabs to receive pitches with lots of movement or that don't hit their target.
And yes, I know it worked for Benito Santiago, but that doesn't necessarily mean more mortal backstops can employ the technique. Then again, Contreras is at least a demigod and possesses more than enough raw skill to elevate the parts of his game that are currently lacking. He's clearly got a knack for some of the louder aspects like back-picks and throwing out would-be base-stealers, now it's just a matter of learning when to turn the volume down.
We got an example of that, albeit one so small you'd miss it if you weren't looking for it, during Yu Darvish's 25-pitch BP session Tuesday in Mesa. I'll cop to being totally oblivious prior to seeing Sahadev Sharma's tweet, and even then I didn't put two and two together until after it was revealed to me by a CI staffer. But I guess it's somewhat poetic that I didn't have the sound on when I initially watched the below video from Jordan Bastian.
Yu Darvish throwing live BP. Almora stepping in now. Schwarber also in this group. pic.twitter.com/78jIoOuGpU

— Jordan Bastian (@MLBastian) February 19, 2019
"Yes," Ross encouraged (around the :10 mark). "That's nice and quiet, Willy."
It'd normally go unnoticed because all the attention is on the pitcher — particularly since it was Darvish — and the hitters in this situation, but there are teachable moments for catchers this time of year as well. Even though he wasn't trying to impress an umpire or manage his pitcher's strategy, work like this can really pay dividends for Contreras once the real games begin.
Just like any other skill, the goal here is to create repeatable habits that lend themselves to greater overall success rates. There's obviously a great deal of nuance to it than that, but it's really just a matter of understanding how to associate proper mechanics and approach with feel. It has to become natural.
There's an axiom in rock music that goes, "If it's too loud, you're too old." Pretty much the same could be said for Contreras honing his catching skills: "If it's too loud, you're told." By Ross, who is old. It's impossible to say whether a few words of encouragement in February will have any meaningful impact moving forward. And even if Contreras improves as a receiver of pitches, it could just be part of his natural maturation process.
Whatever the case, understanding when to be quiet and when to get loud will go a long way toward helping him elevate his game. You know what else would help? Getting a little more of a break and not leading the majors in innings caught. Which could also mean the Cubs actually being able to count how many times he started four consecutive games.
And if Contreras can improve behind the plate while also being given proper rest, maybe he can start making a few more loud noises with the bat this season as well.