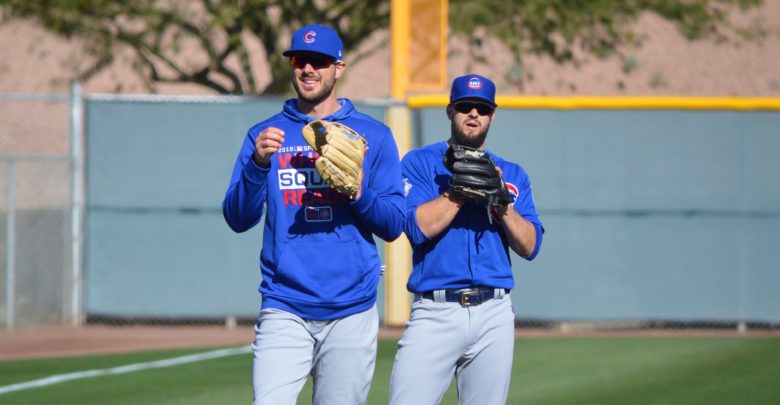 Kris Bryant Back to Blasting 'Effortless' Homers with Old Swing
If there's one thing that defines Kris Bryant's game — beyond the sparkly blue eyes, incredible improvement in plate approach over time, exciting combination of power and speed, and the sparkly blue eyes — it's the grace with which he plays. The preternatural calm of his demeanor is matched by a swing appears far too effortless to produce such potent damage.
But that wasn't the case as of May 19 last season, when a nagging shoulder injury significantly limited Bryant's production. Like a car trying to drive with its emergency brake engaged, the slugger appeared to be laboring much harder than usual with no results to show for it. And though his reduced bat speed and efforts to curtail strain on the joint may have increased his opposite-field prowess, they did little to lift his overall game.
Because his season included two extended stints to what we now know as the injured list and ended in such disappointing fashion, it's easy to forget that Bryant was on pace for his best season yet. His .305/.427/.583 slash, .424 wOBA, and 169 wRC+ would all have blown away his previous highs, and he was doing it with nearly a 1:1 K/BB ratio. Seriously, we're talking huge improvements over his 7.9 fWAR MVP campaign.
With full understanding that he's capable of doing even better than that this year, Bryant attacked his offseason workouts like a "quiet assassin." Those around him say they'd never seen him so focused or intense as he set personal records in the weight room and got back into the batting cage to redefine that familiar swing with the long, smooth one-handed finish.
The early results have been impressive, even to those who are around this stuff all the time.
Kris Bryant's swing. The ball if flying off his bat today. #Cubs pic.twitter.com/59mls9oTgl

— Kevin Powell (@kpowell720) February 20, 2019
Kris Bryant just hit a line drive HR over LF fence in BP and it didn't even look like he was trying.

"Effortless," @kpowell720 said.

— Tony Andracki (@TonyAndracki23) February 20, 2019
Bryant just hit a couple back-to-back halfway up that hill, well beyond the first set of trees pic.twitter.com/0n5cmgg0jo

— Tony Andracki (@TonyAndracki23) February 20, 2019
Now one over the batter's eye in straightaway CF for Bryant pic.twitter.com/ZXjnTISdzW

— Tony Andracki (@TonyAndracki23) February 20, 2019
Sorry to those of you viewing at work who don't get the full effect of the pictures in the tweets above, but suffice to say launching balls over the batter's eye and "beyond the first set of trees" is pretty decent. Even better, Bryant's doing all that without really trying, which is something we haven't seen from him in several months.
And yes, I understand it's just batting practice and we need to see it during live games and blah, blah, blah. But go back to the numbers and consider again how Bryant was able to improve upon them in different ways over previous seasons. Then think about what happens when you replace the discomfort in his left shoulder with a chip on it formed out of the disappointment and frustration of 2018.
If I didn't know any better, I'd say we're in for the best Kris Bryant we've seen yet. Ah, but I do know better. And I still say we're in for the best Kris Bryant we've seen yet. Mark the tape.