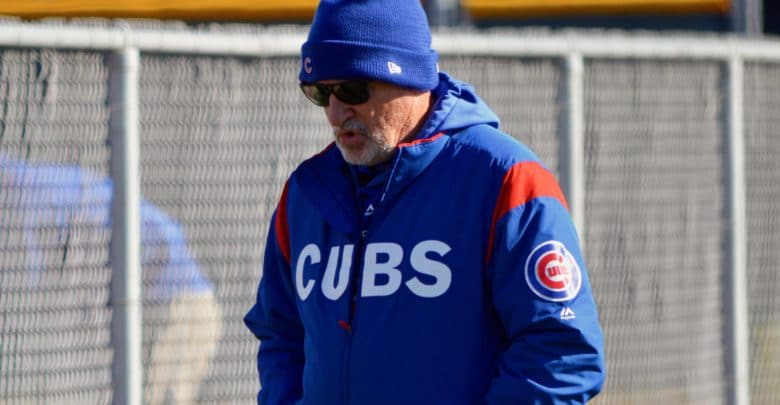 The Rundown: Joe Maddon Embracing New Persona, Bryant Blasting Baseballs, Where's Ben Zobrist?
Blurbs and Sub-blurbs:
Joe Maddon is feeling groovy these days. On Wednesday, Maddon said he has "a millennial baseball mind" because he was born "right around" 1981. New Joe, same old shtick. You might be able to take the man out of the Catskills, but you will never take the Catskills out of the man. I don't think millennials are using the word "groovy" these days, but the Cubs manager sure is enjoying the rapport he has developed with his charges one week into spring training.
"For whatever reason this year, I don't know, when the student is ready the teacher will appear," he said. "They're repeating a lot of stuff back at me."
Call him the calm after the storm, which I guess is a lot better than the sounds of silence.
Silence can certainly be golden at times, though. David Ross is hoping a more subdued Willson Contreras will result in a bounceback season for the first string backstop. The Cubs need some fiery emotion now and then and a catcher needs to be a team leader at times, particularly when it comes to the pitching staff. I don't know if Ross will be able to keep Contreras from pimping his doubles, but if he at least helps keep the negative spotlight a little off of his prodigy, call it a huge success.
It has been raining quite a bit in Arizona this week and the players must feel a little like they are having horrible flashbacks to last September. Inclement weather forecast for today has postponed the team's annual charity golf tournament. Hearing sportswriters complain about Arizona's crummy weather really resonates with me when I'm brushing six inches of snow off my car every other morning.
Still, the team seems relaxed and ready for the games to start on Saturday. With baseball finally at the forefront of the news, the Cubs are starting to look a lot more like a 95-win juggernaut than the PECOTA also-ran we've heard about for two weeks.
https://twitter.com/MLBastian/status/1098387530993418240
Where the holy heck is Ben Zobrist? The versatile veteran remains absent from camp, but it barely seems like the team is missing him. Maddon said Zobrist has remained in contact with President Theo Epstein.
"He's been in contact a bit, I think," Maddon said. "But it's been pretty much between him and Theo. So I have nothing else to really offer."
The reason behind Zobrist's unavailability is not entirely clear, which has led to the requisite speculation, but the team continues to refer to it as an "excused absence."
Daniel Descalso has quickly endeared himself to his teammates and coaches. The veteran utilityman was signed by the Cubs for his knack of producing in late-inning situations and he has fit in seamlessly with his teammates. The front office is counting on Descalso to provide much-needed leadership this season.
Descalso said the presence of the other veterans in the clubhouse will help him grow into that role. It's not like he is leading a team of rookies after all.
"I think I just… be myself," he said. "There's a lot of guys that have been in this league for a long time, a lot of accomplished players in here. That's why they've been so successful the last few years. That's why the expectations are high."
The Cubs are still trying to figure out who is going to hit leadoff. That project is now going into year three. Maddon has an old-school suggestion: "Get Rickey Henderson back. That would be awesome." At least he doesn't have Daniel Murphy to pencil in at the top of the order. Murphy had 30 mostly insignificant starts in the one-hole after coming over from Washington.
Cubs News & Notes
Spring Training Notes
Cardinals reliever Andrew Miller said that Machado's record-setting contract doesn't mean that troubles surrounding free agency have been magically cured.
Then again, maybe the market moving much, much slower than usual means nothing at all. There are 53 remaining unsigned free agents, but only a few are likely every day players. Let's discuss.
Machado and his camp were not interested in the incentivized deal the White Sox offered after the Padres stepped up with $300 million in guaranteed money.
The Padres said they are not going to sign Bryce Harper.
Harper is said to have turned down multiple $300 million offers. Jeff Sullivan of FanGraphs isn't buying that malarkey, however.
If the Phillies fail to sign Harper, Dallas Keuchel and Craig Kimbrel represent their backup plan. Regardless of where Harper signs, those two players should find homes before the ink dries on that contract.
Despite failing to land Machado, and with or without Harper, Philadelphia's front office truly feels like they've had a very successful offseason and have improved the team a great deal.
The Nationals know what they have in Rookie of the Year runner-up Juan Soto, and it might be historic.
Brad Hand will replace Cody Allen the Indians closer this summer, per manager Terry Francona. Allen signed with the Angels last month.
The Tigers and infielder Josh Harrison agreed to a one-year contract yesterday.
On Deck
This is positively amazing. In July 2012, the entirely student-run Trinity Orchestra performed their most adventurous and highly anticipated musical project: Pink Floyd's iconic 70's progressive rock album "The Dark Side of the Moon," arranged for full orchestra, band, and singer.
Trinity Orchestra is a non-profit student organization of Trinity College, University of Dublin.
Extra Innings
Sometimes I wish Jeff Samardzija would just stop talking. I like the message but I question the credibility and sincerity. Samardzija recently told The Chronicle's John Shea that pitchers who accept the "opener" concept are like "wimpy sheep."
Speaking of big mouths, I cant even…you'll want to stop watching, but you won't be able to.
Thursday Walk Up Song
Steal Your Car by Jeff Campbell. I think we need a song with a nice summer vibe to it. Jeff is a good friend. If he is playing at a venue near you make sure you go see him and tell him I sent you. Enjoy.