Viewing MLB Pipeline's Top 30 Cubs Prospect List with Eye on 2021
The window for the Cubs to compete for World Series titles with this current core is closing. At the end of the 2021 season, most of the position players will be free agents and the only current starting pitchers signed for the 2022 season is Yu Darvish, with Mike Montgomery potentially in that mix as well. With those things in mind, MLB Pipeline's Top 30 Cubs prospect list takes on a different meaning.
I was originally fixated on which players moved around when the list first dropped. Jim Callis intimated back in January that Richard Gallardo would make a big move and that pitcher Tyson Miller would see a big rise onto the list as well. But then I began to think in terms of who could be ready for everyday roles in 2021 or '22.
Pipeline's list is filled with plenty of guys who could be bench players or bullpen pieces, but who could be the on the lineup card day in and day out? Who could make up the next core? Here are a few players I think could definitely be everyday players in Chicago followed by their Pipeline ranking.
Position players
Miguel Amaya (1)
The most promising thing about Amaya is that he's still filling out and hasn't hit the weight room yet. For a lack of a better phrase, he's still carrying some baby fat.
Nico Hoerner (2)
The dream would be to see him in Chicago this year, but it is more than likely going to be in 2020. The big question remaining is where he is going to play.
Cole Roederer (5)
More than likely, he starts 2019 in South Bend. That accelerates his path a little as he does have a higher floor than Davis.
Brennen Davis (7)
He's pretty raw, but has unbelievable pitch recognition skills. Now that his basketball days are done, being fully devoted to baseball should accelerate his growth.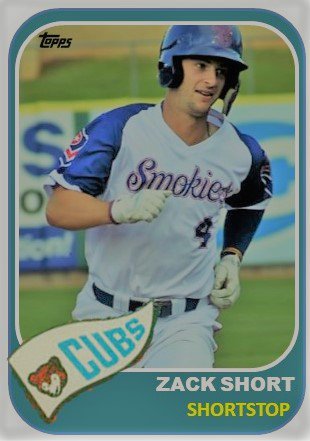 Zack Short (11)
Let's see: Power, approach, pitch recognition, defense. He's got it all. The question is whether he will have it all at AAA and Chicago. He's one of my more anticipated follows this spring.
Nelson Velazquez (15)
This guy is a physical specimen who has a ton of tools. He just needs to improve pitch recognition and stop chasing balls out of the zone.
Starting Rotation
Brailyn Marquez (3)
He shot out of a cannon last year at Eugene and ended the year at South Bend. He should begin 2019 in the Midwest League as he continues to work on his changeup. Pipeline has concerns about the effect of his arm slot.
Richard Gallardo (14)
At 17, he probably will begin his career in Mesa. It will be interesting to see how last year's top pitcher in international free agency improves and continues to grow physically. He's far from a finished product but he is pretty polished now. For him to get to Chicago, he would have to be very good, very quickly.
Adbert Alzolay – (4)
He could be a starter this year or he could be a reliever. It's still up in the air. The fact that he hasn't pitched in camp is disconcerting, but it is still early. 
Sleepers
Jose Albertos (23)
He's going to be just 20 next season and there's plenty of time for him to recover. He should be one of the more interesting arms to watch this spring to see how the Cubs handle him and where he goes after MiLB camp breaks in early April. Even during his 2018 struggles, he was still throwing it in the mid-90's.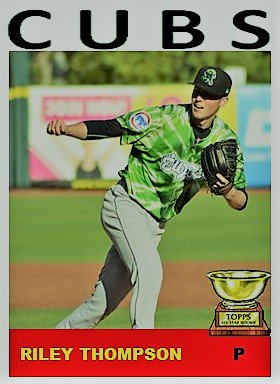 RIley Thompson (27)
I love to watch this kid throw. For an 11th round selection, he was easily the most promising pitching prospect I saw last summer. He throws an easy 95 and has a pretty good slider with decent shape now.
Yovanny Cruz (16)
He really flashed last summer in Mesa and was very impressive in one start at Eugene. He looks very polished and efficient and will just be 20 next summer, when he should be in competition to start at South Bend.
There were some other pleasant surprises on the list, notably Cruz jumping all the way to 16 and Miller debuting at 19. One guy to watch this year is Reivaj Garcia, who tore it up last year at Mesa at age 16. The list also saw the debut Andy Weber, who I really like as a possible shortstop/second baseman. He has a great approach at the plate and is an outstanding defender at all four infield spots.
You never know what a prospect is going to do from year to year or within a season, as one small adjustment can change everything. It has for Dillon Maples, James Norwood, and David Bote over the past two seasons. There are other players who could play a major role in the future that did not make the cut on this list, like Duncan Robinson, who might beat everyone to Chicago
The players listed above are going to have to dominate at the upper levels of the minors to earn cups of coffee or more. Right now, though, I don't see anyone who has superstar talent that just jumps out at you. Amaya is at No. 94 on Pipeline's top 100 and Hoerner is at No. 100. Both should improve greatly this year after their experiences in 2018, with Amaya playing in the Futures Game and Hoerner in the Arizona Fall League.
What the Cubs will need in a couple years are top 30-40 players, which they could have over the next three summers as the youngsters develop, adjust, and grow as everyday guys.