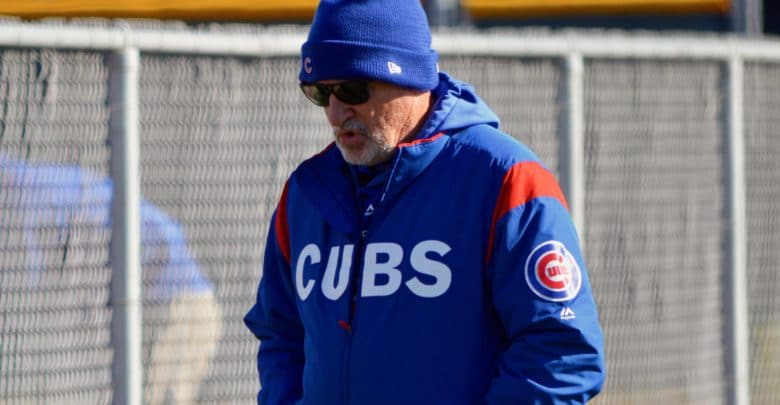 Joe Maddon Simulating 115 MPH Pitches to Promote 'Opportunity Hitting'
Joe Maddon vowed shortly after the conclusion of the 2018 season to spend more time on the field with hands-on coaching. This time of year, that means focusing on little fundamentals like shortening up your swing with two strikes or various other situations. And since it's all about taking advantage of what your opponent gives you, the Cubs have taken to calling it "opportunity hitting."
In an effort to force hitters to react quickly, Maddon has incorporated a drill in which a pitching machine fires smaller, harder baseballs at around 63 mph from a distance of 33 feet. This is actually something the skipper did as a hitting instructor in the Angels organization 30 years ago, so it's not new by any stretch. But sometimes antiquated methods feel novel when you dust them off and polish them up.
The concept is very simple: Using a miniature ball at a shorter distance forces hitters to dial up their reaction speed. So when you go back to a normal ball at normal velocity, everything gets easier.
"It's something I've always wanted to do, to try to recreate velocity at a shorter distance with ride on the baseball," Maddon told reporters. "These balls are really small and hard. I wanted to see something smaller, so that the baseball's going to look bigger. So, you've got that."
And though 63 mph doesn't seem like much when pitchers throw harder than ever and regularly sit in the mid-90's, that decreased distance changes the equation. At only 33 feet, a ball traveling 63 mph affords the batter as much reaction time as one pitched from the mound at 115 mph. So, uh, that's way harder than anyone could ever encounter in real life.
Then you factor in a smaller ball with ride, which means it isn't really impacted by gravity and tends to stay up, and you can imagine how it might have hitters on their toes. It's like the fast-pitch cage at Sluggers near Wrigley, except the Cubs players aren't drunk while trying to hit. That might have been a different story had Maddon been around the Cubs in the late 80's and early 90's.
We've seen plenty of scoring opportunities already through the early going in Arizona, but the real test will be putting bat to ball when the games actually count and the pitchers aren't wearing 70's on their backs.