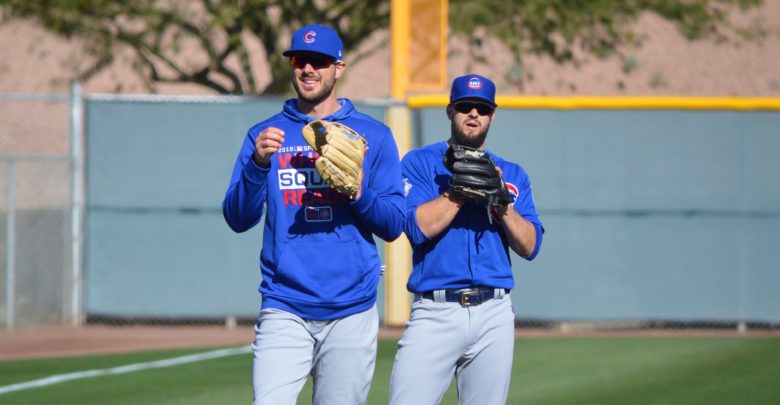 The Rundown: Harper's Bazaar Nearing Bizarre End, Bryant Fed Up with Projections, Hottovy Making Strong Impression With Staff
Hard to believe the movie Major League is 30 years old. Fans of the heralded baseball flick are celebrating here in Milwaukee because it was filmed in the old County Stadium and at local bar 4th Base, which is actually a great place to get a burger. I thought I'd talk about a movie this morning so that Evan can tag this article with something related to last night's Academy Awards show. More hits, don't you know?
Major League is an endearing movie because most of us feel an inclination to root for life's underdogs. The Cubs have been anything but bottom feeders during the Joe Maddon era, averaging 97 wins with three berths in the NLCS to go along with a World Series victory in 2016. But just as semi-meaningful Cactus League games have started, there is always an individual or two that can't seem to look forward instead of looking back.
No one expected @Cubs' response to losing Game 163 and WC game would be to make no significant additions or subtractions. Feels sort of like @CubsJoeMadd is being set up to fail but if @faridyu is healthy rotation could be best in NL. KB homer in first AB an omen?

— Phil Rogers (@philgrogers) February 24, 2019
That's what we call a festering hot take.
Why would a front office set a manager up to fail, especially one who is going into the last year of his contract? By spending this winter on the free agency sidelines, Theo Epstein has basically put the performance of this team entirely on his own shoulders. Though managers and execs don't always see eye to eye, the notion that one is setting up the other to fail seems beyond ridiculous. Epstein believes in the current roster, and I'd bet Maddon does too. And why shouldn't they? If you play .599 ball over four seasons, you're probably a good bet to be pretty decent in the fifth.
These Cubs aren't set up to fail and they're not really underdogs, and they'll be happy to let their play this season prove otherwise. Kris Bryant is already fed up with the assumption that the Cubs are a last place team.
"We see some of these projections and stuff like that, and it's like, 'OK, they're selling us totally short and that's not a good thing to do for us, because when our backs are against the wall, we turn it on," said Bryant. "It's going to be an exciting season."
I'm happy to insert the obligatory motivational video here for your viewing pleasure.
It all starts here. #EverybodyIn pic.twitter.com/KSsJ0MfVVd

— Chicago Cubs (@Cubs) February 24, 2019
Cubs News & Notes
Spring Training Notes
Negotiations between the Phillies and Bryce Harper could be resolved by Tuesday, sources told ESPN's Buster Olney. I'm sure agent Scott Boras will use that window to try to get final offers from any teams still chasing after the free agent right fielder. He did promise to circle back to the Cubs, who I'm positive will say nothing more than "Thanks, but no thanks."
I'd agree with this article that indicates the Phillies and Harper are at a crossroads. Philadelphia can probably offer more money than any other team, but I do believe the reigning Home Run Derby champion is hoping a more intriguing offer comes from another team.
Except there is this…Bleacher Report's Adam Lefkoe is claiming that a deal has already been agreed upon between Harper and Philadelphia, with a press conference scheduled for Wednesday. Lefkoe alleges the deal will be worth around $330 million, but the exact length of the contract still remains unclear, though he reports it is expected to be 8-10 years.
New Cardinals first baseman Paul Goldschmidt was hitless in his debut yesterday. Feels good, right?
Clayton Kershaw's ailing shoulder is a point of contention for members of the Dodger's front office.
Max Scherzer is not particularly happy with the league-mandated pitch clock.
The Padres and Dallas Keuchel seem like a good match but that union is a longshot at best. Houston remains interested in resigning their former ace.
J.D. Martinez says that the slow free agent market is "embarrassing for baseball."
Extra Innings
With the end of Harper's Bazaar now in sight, are we really going to lose any sleep when the Phillies announce his signing? A Harper-Phillies union seems almost imminent but also seems like an underwhelming free agency nightcap that aptly defines this entire offseason. It's almost as if nobody else wants this guy. A contract the size and length of the one Team Harper is expected receive seems exorbitant for a guy who could muster just a 1.3 WAR in his walk year while his team struggled to play better than .500 ball. It all feels a bit anti-climatic and bizarre.
I think the infatuation Cubs fans have had with Harper has been more about his friendship with Bryant and the fact that he is an easy guy to root for rather than the inconsistent level of talent he has displayed throughout his career. He's carried the hype since he was an amateur and has branded himself worthy of his expected contract, I'm just not sure he's earned it. Maybe the Cubs have dodged a bullet here. It's entirely possible that they've feigned interest as a courtesy to Boras, knowing full well that signing Harper is akin to placing its entire future on number 34 of a roulette wheel.
Locking up Harper would likely mean the Cubs letting Bryant, Baez, and Hendricks walk away when their contracts are up. Would you ever trade those three for Harper? I wouldn't.
Monday Walk Up Song
Midnight Lake Michigan by Devon Allman. The son of Greg Allman displays chops reminiscent of his late father in this scintillating blues instrumental. Midnight Lake Michigan exudes the phrase hauntingly beautiful. Devon recently teamed up with Duane Betts, son of Dickey, for an Allman Brothers tribute tour.